EdenFantasys Leather flogger - Whip from EdenFantasys

Product Details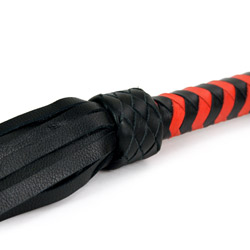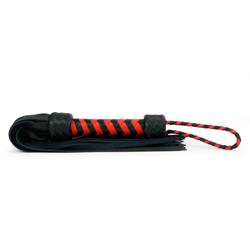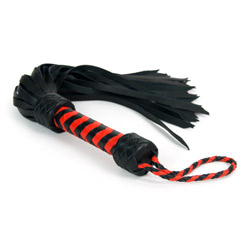 Summary:
If you're looking for a dungeon-quality flogger to dole out the harshest pain possible, this isn't it. But if you're looking for a gorgeous, well-made, durable flogger that's affordable and makes it easy to flog your partner while still keeping full touch and contact with them, you're going to fall in love with the Leather Flogger.
Pros:
Affordable, Beginner-friendly, Soft tails, Durable, Good for close contact scenes
Cons:
Handle may not fit larger hands, Small size isn't dungeon-suitable
Best use:
Smaller than a dungeon flogger, the Leather Flogger makes an excellent BDSM toy for couples that way to stay close and enjoy the intimacy that comes with sharing each stroke of the flogger. The short strands lend themselves well to up-close encounters. The braided handle and soft leather strands stand up well to regular play, and the affordable price makes this a good choice for an introductory toy for couples (or singles)!

Both beginners or advanced players can enjoy the use of the Leather Flogger. The tails are soft enough to work just fine for soft strokes for those who dislike pain, but applying more force allows for a stricter sensation as well.
Design / Craftsmanship / Size / Material / Features:

Made from leather, this flogger is designed similarly to most braided leather floggers. It has a loop towards the base that works great for hanging the flogger or sliding it around the wrist. The braided leather handle is ended by two large knots on both sides of the handle to make it easier to handle. The softened leather tails are firmly attached to the handle itself and are ready to play as soon as you open the package.

The tails are quite thick as a bunch, and they'll travel as a "group" when using the flogger. The flogger has about 35 individual tails, and each tail is a strand of softened leather. One side of the strand is a very smooth, softened side of leather while the opposing side is softened but more draggy-feeling.

With its shorter design, this flogger was designed to be a "bedroom" flogger. It wasn't really designed for hardcore dungeon use as it requires the person wielding the flogger to be relatively close to the "victim". This makes it great for couples that are wanting to explore BDSM as an intimacy experiment instead of a power exchange type of set-up.

The handle is shorter than a lot of other types of dungeon floggers. If you have a particularly large hand, you might find the handle to be a bit small. Most people, however, will have no issue. My large-sized female hand still has extra room on both ends to grip the flogger.

The build is relatively well-done. The strands are very well-connected to the handle, and the braiding shows no signs of starting to unravel. The flogger seems like it will withstand pretty rough use.

Be aware that the leather material that the flogger tails are made out of will "shed" when you first open the flogger. This is normal for leather items. It will leave little specks of black leather material around for the first couple uses. If you want to reduce how much it sheds, run a paper towel or washcloth over the tails multiple times to pull off most of the excess fluffing.

Material:

Leather

Material safety

Color:

Black / Red

Length:

18"

Width:

2"

Weight:

0.4 lb

Performance:

Handling the flogger is actually pretty nice. You wouldn't guess it, but all of the leather tails are soft and move well together. They tend to stay "clumped" very well - which is great for a beginner as it makes it much easier to aim and strike precisely. The flogger's short length means that it's harder to get a lot of strong hits in which is another thing that makes it particularly well-suited to those who are new to BDSM. It's hard to harm anyone with this flogger.

The sensation is important to consider as well. With most strikes, this flogger is going to provide a thuddy, lighter sensation. It doesn't produce much of a sting. Since the short length requires up-close use with another partner, it makes it hard to get a lot of momentum behind most strikes, so again, it makes it harder to provide intense sensations. If you put a lot of force and effort into it, it's possible to make stingy strikes, but for the most part, expect sensations that feel slightly "punishing" without being painful. It would be difficult to leave any marks.

As mentioned before, some people with extremely large hands may have issues holding this flogger. However, most people will have no issues. My hands wear large-sized gloves, and I still have a bit of extra room. Those with very above-average hands to make it a concern.

Packaging:

The Leather Flogger comes packaged very simply. The flogger will be contained in a plastic, unresealable bag. You'll need to rip open the bag in order to release the flogger. It also comes with some moisture-removal packets to keep the flogger dry and without moisture. Packaging will be destroyed once you get the flogger out of the bag.

You'll get a very strong scent of leather as soon as you've opened up your new toy.

Other

Special Features:

Safety features:

Phthalates free