Sportsheets Bondage bar - Spreader from Sportsheets

Product Details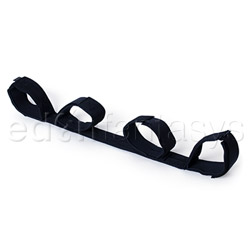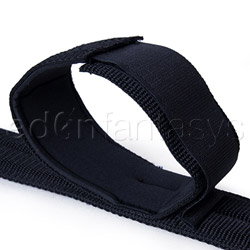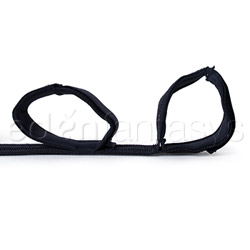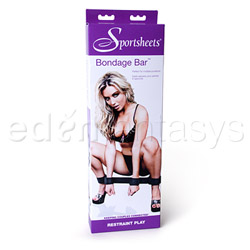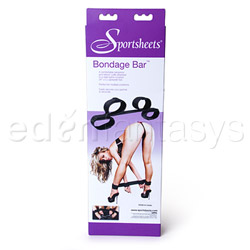 Summary:
The Sportsheets Spreader bar is a fun and easy way to secure your partner's arms and legs together. The bar is wide enough to give a good leg spread, and the ankle and wrist cuffs keep your partner immobile. The cuffs are easy to release if necessary, and the set, with proper care, should last for many sessions.
Pros:
Well made, good spread, comfortable to wear, easy to release but not get out of.
Cons:
Stitching not to edges on neoprene, wrist cuffs cannot be removed from the bar.
Best use:
The Sportsheets Bondage Bar is for anyone who wants to be restrained with their arms and legs close by, yet not in a traditional hog tie. This set combines a spreader bar to keep the legs apart and attached cuffs to keep the arms immobile. Different positions are possible but somewhat limited, as all of the cuffs are securely attached to the bar and cannot be removed. The outer cuffs can be used alone to secure either ankles or wrists if desired. Since the cuffs are closed by Velcro, they are widely adjustable and either wrists or ankles will fit into any of the cuffs. The Bondage Bar will work best for those who like quick release cuffs and who enjoy a spread position or keeping their arms and legs cuffed close by.
Design / Craftsmanship / Material:

The Bondage bar is composed of a rigid bar 24" long, covered in black nylon, with nylon, neoprene, and Velcro cuffs attached. The bar is 2" wide and seems split down the middle, although it is held rigidly in place by the nylon covering.

Attached to each end of the bar are two cuffs with nylon back and neoprene interior. The neoprene is comfortable on the skin. The outer cuffs are 11 1/2" long with a 5" Velcro closure strip. These cuffs are not removable from the bar.

The two inner cuffs are 12" long with a 4 3/4" long Velcro strip. These cuffs are attached to the bar about 3" in from the end, and they have about 8 1/2" of space between them on the bar. These cuffs are also not removable from the bar.

If the Velcro for any of the cuffs is too long, it can be carefully cut and stitched across the bottom to prevent raveling and improve the aesthetics of the piece.

All the stitching on the bar and cuffs looks secure and should hold up to use over time. The stitching which holds the neoprene to the nylon backing on the cuffs is secure, but it is about 1/4" from the edge of the material. Care should be taken when storing the Spreader Bar after use so the neoprene doesn't fold over, bend, or become snagged or ripped over time.


Material:

Metal

/

Neoprene

/

Nylon

Material safety

Color:

Black

Length:

24"

Weight:

10.5 oz

Performance:

The Bondage Bar is easy to put on, and once on it's not easy to get out of. The bar is wide enough, at 24", to keep the legs nicely spread and open for flogging, caressing, or penetration. While it isn't easy to stand up with both legs and arms cuffed to the bar, other positions like squatting are easier to maintain. Seated in a chair with arms and legs in front, as well as in a kneeling position leaning on a chair or pillows are the easiest to stay in for a longer length of time. The wrists can be cuffed behind the legs, although it's much more comfortable from the front. The bar can also be used as a grip of sorts during penetration if you're on your back.


Packaging:

The Sportsheets Bondage Bar comes in a large white and purple cardboard box. A model is shown demonstrating some of the ways it can be used on the front, sides, and back. The packaging is large, and it can be used for storage, although it is not discreet. The bar is compact when the cuffs are pressed against it, so it would travel easily in a suitcase.

Care and Maintenance:

If necessary, this can be wiped off with a wet cloth and mild soap. It can be stored in its original packaging or anywhere you have the room to store it flat (it folds up compactly) or hanging.

Experience:

This was a pretty fun product. My husband and I enjoy spreader bars and also hogtie sets, and this is a combination of both, in a way. The bar was wide enough to keep things open, yet not so wide to be uncomfortable. It wasn't the most comfortable thing when trying to stand bent over without support, nor was it overly comfortable squatting, but leaning over or seated it worked well. My husband also liked it on me with me on my back, as he could hang onto the bar and have my legs in the position/height he wanted easily. The cuffs were comfortable on my ankles and wrists, and stayed firmly attached.

I would change would be the stitching on the neoprene – the material flips back a bit and I'm not sure, with frequent use, how well this will last before it curls badly or tears. I'd also love to have the wrist cuffs in some way detachable from the bar.


Other

Special Features:

Safety features:

Food-grade material / Latex free / Non-porous / Phthalates free