RodeoH Brief harness black and dark grey - Panty harness from RodeoH

Product Details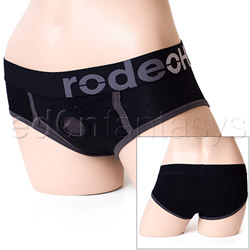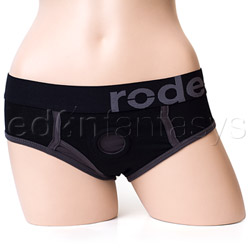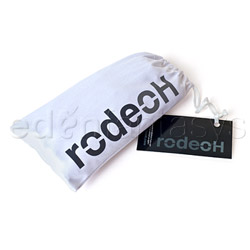 Summary:
Arguably the most comfortable and fashion forward harness on the planet, RodeoH has created a harness that is so discreet it can be worn under normal clothing and used at a moment's notice.
Pros:
Sexy fit/look, fashion forward, well made, comfortable, no buckles to fasten, discreet.
Cons:
Stuck with 1 O-ring size, sizing is REALLY confusing.
Best use:

Arguably the most comfortable and fashion forward harness on the planet, RodeoH has created a harness that is so discreet it can be worn under normal clothing and used at a moment's notice. It flies under the radar by not even looking like a harness. It'll go undetected washed and stored with the rest of your clothing. With a sexy brief-cut look, these panties are raring to go. A sturdy reinforced waist band and added non-removable o-ring make this panty a harness. With just cotton between you and your partner and no wasted time fastening buckles, RodeoH provides a much more intimate sexual experience. It may not look like it, but the accommodating material can even fit a dong with balls. The ideal length for the dildo should be about 5-6" with a width of around 1 1/2". The RodeoH comes in a variety of hip sizes and is able to fit a range of sizes within each.
Material:

RodeoH harnesses are made of 95% cotton and 5% spandex (Elastane). The cotton is very soft and breathable, but still durable. The spandex band for the hips is thick and very sturdy. It's not going to wear out on you no matter how hard you pound with it. The materials allow the brief to provide a snug yet still comfortable and sexy fit. The o-ring is made of a semi-flexible material.

This particular version of the RodeoH harness is mostly black with a dark grey trim and some lighter grey in the writing on the band. There are other versions available.

Material:

Spandex

Harness

Material:

Cotton

Design / Craftsmanship:

Designed as a low-rise brief panty, this harness is extremely discreet. The low-rise is about an inch so it has a sexy cut but still enough strength to hold the weight of a moderate sized dildo. The top of the brief has a band that is 1 5/8" thick. Around this, the RodeoH name is printed in the fabric and wrapped around the hip. There is a small tag in the back of the band.

In the front of the briefs is a well marked area desiged to hold the dildo and be placed over the wearer's pubic bone. In the center of that is where the o-ring is permanently and seamlessly sewn in. The opening is about 1 1/2" in diameter. It is flexible and only has minimal stretch to assure a tight fit around the dildo.

On the inside of the brief there is a second panel of fabric that is sewn in behind the o-ring and crotch area. It is secure on both sides so the dildo can not slide around but is not sewn on the bottom. This allows for dildos with balls to be used. The entire brief is very well sewn, secure, strong, and sturdy.

This harness is best compatible with dildos that are 5-6" in length but can work with dildos that are up to 7" as long as they are not too heavy. Since there are no adjustable parts on the RodeoH, you have to choose a dildo that will not cause the front of the brief to dip due to its weight. It is important to get the right size so that it fits you snugly. This will allow for heavier dildos. The max width of the dildo should be about 1 3/4". Larger dildos may fit if they are of a soft, non silicone material. Try not to go smaller than 1 3/8", this may cause sliding and less control while thrusting. Double ended dildos cannot be used.

These dildos are guaranteed to work with a proper fit: Magnum, Seduex Flare, Buzz 1, Delight, Happy Valley Realistic, and O2 Mark



Harness

Color:

Black / Grey

Size / Fit:

The RodeoH harnesses are sized by hip size, not waist size. Using the chart on their website you can see the ranges for the sizes. The upper end of the range is what matches up with the sizes provided on Eden.



These briefs sit on the hips and dip a little lower in the front due to the slight low rise. If the correct size is obtained, the panty should be full coverage in the back, or almost full coverage with a little bit of cheek hanging out. There is a lot of stretch in the very durable band. Knowing this, it may be wise to actually order a size down. For example, a 38" hip can actually squeeze into a 27-29" size. For aesthetics and function, simply order down a size if you're on the upper side of the range, and two sizes down if you are on the lower side of the range. The size is great for the majority of people. Having a range of hip sizes from 23"-41" is actually more like 26"-44". If you fit in that range, a RodeoH harness can work for you.

Examples: If you have a 33" hip, order the 29". If you have a 38" hip, order the 35".

These are supposed to be a little snug to ensure the dildo maintains proper placement for thrusting.

Dildo holder diameter:

2"

Harness

Dildo holder diameter:

1 1/2"

Weight:

0.1 lb

Performance:

Not only does only having cotton between you and your partner create a more intimate experience, it also allows for a closer feel of the dildo that is being thrust. Even without a dildo with balls the pressure on the dildo's base against the lower pelvis provides some great grinding potential. You'll want to hump a couch with this thing! Going undetected under clothing means that you don't have to waste time when you want to get down to business. And even if you are not wearing them, it only takes a second to put on.



When it comes to sliding the dildo through, there are a few options since the back panel is open on both sides and the top.


The fabric keeps the dildo secure in the o-ring, while the elastic hip band keeps it secure to the wearer. There are a few things to consider. The wearer's genitals are not exposed while wearing this harness, but things like butt plugs or vaginal balls can be inserted prior to play to increase sensations. Another thing to be conscious of is the fact that a lubed up dildo will likely get lube onto the front of the brief. It will soak up liquids and juices. Keeping a spare pair of panties might be a good idea unless you want to literally bask in all your sexual escapade glory!

A harness that holds toys well, looks great, and is comfortable to use... what more could you ask for during a perfect "rodeo"?

Care and Maintenance:

Completely machine washable, you can wash your harness on a cold cycle with the rest of the laundry. Hang it dry. To store place it in its pouch or with the rest of your undies!

Packaging:

A 4"x8" white bag is included for folding and storing your harness panties even more discreetly. It has a draw string closure. On the outside it says RodeoH. Inside of the bag there are a few goodies. There is a business card sized thank you card for your purchase. It directs you to Typeology, where they have panties that look like the harness but without the harness hardware. on the other side of the card is a $5 gift card code for that site! And finally, if you want to flaunt that you are wearing a RodeoH harness without showing the band above your pant line, you can wear the included dog tag on a chain that also says RodeoH.