Spartacus Butterfly clamps - Nipple clamps from Spartacus

Product Details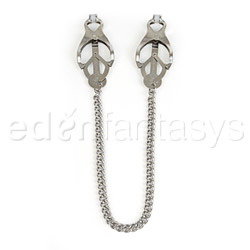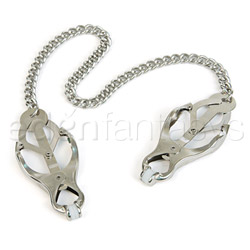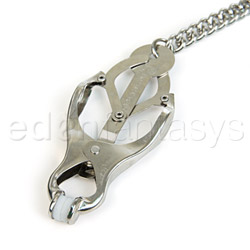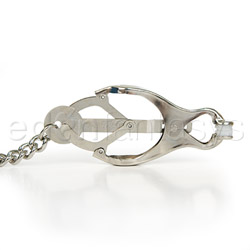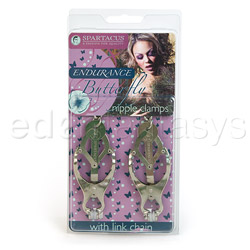 Summary:
These clamps are very strong, very well made and for serious sensation play. They will hold up for extended use and are a worthwhile investment.
Pros:
Entirely made of metal except for plastic padding on contact points.
Cons:
Plastic contact points show molding dots which "mark" skin.
Best use:
Spartacus was a slave and a gladiator that became a leader in a slave uprising in the Roman Republic. These metal clamps remind me of what a gladiator might have gone through. Holding on through pain... These clamps are not for beginners though. They are strong clamps and they have a real bite to them. In fact, both my partner and I found them just a bit too strong at times. Neither of us wanted them as "nipple clamps." I enjoyed them in several places on my skin and extremely briefly on my genitals. The work fantastic on the skin on breasts or hands. They might be described as "Clamps 201."

The pressure on these clamps is fairly strong. One clamp will open about as wide as you need to clamp onto your thumb (or about a third of a inch). It then still closes with substantial pressure. If you clamp a smaller amount of skin/tissue you are increasing the pressure even more.
Material / Texture:

These clamps are solid metal with a small white plastic tip one either side of the clamp. The plastic is not smooth and leaves four mini bumps in your skin- similar to the pattern of "four" on a dice. These clamps leave their "mark" even when left on briefly. I clamped one on the fleshy part of my hand for a count of five, and these little dots are still present after three minutes. The two clamps are connected by a chain approximately a foot long. The chain is solid and well made. It is thick enough that it does not appear that it will either break or bend easily. (It's just about the right thickness to get caught in the holes of a picnic table!)

Material:

Metal

Material safety

Safety features:

Food-grade material / Latex free / Non-porous / Phthalates free

Shape / Design / Size / Fit:

These clamps are the easiest clamps I've ever used. Squeeze and they open wide! You can then insert just about any body part and they fit. They are quite flexible and strong. They are not adjustable in tension though and the pressure may be too much for some people or some body parts!

Length:

19"

Weight:

0.2 lb

Care and Maintenance:

As a metal product, they are easy to keep clean and store. The clamps don't collect lint or dust. I didn't experiment with lubricant or oil with these so I don't know about extensive cleaning. The specific type of metal was not provided so use some caution as water will cause most metals to rust.

Packaging:

Although I found these clamps very strong, the packaging is somewhat misleading. The following words are on the package insert. "Symmetry and agony. Don't let their elegance fool you. Butterfly clamps are not for the faint of heart. The main trick of this deviously designed invention? Pulling on the chain actually makes the clamps tighter."

I really tried to see if I could make this happen! The reality is that this clamps "tighten" so much in the first place that when you pull on the chain, you really do nothing until you pull the clamp off. (That can be its own unique torture!) I closely examined the device to see if there is any way this actually works in reality. Maybe, maybe - about a millimeter.

It's true they aren't for the faint of heart. They are strong, but don't expect extra strength with a tug.