Ruff doggie styles Cat oh nine tails - Whip from Ruff doggie styles

Product Details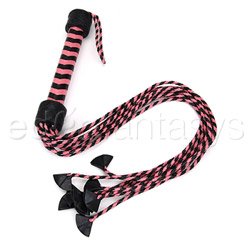 Summary:
The Cat Oh Nine Tails is a well-made, well-designed flogger for advanced BDSM play. The construction is durable, and able to withstand a lifetime of abuse with proper care and feeding.
Pros:
Excellent craftsmanship, lightweight handle, functional design.
Cons:
Inappropriate for beginners.
Best use:
The Cat Oh Nine Tails is a whipping device with nine separate braided leather whip strands radiating from the handle. At the base of each strand is a triangular piece of leather that intensifies the sensation when the flogger is used.

The cat o' nine tails was first used by England's Royal Navy in the late seventeenth century as a form of punishment, and a tool for maintaining discipline among sailors. The design is a more painful elaboration of the lash or whip.

As one can assume from its origins in corporal punishment, the Cat Oh Nine Tails is not particularly well suited for those who are just beginning to dabble in light bondage. The sensations derived from the Cat Oh Nine Tails are entirely dependent on the force behind the swing, but it is easier to accidentally inflict more pain than intended simply because of the flogger's design.

There is nothing that precludes the Cat Oh Nine Tails from being used by beginners, but those who are unfamiliar with or new to BDSM should use it with caution. Communicate with your partner and have a crystal clear understanding of the boundaries of those involved.
Design / Craftsmanship / Size / Material / Features:

The handle Cat Oh Nine Tails is made of a lightweight (presumably plastic) material completely covered in braided leather strips. A strap at the top of the handle allows for easy holding when the flogger is being used or hanging up for storage purposes. At the base of the handle there are nine long braided strips of leather. Each long leather strip has a triangular piece of leather at its end to enhance sensation upon the flogger's impact.

The leather braiding is very nicely done. There is no looseness or gaps in the braid. The handle is thoroughly covered and the nine leather strips are very well attached to the base.

With proper care and storage, I can easily see the Cat Oh Nine Tails lasting a lifetime. The construction is unimpeachably solid, and the quality of the leather is comparable to that found in more upscale BDSM instruments.

Material:

Leather

Material safety

Color:

Black / Pink

Length:

32"

Width:

1"

Weight:

0.4 lb

Performance:

BDSM flogging instruments such as riding crops and paddles provide an extreme degree of control for the user. It is comparably easy to manipulate the severity and location of each strike. In contrast, the Cat Oh Nine Tails is more difficult to control. The length of the flogger means that there is more room for error when attempting to hit a specific target. It also means that there is less subtlety available in the range of sensation. This is not a flogger that shines when it comes to nuances and variation in gradations of pain.

With this understanding the inherent limitations and opportunities the design presents, the Cat Oh Nine Tails performs marvelously. The braided leather handle allows for a firm grip and its lightweight materials do not tire out the user's hands. The length of the strands do not make the whip unmanageable.

The Cat Oh Nine Tails requires a bit of time and practice to use well and its performance is dependent entirely on the skill of the user. Its design and craftsmanship are qualities that can be leveraged to the user's advantage rather than obstacles that stand in the way of a good time.

Care and Maintenance:

The Cat Oh Nine Tails can be stored by hanging it from the loop at the end of the handle. It can also be stored flat.

Cleaning is a bit more complicated, but certainly worth the effort if this toy is to become a staple in your repertoire.

When a scene draws blood, or there has been a heavy flogging, wash any part of the cat that was exposed to body fluids with water and a strong foaming cleanser first. Simple Green is recommended and is available at hardware stores. A hard bristle brush should be used to clean out any nooks and indentations.

Spray or soak the tips in hydrogen peroxide. Wipe away the excess with clean towels and let it dry for a few hours or overnight. Recondition the leather with Lexol or saddle dressing.

Some advise that if you're not sure that you've cleaned the toy thoroughly, lay it away for six to eight weeks, to safely assume that any virus remaining is no longer infectious. For absolute safety you can dedicate the toy, which means that you will use each cat only on one person.

Packaging:

Packaging is very simple. The Cat Oh Nine Tails comes in a plain plastic bag that runs the entire length of the whip. There are no bells and whistles in the packaging. Its simplicity however, allows the quality of the whip to speak for itself.

Other

Texture:

Smooth

Safety features:

Phthalates free