Leatherbeaten Cheetah cuffs - Wrist cuffs from Leatherbeaten

Product Details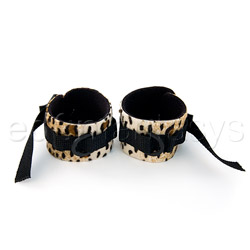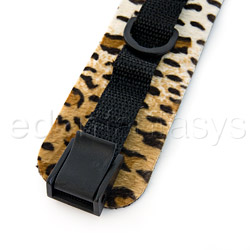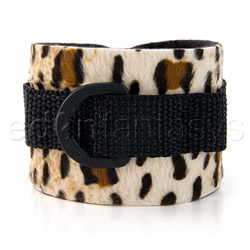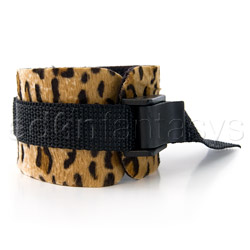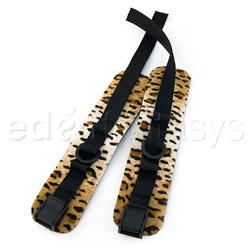 Summary:
A cheap and comfortable alternative to leather, the Cheetah Cuffs provide restraints for individuals who would prefer not to wrap rope directly around their or their partner's wrists (and/or ankles). With leopard print on soft fleece, they are a stylish and soft alternative to traditional leather cuffs. They can be connected to bed posts or any other frame using a securely attached D-ring.
Pros:
Vegan, soft, entertainingly patterned.
Cons:
Concerns of longevity of strap attachment.
Best use:
Cheetah cuffs, by Leatherbeaten, provide a soft alternative to more traditional leather cuffs. For those who aren't familiar with the use of cuffs outside of a police environment, cuffs can be used in a sex/play environment to restrain one's partner by securing his/her wrist/ankle to the cuff and then securing the cuff to a bed frame or any other surface, using rope, chain or other connecting materials. Thus, the cuff as a concept is used as an alternative to wrapping rope directly around a person's wrist (which can be time consuming and complicated, though need not be). Furthermore, the cheetah cuffs, with their soft fleece lining and leopard print pattern, provide an alternative to more traditional leather cuffs. Unlike handcuffs, used by the police and in other sexual play situations, the cuffs need not be used to secure two hands together, though they can be used that way.

I was particularly impressed by the cheetah cuffs as they seem to be particularly versatile in their appeal. They provide a fun and cheap option for individuals who don't know a whole lot about bondage to explore what it might feel like to be restrained. In addition, they're good for individuals with sensitive skin, or vegan politics, as they aren't made from leather.
Design / Craftsmanship / Material / Size / Fit:

The Cheetah cuffs use simple design to provide a superior and very versatile product. The cuff is simply a strip of cloth (fleece, with leopard print on one side, black on the inside) connected to a strap. The strap is connected securely enough that it doesn't seem likely to disconnect, even with extensive use, but is connected only on part of the cuff itself, allowing the cuff to be adjusted substantially to fit many sizes of wrist (and ankles, for those folks with smaller ankles). The cuff can be loosened or tightened using a sliding clasp, allowing for the user to adjust it to a perfect fit, rather than relying on pre-set holes, as are seen in many belts and leather cuffs.

The only place I worried a little about the construction of this item was in the connection of the strap to the cloth, particularly around where the D-ring is located. While the strap and cloth seem to be connected well, I can't help but think that this won't be as secure as in a leather cuff where the two pieces are connected by permanent metal snaps. In particular, I worry that the pieces could tear apart where the D-ring is, which is the point in the cuff that will sustain the most "pull" as the tied up individual pulls on his/her restraints.

Material:

Faux fur

Color:

Cheetah

Length:

14"

Width:

2"

Closure:

Buckle

Weight:

0.1 lb

Performance:

I was very satisfied with the performance of these cuffs. The fleece lining felt soft yet firm, and I was impressed by how little I felt the straps themselves cutting into my skin (I had worried they might dig into my skin, given how thin the fleece itself was--this wasn't a problem). The straps slid in and out of the adjusting clasp easily, and were secure once clasped, and the connection of the D-ring to the fleece of the cuff held firm, even when I tugged. Although I continue to wonder how this will hold up over time, it's been great during the times I've tried it thus far.

Care and Maintenance:

You can wash these cuffs in a washing machine, should the fleece become dirty.

Packaging:

I really appreciated the minimal packaging used in sending this toy. It simply came in a plastic bag, with a label. Since cuffs are pretty self-explanatory, no instructions were provided, which might be a problem for individuals who haven't used cuffs before, but wasn't a problem in my case.

Other

Size:

One size fits most

Lining:

Fleece