Booty Parlor Chocolate body fondue - Body paint from Booty Parlor

Chocolate body fondue videos
Product Details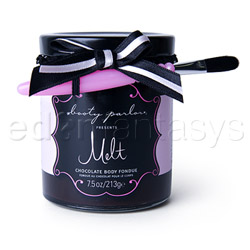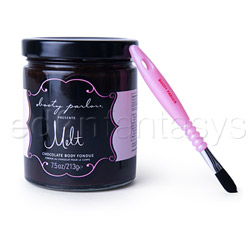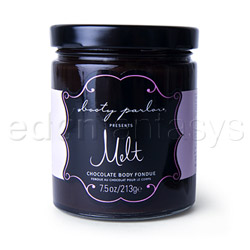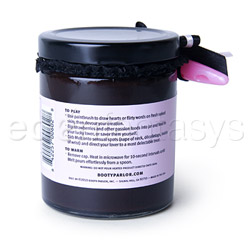 Summary:
Turn up the decadence of your play-time with this delicious treat. Use it as body paint, or dip yummy treats into it and feed them to your partner. No matter how you use it, as long as you and your partner are chocolate lovers this should turn any normal night of play into an extra-tasty treat.
Pros:
It's chocolate, tastes like hot fudge topping, can be warmed up in the microwave.
Cons:
High in sugar, shouldn't be used in areas prone to growing yeast.
Best use:
Melt - Chocolate Body Fondues use is really only limited by your imagination. This decadent, dark-chocolate flavored treat can be used as intended, for painting delicious designs across your partner's naked body or, you could dip strawberries and other yummy things into it and feed them to your partner (or yourself if you are not into sharing!) or, in a pinch, use it as an ice cream topping and make yourself a sundae!

The ingredients are listed as: Water, White Sugar, Brown Sugar, Dutch Cocoa Powder, Whey Protein Concentrate, Non-fat Milk, Natural Flavors, Potassium Sorbate and Sodium Benzoate.

Melt is worth about 90 calories per 2T serving and is virtually fat free. It is, however, quite loaded with sugar and therefore anyone who wishes to dip their privates in chocolate should do so with the knowledge that this can encourage the growth of yeast.
Texture / Consistency / Thickness / Viscosity:

This reminds me a lot of hot fudge topping. Straight out of the jar, you can dip your finger in and it will not drip off. But if you heat it in the microwave, it pours out just like syrup. Heating this stuff should be done with great caution. It sticks to the skin and if it's too hot due to the uneven heat of a microwave, you could seriously injure someone.

If left on the skin, even after licking off, the remainder does get sticky and uncomfortable. I recommend washing it off when you are done playing.

Ingredients:

Aqua (water), white sugar, brown sugar, dutch cocoa pwder, whey protein concentrate, non-fat milk, natural flavors, potassium sorbate, sodium benzoate

Taste / Aroma:

Again, I am reminded of hot fudge topping. It's rich and creamy, but has the taste and smell of a darker chocolate as opposed to a milk chocolate. It's quite yummy, but at the end there is almost a gritty feel as if the cocoa powder isn't quite dissolved into the fondue. It's really not very noticeable unless you are sitting around taste testing it extensively, looking for possible flaws. ;)

Performance:

This is a 7.5 oz jar and after testing and sampling heavily it's still nearly full. I believe this jar of chocolate fondue will last quite a long time if used as a body paint. It does need to be refrigerated after opening and the label says "Chocolate Body Fondue by Booty Parlor" plainly on the front, so hiding it's purpose without removing the label will be difficult.

This stuff is sticky and probably you will want to wash it off quickly after you are done. It cleans up very easily with soap and warm water.

The jar comes with a cute, pink, tasseled brush for painting and really is fun to use. If you love chocolate and sex, pairing the two in this fashion is a fantastic idea.

Packaging:

Melt comes in a red box decorated with swirly black hearts and has nutritional information on the back (as well as on the jar). There are suggestions for use on the box and the jar and of course, the tiny pink brush mentioned before is included. It's nicely packaged and could be given as a gift, assuming discretion is not a priority.

Volume:

7.5 fl.oz.

Weight:

1 lb

Other