Kama Sutra Chocolate dreams - Sensual kit from Kama Sutra

Product Details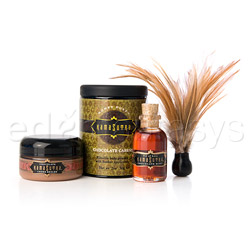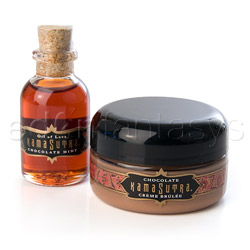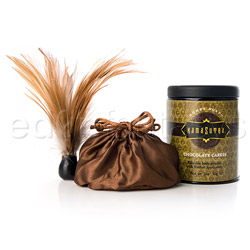 Summary:
This Kama Sutra kit contains three products to spice up your love life: a cocoa-flavored kissable body powder with a natural feather applicator; a slick, water-based warming "oil" that heats up when rubbed in your skin and when you blow on it; and a creamy, airy, kissable chocolate-flavored body cream.
Pros:
Delightful smell, warming oil works well, nice packaging.
Best use:
This kit contains smaller sizes of a cocoa powder-flavored "honey dust" with a feather applicator, chocolate mint "oil of love", and chocolate body soufflé. The soufflé cream and cocoa honey dust are "kissable" and smell really delicious. The mint chocolate "oil of love" smells yummy too and has a very unique property; if you spread it out on your skin and then blow on it, it produces a tangible warming sensation.

The beautiful natural feather applicator feels divine on the skin and does a good job of spreading the powder.
Texture / Consistency / Thickness / Viscosity:

The textures are really on par with what you would expect: the honey dust is as thin and light as talcum powder; the "oil of love" is smooth and slick (even though it's actually water- not oil-based); the soufflé is a light airy cream.

The powder does not clump up when moist - instead, it kind of dissolves, which is ideal for when you're kissing it off of someone's body. The cream absorbs into your skin while leaving it chocolate-scented and smelling good enough to eat. The "oil" also dissolves into your skin, but more slowly, and the warming effect is still noticeable even after it's been rubbed in.

Ingredients:

Kit Includes: Chocolate Mint Oil of Love, Chocolate Crème Brûlèe Body Soufflé, Chocolate Caress Honey Dust with feather duster

Taste / Aroma:

The taste is a real plus with these products. The soufflé body cream actually smells like genuine, expensive chocolate. It doesn't taste like chocolate if you eat it out of the jar, however, as it has dimethicone and other ingredients. Instead, it's meant to be massaged into your lover's skin and gently kissed away.

The "oil of love" smells like chocolate mint and the powder smells wonderfully like genuine cocoa.

Flavor:

Chocolate / Chocolate mint

Performance:

The "oil of love" is the most unique product in this line. It gives a slight warming sensation when it's spread on your skin, but it produces a more noticeable warming feeling that's lovely to play with when you blow on it. The warming effect lasts for quite some time, even after the "oil" has been thoroughly rubbed into your skin.

Packaging:

The body cream comes in a small plastic jar with screw-on lid; the chocolate honey powder comes in a plastic bag inside of a satin drawstring bag inside of an elegant tin; the oil comes in a glass bottle with a cork (beware, it can leak a little if it's not upright.)

Special Features:

The "oil of love" warms up when you rub it into your skin and also, amazingly, when you blow on it. See above for more.

Personal comments:

The chocolate body soufflé does have glycerin, which is connected to yeast infections, so don't use inside the vagina. The chocolate caress honey dust has a cornstarch base and also contains sucrose, so don't put it inside of the vagina either - although outside of it should be okay if you're not particularly yeast-prone. The warming "oil of love" also has sucrose, and beyond that, I would not want to take the chance that the warming oil would damage sensitive tissues inside the vagina.

I experienced absolutely no skin irritation while using all three products externally, but I don't have particularly sensitive skin.

The "oil of love" is not actually oil, but made of the same water-based stuff that water-based lube is, so it's not going to stain like real oil. The Kama Sutra website says that the "oil of love" can be safely used with a condom (probably because it doesn't contain the real oil that breaks down latex) but I for one wouldn't want to put this warming "oil" inside me.

Other