Ruff doggie styles Concrete heart spanker long handle - Paddle from Ruff doggie styles

Concrete heart spanker long handle videos
Product Details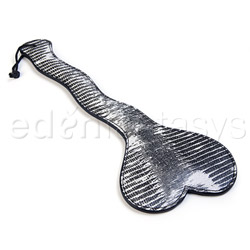 Summary:
Whether you're interested in some gently placed love taps or hits that can cause some damage, this paddle will do both jobs. Made from leather, it has a delicious and sexy smell and a shape that will leave your ass or your lover's covered in hearts. What better way to show you care?! Beautiful detailing and excellent quality will earn this paddle a place in your "favorite toys" drawer! A great investment for both the first-time paddler and experienced smacker! Awesome product!
Pros:
Really beautiful, long, leather smell, great sting when spank delivered, versatile.
Cons:
No care instructions, no storage bag.
Best use:
My husband and I have recently realized that we're into spanking. He likes to spank, and I like to be spanked. We haven't explored any paddles or equipment for this purpose yet, so I was really excited to add a little extra sexiness into our playtime.

I see the Concrete spanker as a very versatile product that can be used gently to produce a light sting for the first time user. For more experienced couples, this paddle can provide a very painful spank when used with more force. As a first time paddle buyer, I can say that this paddle is appropriate for those new to paddles. My husband did not have to provide much force to provide the perfect amount of sting. We also experimented with paddling other body parts. It can be used on the breasts, backs of thighs, and most other parts of the body that have padding. Since the paddle is larger, it is harder to use on pinpoint areas and provides diffuse stimulation.
Design / Craftsmanship / Size / Material / Features:

The paddle is constructed of leather, it is patterned in a variable "alligator-skin," texture with both small and large alligator scales. The pattern is not a deep one, and the texture cannot be detected when used to spank. Besides this light texture, the paddle feels smooth to the touch and always feels a little bit cool. The paddle varies from black, to white, to shades of grays. In the pictures it almost looks metallic, but it's not.

This paddle has no padding and is firm overall. This paddle has little give in the handle. It can be bent slightly, but not without difficulty. The edges of the paddle are made of a harder substance that feels different/harder from the leather, it may have some sort of finisher coating the edges? All of the edges are smooth and well rounded. The leather is held to the paddle with precise, black, tiny stitches that are even and seem to be of a thick, quality material. The center of the paddle is slightly elevated/thicker than the sides of the paddle.

I love the smell of this paddle; It's a strictly leather smell and has no artificial plastic or chemical odor. The Concrete Heart Spanker Long Paddle is 14 inches long, the width of the blade is 5 ¾ inches. The handle of the paddle is about 1 ½ inches wide. The handle itself is about 9 inches long. Large hands will have no problem having enough room to grip the handle. I have smaller hands and found it easy to find a comfortable grip on the handle as well.

The handle has an ergonomic swerve that seems to fit into my man's hand to deliver the perfect strike. It feels heavy in my hand, but not excessively so. I would say that it has some heft to it and is produces a solid, thumpy hit when applied with force and a stinging hit when used gently. My smaller hands have no issue swinging it. It is a little top-heavy, but with a paddle of this shape it is to be expected.

The paddle does have a loop at the end of the handle for storage, it is too small to use as a wrist strap. It is not made of leather, rather a soft black cord. You could easily replace the cord with a longer one if a wrist strap is something you would be interested in.

Material:

Leather

Material safety

Color:

Black / White

Length:

14"

Width:

5 3/4"

Weight:

6.5 oz

Performance:

I admit, I don't like too much pain, I enjoy the increased sensation and the loss of control rather than true pain, but if you enjoy delivering/receiving pain, this paddle can certainly deliver. My husband and I tried various levels of smacking...I cried uncle fairly early in the game. For me, this paddle produced a great stinging smack. My favorite sensation was when my husband circled the paddle on my skin before giving me a good hit; the cool surface of the smooth paddle is soothing and creates anticipation for the coming blow. I loved having many gentle hits that build over time as opposed to more vigorous hits which some users may prefer. I found this toy to work fabulously for what I wanted, a little sting, but not too much pain. However, this paddle could easily deliver major pain when swung with more force.

I also enjoyed that when applied with some force, this paddle creates a nice red heart shape on the skin. The alligator scale texture does not appear though. I did enjoy very gentle taps on my breasts and the backs of my thighs for added stimulation. I would recommend not hitting too hard on body parts that have little padding as I think it could be overly painful.

The paddle has a great sound to it, it has sort of a "crack," or "popping," sound when used on the butt. The amount of sound is greater than the amount of pain produced, which I enjoy!

This paddle will leave red marks with light use, and although I did not try, I am fairly sure that with repeated use or harder hits it could leave some bruising or soreness that would linger.

As a beginner to the spanking/paddling world, I was a little nervous about using this paddle, but it is a very attractive piece of equipment and was not intimidating to me.

Care and Maintenance:

For cleaning this paddle, I would suggest just using some warm soapy water on a washcloth. I would avoid submerging it in any liquid as it may damage the leather and structure of the paddle. A dedicated leather cleaner could also work, but make sure it is colorless to avoid staining. I would also avoid getting body liquids or lubes on the paddle as this could be hard to remove from the paddle given its material.

I store my paddle in a fabric pouch I created for it. It does have a hanging string if you would like to hang it, otherwise it could be stored under a bed or in a drawer since it is very flat.

Packaging:

Sadly, there was little packaging with this product, all I found in the box was a plastic bag holding the paddle. More directions on how to care for the product would have improved this product.

Personal comments:

Overall, I think this paddle has been great and has little drawbacks. I give it 5/5 stars since I feel it is very versatile, is attractive, and provides amazing stimulation. It is also very well made and comes from a very reputable company

Other

Texture:

Smooth

Special Features:

Safety features:

Phthalates free