Classic Erotica Crazy Girl pleasure balls - Vaginal balls from Classic Erotica

Product Details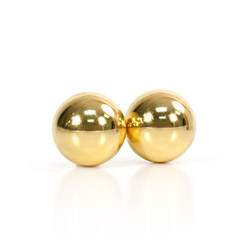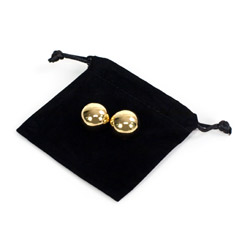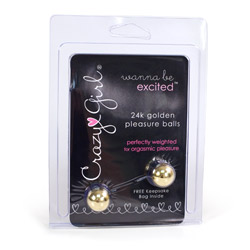 Summary:
Doing Kegel exercises is very important for women's health. You can do the exercises by themselves, or you can find something like the Pleasure balls that are weighted and require your muscles to work harder to keep them inserted in your vagina.
Cons:
Don't have a retrieval cord.
Best use:
Crazy Girl pleasure balls are vaginal exercisers used to strengthen women's PC muscles. They are weighted and are great for tightening the vaginal muscles. Strong PC muscles help prevent urinary incontinence, strengthen orgasms, and prevent vaginal prolapse. They're convenient, easy to use, and travel friendly. These can be used daily and during intercourse. They work by forcing the muscles inside your vagina to work to keep the balls inside. It is impossible to forget to do your kegels, because they will slip out if you're not tightening your muscles.

These are not meant to be used anally, so do not attempt inserting them this way.

They are nice for travel due to their small size and can be worn anywhere, but I suggest wearing underwear just in case they slip out.
Material / Texture:

These are a cold, slick metal with no additional texture or smell. They do not have any seams on them, and feel smooth to the touch. They are weighted, so they feel heavy. These are not pure gold, as the package may mislead the user into thinking, but are instead chromium steel with 24 karat gold plating that shouldn't chip, crack, or peel.

Material:

Metal

Material safety

Texture:

Smooth

Safety features:

Food-grade material / Latex free / Non-porous / Phthalates free

Design / Shape / Size:

These two golden balls are circular in shape and are very similar to marbles. Most will think that is exactly what they are.

Due to the added weight of these balls, they are best for those who have some experience with doing their kegel exercises. Those with weak muscle tone may have a harder time keeping these inserted.

They are discreet and are incredibly nice for travel, due to their small size. You can easily fit them in your purse, pocket, or bag. However, I don't know how well they'd do through airport security, considering these are made of metal; TSA should consider them harmless.

Color:

Gold

Length:

1/2"

Insertable length:

1/2"

Circumference:

2 1/4"

Diameter:

1/2"

Weight:

0.2 lb

Performance:

They are very easy to use; all you need to do is simply slide the balls into your vagina. I found it best to do this in a lying down position because gravity kept working against me. To keep them inserted, you squeeze your kegel muscles tightly around the balls. If you let your muscles relax, you will feel the weighted balls gently sliding down. It requires you to think about your kegel exercises - otherwise they will not stay inside your vagina. They are a fantastic weight for intermediate users. By using these, they will increase your vaginal muscle strength. You can insert one or two at a time, depending upon your muscle tone. They can be worn for long or short periods of time without any discomfort. To remove, just push and they should come out. They are comfortable, and do not rattle or make any sounds while moving around.

These did not produce any special sensation while worn.

Care and Maintenance:

It is best to clean these before and after every use. You can use antibacterial soap and water, toy cleaner, or toy wipes to clean these. They come with a black drawstring bag to keep them safe in between uses.





Care and cleaning:

Soap and water

Packaging:

These come in a plastic clamshell package; you can see the product through the front, along with the name and a little bit of information about the product.



The back has some information regarding the product.



There is not any included instruction manual.

Experience:

I've wanted to try vaginal balls for several months now. I have other vaginal exercisers, but they require advanced thought and time. These you just insert and focus your muscles to perform the exercises. I found at first they would continually slip out, but after a while I was able to keep them inserted. This will vary upon each person's PC muscle strength, though. You can insert just one until you are not having any issues keeping it in, and then progress up to the second ball inserted as well. They are nice for those who want an inexpensive option to working their kegel muscles. I'm giving these a 4 star rating because they may not be for all users, and they do not have an easy to use retrieval cord.