California Exotic Crotchless harness with 2 dongs - Harness and dildo set from California Exotic

Product Details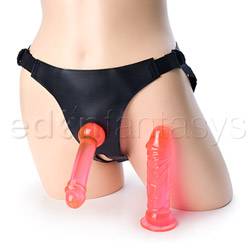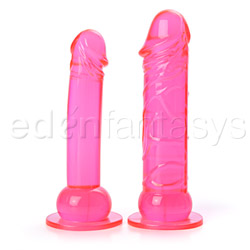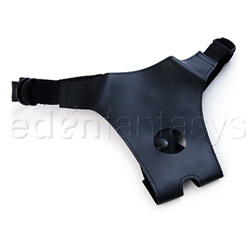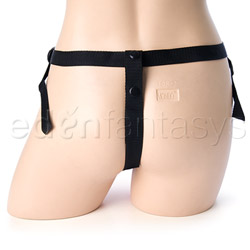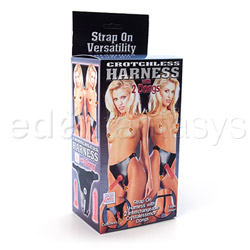 Summary:
If you're looking for a fantastic harness, I'm sad to say that this is not it. While it's fine for the basics, it lacks the comfort and quality of the greats and even the semi-greats. Its one asset: It's thin enough to fit comfortably under clothing. Overall, not a hit.
Pros:
The dongs are nicely made, good shape and firmness. Harness holds dongs firmly.
Cons:
Too large if you're smaller than a big medium. Leather edges are rough; they chafe and cut.
Best use:
This harness, like most harnesses, is designed for strapping it on and going to it. In theory, it would work for gender play (although the dildos aren't particularly realistic in color), for packing, and for strap-on sex.

Again, in theory, this harness would be good for beginners -- there aren't a lot of straps or buckles, it's a very clean piece of equipment, and the dildos pop into the hole easily and stay there. The bad news is that while this harness SHOULD be great for beginners, in my opinion it falls far short.

It's not something that I'd recommend for advanced users. Anyone with experience with a harness will not find this particularly usable, sexy or wearable.
Material:

The harness itself is a leather and cotton combo, with some simple snaps. The leather, sadly, is very thin, not terribly well sewn, and the edges are not at all smoothed out. In fact, they're quite rough, which is not a great thing when it's designed to a. fit around your curves and b. be crotchless. I would hesitate to stick a finger through the slit, as rough as it is around the edges, much less anything else. The one good thing about the leather is that it's thin enough to fit easily under your clothes, should you want to wear it out and about.

The snaps are not going to come undone -- if you can even get them done up. In order to adjust this sucker, we were grunting, straining and sweating. And that was just to get the snap snapped. Ugh.

The dongs are the best part of this kit. Made from something called crystalessence (which, as far as I can tell, is a kind of pvc/rubber), the dongs have a great smooth feel, they're both firm and soft, and one is quite nicely and realistically detailed.

You can see the photos here of the materials and the build.

Dildo

Material:

Crystalessence™

Harness

Material:

Cotton

/

Leather

Design / Craftsmanship:

This harness is very simple -- straps that go around the hips, a crotchless strap that goes between the thighs, and a single, adjustable strap that goes up the back. As I mentioned before, the leather is thin, rough-edged and poorly sewn. If you fold the leather, it creases.

The straps that go around the hips are cotton webbing and easily adjustable. Just pull the ends and it tightens as much as it needs to. However, don't pull too hard the other way -- there is no 'catch' on the ends of the straps, and they come right out of the buckles. And they are NOT easy to get back in.

The adjustable strap that goes up the back has two sets of plastic snaps. These snaps are incredibly hard to open and close, especially when you're already wearing it.

Here's the part to take notice of, if you're smaller than a medium. I am a medium, and even on its smallest setting, it's too large for my butt. Which means that it rubs against you when you move and does not hold the dildo against you very well.

One the other hand, it doesn't look awful when you have it on. In fact, it's kind of stylish-looking, in a minimal sort of way. So, if you just want to wear something and don't want to actually DO anything with it, then it's a fine choice.

Dildo

Color:

Pink

Harness

Color:

Black

Size / Fit:

While this harness fit me really nicely around the hips, there was no way to make it small enough down the butt to actually keep it on me in a way that was useful. If there was one more snap in the back, it might actually have worked. If you're a medium and up, it would fit you nicely. However, the edges of the leather don't lend themselves to rubbing against skin in a positive way, so if you've got curves, there's a concern for sure.

Maximum hip size:

44"

Maximum waist size:

44"

Weight:

17.5 oz

Harness

Dildo holder diameter:

1 3/8"

Performance:

The dildos? Quite nice. They both do their job really well -- one is long and slim with a bit of a g-spot bulb. The other is thicker and heavier and gives more of a filling quality.

As you might expect, however, the harness itself is a dud. Doesn't fit tight enough for it to work for me, but it might for someone with a bit more curve. The leather chafes, the crotchless slit is sharp on the edges, and the snaps are hard to close.

If you're looking for a harness that performs really well, I might recommend something from SpareParts or the Princess). These are harnesses that really stand up to movement and play, without feeling uncomfortable.

Other

Safety features:

Phthalates free

Kit includes:

One G-string crotchless harness and two interchangeable dongs.

Dildo

Texture:

Smooth / Veined

Harness compatibility:

O-ring compatible

Length:

6 1/4" / 7"

Insertable length:

5" / 6"

Circumference:

4" / 5 1/4"

Diameter:

1 1/2" / 1 1/4"