NS Novelties Crystal premium glass eggs - Vaginal balls from NS Novelties

Crystal premium glass eggs videos
Product Details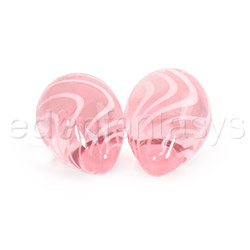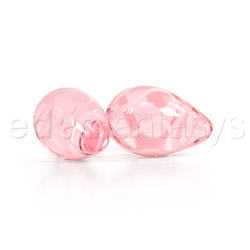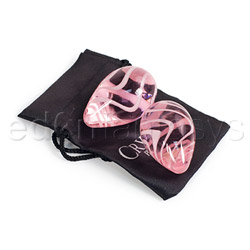 Summary:
Add these Eggs to your Shopping Cart! They make excellent vaginal exercisers, and they are small enough for a beginner. Their unique shape makes insertion a breeze. Want to spice up sex or masturbation? Add these eggs in for some added stimulation and pleasure!
Pros:
Glass, storage pouch, great instructions.
Cons:
Small, hard to hold both in.
Best use:
Novelties' Crystal Premium Glass Eggs are a different spin on the traditional egg vaginal exerciser. These eggs are quite literally shaped like the eggs you buy at the store rather than a plain sphere. Plus, they are really pretty in design. These eggs are intended to be used as a vaginal exerciser to strengthen your PC muscles. Strengthening your PC muscles can lead to stronger orgasms and better control. They can also be left in during masturbation or intercourse to hopefully strengthen your orgasms. These eggs are really small and not intended for anal use! They would get lost and give you a fun trip to the ER.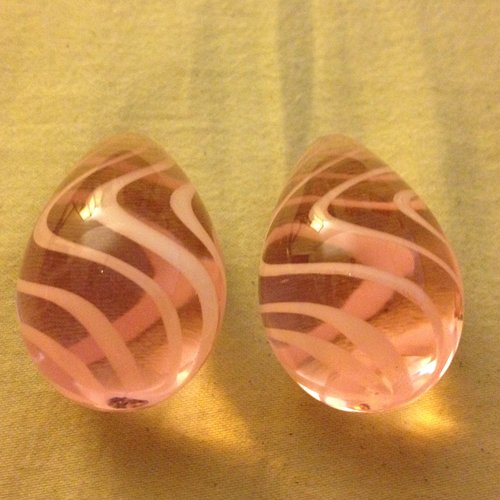 If you're looking for a new, different vaginal exerciser the Crystal Eggs are a good option. They are inexpensive, have really good instructions, and are very easy to use. Plus, leaving them in during masturbation adds some extra fun and stimulation!
Material / Texture:

The Crystal Eggs are made out of glass. Glass is very safe to use, rating a ten out of ten on EdenFantasys' Safety Scale. Glass is non-porous, meaning that it will not harbor bacteria and it can be sterilized. Glass is the perfect material to use for a vaginal exerciser. If you're going to leave something up there, it better be safe! They have no smell and no seams. They are totally firm in feel, with no give or flexibility. There are swirls on the glass, but you can't feel them at all. They are totally smooth in feel, perfect for any user regardless of experience.



Material:

Borosilicate glass

Material safety

Texture:

Smooth

Safety features:

Anti-bacterial property / Food-grade material / Hypo-allergenic / Latex free / Non-porous / Phthalates free

Design / Shape / Size:

The design of the Crystal Eggs is unique. What's cool about them is that they are literally shaped like regular eggs you find at the grocery store. Usually, vaginal exercisers are shaped like a sphere. The Crystal Eggs have a pointed top, making them a little easier to insert as it's more of a gradual change.



The Crystal Eggs are very small and not-intimidating whatsoever. They are 1 3/4" in length with a circumference of 3 1/4". They have a diameter of 1". They come in pink with white swirls or clear with pink swirls. The swirls add a pretty look, but you cannot feel them at all, even with a finger.

Length:

1 3/4"

Insertable length:

1 3/4"

Circumference:

3 1/4"

Diameter:

1"

Weight:

3.4 oz

Performance:

Before you start, the instructions recommend finding your PC muscle. You need to make sure that you are exercising the right muscles. Simply place a finger in your vagina and squeeze down around your finger. When you feel your muscles tightening you are doing the exercise correctly. For me, it feels like I'm pulling or sucking my vagina inward.

I definitely recommend trying one egg at at time before you do both at once, especially if you're a newbie. When I first saw the size of the eggs, I was a little worried they would be hard to get out. However, with some trial and error I discovered that they are really easy to get out if you just push them out like you're giving birth. Plus, you can't get anything lost in your vagina (but it's still a thought). The Crystal Eggs are very easy to insert. I definitely recommend adding some lubricant first. A very small amount will do. Put the pointed top in first; do the same when you finally add a second egg.

The first basic exercise is to squeeze and hold for 3-5 seconds then relax for 5 seconds. Do as many repetitions as you can until you get tired. Each time you use them it should be easier for you to do more. The instructions recommend that you work up to holding the eggs for ten seconds while doing ten repetitions to increase your strength. Once you get used to working with one egg, try to add a second. When I initially started the exercises, I found it difficult to hold both eggs in. The second one kept falling out, especially after I coughed or walked around. I was finally able to hold both in. I don't know if I was able to hold them perfectly as shown below (they kept clanking each other), but I finally could hold them both. Here is the recommend placement the brochure shows you.



The eggs are fairly comfortable during use and easy to get out. Like I mentioned, I usually had to push them out like giving birth. The brochure recommends you try having sex or masturbating with them to increase pleasure. I was really skeptical that they would actually increase pleasure, but they did! I have left them both in while masturbating and have found myself having orgasms that are more intense. I was worried that the eggs would fall out, but they didn't. I found that using a vibrator on my clitoris while having these in added some really nice dual stimulation. I totally recommend that you try it! I was hesitant to, but I'm so glad I did. Plus, you can do your exercises while masturbating...who doesn't want to have some fun while exercising?

The million dollar question is, do these eggs work? I can't really say for sure yet: time will tell. However, they are very easy to use and pretty to look at. I will continue to use them and report back. So far I feel more comfortable using them, and the exercise is getting easier for me after numerous uses.

Special Features:

Handmade
Premium
Waterproof

Care and Maintenance:

The Crystal Eggs are very easy to clean. You may simply wash them in soap and water once you are finished. If you wish to sterilize the eggs, you can boil them for a few minutes (voila! You have your hard boiled eggs). You can also wash the eggs in a 10% bleach solution.

You may use any lubricant you wish with glass. The instructions recommend using a little bit of lubricant with initial insertion to make it more comfortable for you. The eggs come with a cool storage pouch where you can store your eggs.

Care and cleaning:

Bleachable / Boilable / Dishwasher safe / Soap and water

Packaging:

The Crystal Eggs are packaged in a small white box. On one side there is a picture of the eggs, and the other side has them placed in a see through window. It's not a discreet box, but it's pretty.




A lot can fit in such a small box! The two eggs are in a plastic case, along with the instructions and a little black storage bag. The storage bag is very small, but big enough for the two eggs. It says "Crystal Premium Glass" on the front in bold white letters. It has strings on the top so you can tighten the bag shut. For the inexpensive price, the storage bag is a nice added bonus.



The eggs come with really good instructions. If you've never used a vaginal exerciser before, these instructions will certainly suffice. The brochure gives you a general guideline on the exercise, tells you how to locate your PC muscles, and recommends cleaning and lubricant. It even has a cool picture showing you how to place your eggs.