Leatherbeaten Delrin cane - Crop from Leatherbeaten

Product Details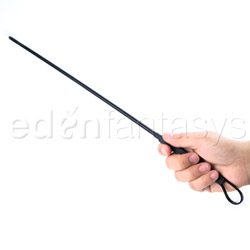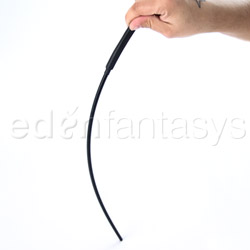 Summary:
The Delrin Cane is, without a doubt, meant for those on the extremer side of play. It's sole purpose, so far as I can tell, is bringing pain. This isn't the switch grandma made you cut when you got smart, boys and girls. This cane means business.
Pros:
Durable, easy to clean.
Cons:
Takes a bit to get used to.
Best use:
This cane can be used for pain play or punishment by anyone involved in S&M play. It's light and free of metal, which makes it perfect for travel. However, it is definitely not something I would suggest for the S&M beginner or someone who enjoys the more sensual side of BDSM. The punch this toy packs is liable to be too much for them.
Design / Craftsmanship / Size / Material / Features:

The Delrin Cane is nineteen inches of round, black plastic. It's about a quarter of an inch in diameter. The tip is beveled and flat. The shaft is hard, light and flexible. The surface is silky smooth. And it feels ridiculously durable.

The handle makes up five inches of the cane. It's two pieces of rubber. One is folded over the end to form a loop and the other is fitted over the loop and the plastic shaft to hold the loop in place. The latter slides up and down the shaft, but only if you work at it.

At first, that the rubber didn't stay in place sort of annoyed me. But then it occurred to me that makes it perfect for cleaning. You can slide the pieces off and on to clean underneath, if you feel the need.

There's no real smell or taste. And it's not overly loud. Someone in the room next door will hear your cries before they'll hear the cane.

Material:

Plastic

/

Rubber

Material safety

Color:

Black

Length:

19"

Width:

1/2"

Weight:

0.1 lb

Performance:

This cane definitely lives up to its purpose. A stroke with this impact toy is an interesting mix of a deep thud and a stinging bite. Unlike bamboo or rattan canes, the Delrin Cane leaves its victim in pain long after he or she was hit with it. It almost always leaves welts for at least a couple minutes, but not always bruises.

For an extreme masochist like myself, this toy is amazing in use. Lighter blows from its business end leave me tap dancing and whimpering, while the heavier blows do wonders for grabbing my attention when I'm out of line.

If you've ever been whipped by the stick on venetian blinds, you have a small taste of what to expect from the Delrin Cane. However, the cane is much more intense than the stick due to, I'm sure, the denser, less brittle plastic it's made of.

Care and Maintenance:

Clean this toy with nonabrasive antibacterial soap or wipe it down with isopropyl alcohol or a 10% bleach solution.

You could probably drop this baby in the dishwasher, if you wanted to. Top drawer only. Weigh it down with something. And for goodness sake, don't say "Well, Rayne, you said it was okay!" if it melts. I said, "probably".

I think this is where I'm supposed to say "at your own risk".

Personal comments:

First, I hated it. Then, I loved it. Then, I hated it again. This cane can definitely be evil. But it can be oh-so-nice, as well. So don't shy away from it just because it's intense. Ve hafe vays of makinkh you enjoy eet!

Other

Texture:

Smooth

Diameter:

1/4"

Special Features:

Safety features:

Food-grade material / Hypo-allergenic / Latex free / Phthalates free