SSA Glass Blue rider - Dildo from SSA Glass

Product Details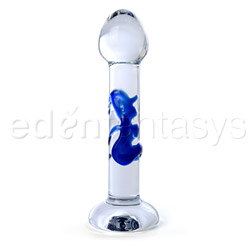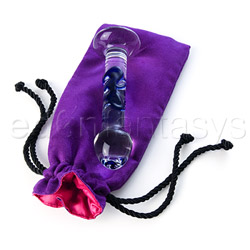 Summary:
The Blue Rider takes the advantages of glass (hard, smooth and slick), adds a large head that's good for moderate G-spotting or P-spotting, and a small patch of texture along the shaft. This anal-safe dildo offers an easy to hold base and long shaft that allow you to control the stimulation easily.
Pros:
Easy-hold base, head good for G/P spotting.
Cons:
Head gets wide fast. Straight shaft may require some getting used to.
Best use:
The Blue Rider glass dildo is suited for either vaginal or anal use. The wide, circular base has an indentation in the top that makes it easy to grab even when lubed up in order to control the dildo, and the large head (1-1/2" diameter) on the 1" shaft is good for stimulating the G or P-spots. Especially when used anally the rapid expansion of the head needs to be considered, so make sure that you use lube and plenty of warm-up before this toy, and go slow. Vaginally the Blue Rider's head is less of an impediment, but it's still big enough to allow for G-spot play.

The Blue Rider has all of the attributes of glass - it's rock hard and absolutely smooth except for one spot, the blue design. The design is slightly raised, but it's rounded and designed so it doesn't overstimulate or irritate during use.

The best way to use the Blue Rider is hand held, hands down. The stiff material and 90-degree angle make it difficult to comfortably attach it to a surface, and while there is enough of a flared base to put it in a harness the same stiffness and angle would make it difficult to use comfortably.
Material / Texture:

The Blue Rider dildo is made from clear glass - hard, smooth and easy to clean. The only texture is provided by a small blue design in the middle of the shaft, allowing for a variety of sensations as the dildo is turned and thrust partially or wholly. Apart from the textured patch the Blue Rider is absolutely smooth, without any hints of seams or points.

Material:

Pyrex glass

Material safety

Texture:

Smooth

Safety features:

Food-grade material / Hypo-allergenic / Latex free / Non-porous / Phthalates free

Design / Shape / Size:

The Blue Rider is a straight-shaft dildo with a very pronounced head that's only as tall as it is wide (1-1/2"). The shape of the head means that you should take your time inserting it anally, but it also ensures that the Blue Rider can stimulate the G-spot or prostate during use. The only texture on the Blue Rider is provided by a small blue abstract design about halfway down the shaft on one side. The glass design has smoothly rounded edges and protrudes about 1/16" from the dildo's shaft. When lubricated it was comfortable used either anally or vaginally, and did add to the sensation. The base was easy to grasp, and the toy could be easily rotated during thrusting to change the area stimulated by the design.

The length of the Blue Rider (6-1/4" insertable) is towards the long end for glass toys, but we found it comfortable during use. It would be a good idea to use care when trying out the Blue Rider, as the stiff glass could potentially bruise the cervix or otherwise cause injury if play is too rough.

Color:

Blue / Clear

Length:

7"

Insertable length:

6 1/4"

Circumference:

5"

Diameter:

1 3/8"

Weight:

12 oz

Performance:

The Blue Rider's best feature is the head. It reaches up inside and allows for strong stimulation of the G, P and A spots, and the long shaft (when used as a handle) and large base make it easy to control the stimulation. While I generally prefer curved toys for even more stimulation, the Blue Rider offers plenty with the added benefit that you don't have to worry about figuring out which side points forward during use. The textured panel adds a bit of stimulation to the vaginal entrance or anus during use, but it was difficult to combine G-spotting with getting the texture close enough to the clitoris for strong stimulation.

Care and Maintenance:

Glass is an easy material to take care of. If you protect it from impacts it will last you a lifetime, and the Blue Rider (made of Pyrex) is no exception. After use it can be cleaned with soap and water or toy cleaner, and if you want you can sanitize the Blue Rider by boiling it in water or soaking it in a 10% bleach solution. Since glass can be chipped it's best to take a bit of care during storage, either keeping the Blue Rider in a sock or in the included drawstring bag.

The Blue Rider works with any lube you like, and because it's glass you don't need much.

Care and cleaning:

Bleachable / Boilable / Dishwasher safe

Packaging:

The Blue Rider comes simply packaged in two bags. The outer one is a plastic bag to keep it clean, and the inner one is a nice cloth drawstring bag that can be used for storage. The bag appears to have a little bit of padding from multiple layers of cloth.

Personal comments:

At first I didn't think that I'd like the Blue Rider. It looked good but it was so straight, and I like curved toys. After a couple of uses I learned to work with the straight shaft, and realized that it has it's benefits. When you're using a curved toy you have to remember which side is supposed to point where, but with a straight toy you don't have that limitation. It can spin all the way around and still hit the spots, and with the large head of the Blue Rider it's easy enough to hit the spots without a curve.

Do I still wish it had a slight curve? Yes, but I'm starting to realize that a curve maybe isn't as important as I thought it would be.