Orion Crystal lover - Dildo from Orion

Product Details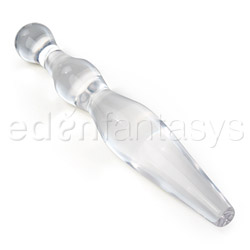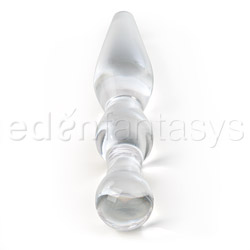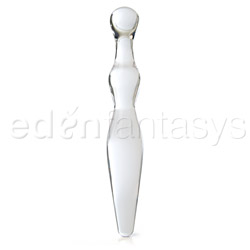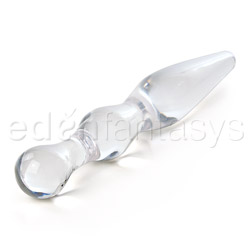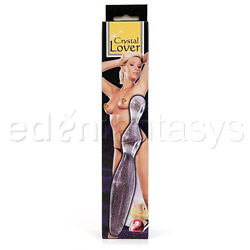 Summary:
The Crystal Lover is a great toy for those who appreciate multi-use toys or just want something utterly smooth and slick. With a little lube on this acrylic toy, it becomes extremely slippery for easy insertion either vaginally or anally. With two sides that provide very distinct sensations, you're sure to find many uses for this double-ended delight! Not only should it last for a very long time but it's also phthalate and latex free!
Pros:
Very smooth, light and retains temperatures well.
Best use:
The Crystal Lover, by Orion (a German based company), is a double ended dildo crafted from acrylic. It's best suited for those who are looking for some variety in their toys rather than a toy to be used simultaneously between two partners. It's only 8" in total length and more length is usually required for a dildo to be used together.

Its double-ended design does offer two very distinct sensations of either a smooth end or a wavy end. The smooth end is tapered for easy insertion while the wavy end is a bit more blunt. The wavy end does serve well as a handle during use, but the tapered end can be a bit hard to hold when lubed up. Both ends become very slippery with lube! This might make it a bit tricky to grip the Crystal Lover but it will slide almost effortlessly into either an anal or vaginal opening. Great for those who aren't fans of texture!
Material / Texture:

The Crystal Lover is crafted of Acrylic which has no scent or taste. It's also incredibly smooth with no seams at all. It is a hard material though so keep that in mind if you prefer a softer toy.

Acrylic is just an all around wonderful material. Not only is it one of the clearest materials out there (thick glass can have a greenish tint) but it also doesn't turn yellow, get brittle or crack over time like typical plastic can. As a matter of fact, if it's properly cared for, it will remain new looking regardless of age or even exposure to the sun.

Acrylic doesn't scratch easily either. If it does develop a scratch, it can be buffed out of it fairly easily. It's also stronger and lighter than glass which not only makes it easier on your hands but it's probably not going to break if you drop it. It will, however, melt and eventually burn if exposed to an open flame.

Material:

Acrylic

Material safety

Texture:

Smooth

Safety features:

Food-grade material / Hypo-allergenic / Latex free / Non-porous / Phthalates free

Design / Shape / Size:

The Crystal Lover's double-ended design does offer two very distinct sensations of either a smooth end or a wavy end. The smooth end is tapered from a diameter just less than 1" up to a 1 1/2" diameter at its base. The gradual increase in size helps the Crystal Lover to slide in easily and provide a nice full feeling at the lower end of the vagina.

The wavy end of the Crystal Lover offers two distinct bulges before narrowing again where it connects to the smooth end. The tip or first bulge measures in with about a 1" diameter while the second bulge is just a bit bigger at 1.2" in diameter. The narrow areas in between the bulges measures just a bit over 1/2" in diameter and it has a total length of 8"

The shape and size of the Crystal Lover makes it a good choice for not only vaginal use but it makes a great anal toy too! Just make sure to keep a good grip on it and the bulges will help to keep it from sliding in too far as well. Again, the Crystal Lover does become extremely slippery when lubed so it's probably a good idea to go ahead and keep a hold of it too.

Color:

Clear

Length:

8 1/2"

Insertable length:

7"

Circumference:

4 1/2"

Diameter:

1 3/8"

Weight:

0.4 lb

Performance:

The Crystal Lover is great for either vaginal or anal use. Just make sure to clean it properly before switching from anal to vaginal play. Otherwise you could develop an infection and that's not fun!

The Crystal Lover does hold temperatures quite well so you can either heat it up or cool it down if you like temperature play. Just remember to test it somewhere on your skin before use in case it's too hot or cold.

This one is not harness compatible, nor does it contain a suction cup so you will have to hold onto it. It is waterproof though so it can join you in the bath or shower.

Care and Maintenance:

Acrylic is non-porous, phthalate free, latex free and utterly smooth. It actually simulates glass and gets just as slippery! As a matter of fact, it's nearly indestructible but it can scratch. If it does scratch, they can be buffed out with a proper plastic/acrylic scratch removing buffer available at most hardware stores.

Cleaning is easy with antibacterial soap and water or your favorite sex toy cleaner. Just make sure to only use water or silicone based lubricants though.

Packaging:

The Crystal Lover comes packaged in a cardboard box that is mostly black. There is a nude model on the front as well as a picture of the Crystal Lover. There is a short blurb about the product on the side of the box in several (like eight!) different languages.

Also included in the box is a universal instruction sheet that covers several of Orion's products in eight or nine different languages. It's pretty basic and just talks about cleaning and to make sure and lube up your new toy.

The packaging is not suitable to use as a gift or storage box. It's just a disposable cardboard display box that could be recycled fairly easily as long as you don't mind anyone seeing the naked model and sex toy on the front.

Personal comments:

I had a lot of fun with this toy and it has several different uses. Not only did I enjoy it as a vaginal toy but it also worked great for me as an anal toy. The shape of the smooth end is actually quite similar to a lot of anal plugs too.

I preferred the bulged end for vaginal use more than the smoother end though. The pointier end of the smooth side just was a little too pokey for me. It never hurt me at all, I just didn't enjoy it as much. The pointier end did prove to work very well for easy anal insertion though!