Diamond Lovetoys El olas - Dildo from Diamond Lovetoys

Product Details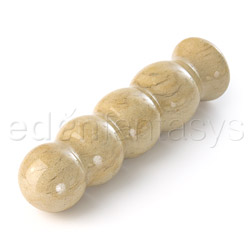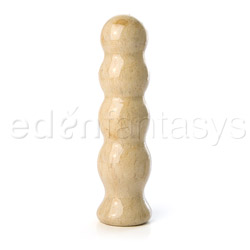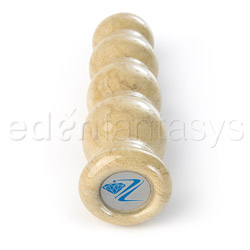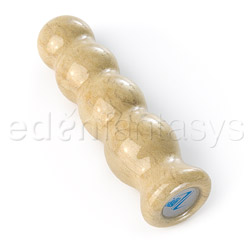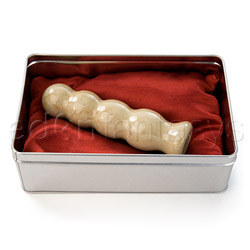 Summary:
The curvy nature of El Olas can pleasure you through thrusting, rocking, g-spot stimulation, and even massage. This stone dildo feels wider than it looks but may not be long enough for all users. Complete with its own box and pillow, El Olas is a smooth and versatile pleasure object.
Pros:
Earthy design, easy to clean, versatile
Cons:
Somewhat short, not safe for anal use
Best use:
Say hello to El Olas, a gorgeous stone toy by Diamond Lovetoys. El Olas works marvelously as a dildo, vaginal exerciser, and a massage tool. In dildo mode, the curves along the shaft provide variety for thrusting, as well as some texture to grip down on while rocking the toy to your liking. El Olas also gives some good g-spot stimulation, but it might not be spot-on for everyone.

Need to tone your kegels? Try El Olas as a vaginal exerciser. The weight of the stone provides delicious resistance, and you can reward yourself for your efforts afterward. You can also use El Olas for some stone massage. Use the tip to work on sore areas, or slide the length along the skin to stimulate multiple points at once.
Material / Texture:

El Olas is crafted from stone and finished with a clear, seamless coating. The entire surface is incredibly smooth, even on the base where the Diamond Lovetoys logo is seen. When compared with toys of similar size, El Olas feels lighter than stainless steel and comparable to glass.

Material:

Stone

Material safety

Texture:

Smooth

Safety features:

Hypo-allergenic / Latex free / Phthalates free

Design / Shape / Size:

With golden and grey swirls mixed into its sandy brown length, El Olas looks equally earthy and sophisticated. The slightly flared base facilitates holding the toy during use, but it's not wide enough to make El Olas safe for anal use. The four bumps down the shaft increase slightly in diameter from 1.4" to almost 1.6" near the base. With a length of only 6", this toy may not be long enough for some users. There's not much of a handle left if you want all four bumps inside you. On a positive note, the shorter length of El Olas means it's less likely to bruise the cervix or otherwise penetrate too deeply.

Color:

Beige

Length:

5 3/4"

Insertable length:

4 3/4"

Circumference:

5"

Diameter:

1 1/2"

Weight:

1 lb

Performance:

The bumps of El Olas can rock your world if you like rocking a toy inside you. For thrusting, this dildo is quite a bumpy ride, so if you are bored of flat, smooth roads, give this stone a try. Some may find the texture too intense for thrusting. Clenching down on the bumps and gently trying to move the toy around can be fun if you like trying to resist the toy's motion.

G-spot stimulation is quite possible, but may require a somewhat steep angle of entry and firm pressure applied to the stubby base. If you need precise pressure on your g-spot, El Olas may not give you the stimulation you need. Overall, El Olas provides incredible resistance and firm pressure, and feels bigger than it looks when inserted.

The weight of El Olas makes it a good vaginal exerciser and massage tool in addition to being a fine dildo. To exercise kegels, lie on your back and partially insert the toy, then try to keep the rest of the toy inside you. Adjust how much of the toy is inserted to change the difficulty level. Want more of a challenge? Kneel on a bed or other soft surface, insert El Olas, and do your best to prevent the toy from falling out.

As a massage tool, El Olas can be used in a few different ways. Hold the shaft and use the end to massage specific areas. Lay the toy flat on the body and roll it along the skin to soothe a larger area. You can also lay El Olas flat and slide it along the body; decrease friction by placing a sheet over the body before massaging. Massage oils can be used with El Olas if you desire.


Care and Maintenance:

While stone is certainly sturdy, care should be taken not to scratch or otherwise mar the surface of El Olas. Any lube is compatible with stone; just make sure to have a good grip because El Olas can get slippery. Warm water and soap works well for general cleaning. To disinfect, place the toy in a soap-free dishwasher (top-rack, please) or wipe down with a 10% bleach solution. Store this lovely dildo either in its original packaging or someplace where it won't roll around or collide with other toys.

Packaging:

El Olas comes in a plain, rectangular metal box with a Diamonds Lovetoys logo sticker on top. When you open the lid, you'll see a dark gray piece of foam that sits on top of the toy. Beneath the toy is an under-stuffed red cushion. The toy can easily slide around in the box, so be gentle with it.

Experience:

I enjoyed El Olas the most when I clenched around it and rocked it inside of me. Using it for g-spot stimulation was a close second. Initially, it was a little awkward to hit my g-spot, but once I got the hang of it, the firm bumps rubbing against me were quite heavenly. El Olas seemed too small at first sight, but during use, the length isn't much of an issue. I'll admit that g-spot stimulation would be a bit easier if the shaft were an inch longer, but the shorter length ensures a happier cervix.