Best use: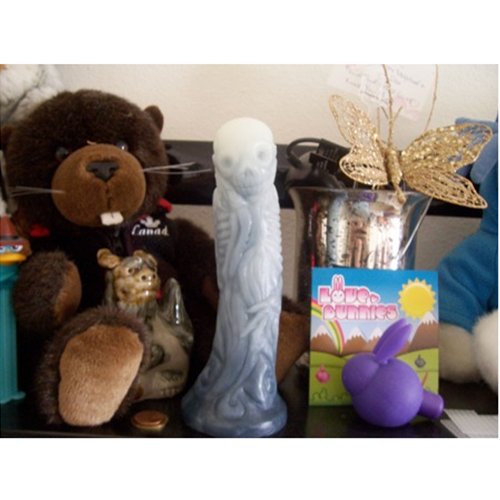 Whipspider makes some of the most interesting and unusual dildos I have ever seen. Up until this point I had not had the pleasure of actually owning one. I am sorry I did not try them out earlier, because I was definitely missing out!
The Ghost is one of the most hideously cute dildos I have ever seen. From the very minute I saw its half smiling little skeletal face, I fell in love. I know that I am one odd duck, but honestly this dildo just looked so damned happy to see me.
This toy is great for vaginal thrusting, because its skeleton head is bulbous enough to prevent poking your cervix or the back wall of your vagina painfully. It can rub against the G spot fairly well, though you won't be able to use much in the way of pressure. It can fit in the largest ring of one of my harnesses, but it doesn't do all that well in play as it tends to flop around a bit too much. It feels amazing in the hands, though! I have not tried to use this toy anally, and I am not really comfortable recommending it for anal insertion because the flared base really isn't large enough to make me feel safe. Arguably, it is larger than the rest of the toy, but it is also very soft and flexible.
The potential to tickle your partner's funny bone or trigger their sense of the macabre is endless with this toy. It truly is grotesque, but at the same time it is also very appealing- at least to me! The toy is soft enough that having a partner thrust it won't cause pain, so it does make a great couple's toy.
There is no motor on this toy and it is composed of silicone, so it can be used pretty much anywhere. It does glow in the dark, so sneaking it into the shower on a dark night might be problematic, or it could be whole new levels of fun depending on your sense of humor!
Needless to say, this baby is not going to be travel friendly unless you are the type of person who carries statuettes in their luggage.
Material / Texture:

The Ghost is composed of food-grade silicone that is hypo-allergenic, latex free, non-porous, and phthalates free. It is soft and squishy, rather than firm. It could be easily cut by sharp edges, so some care should be taken to keep it looking pristine. The Ghost picks up lint like that was exactly what it was designed to do, so be prepared to rinse him off before use.
Above is a view of the front of the toy, and here's a view of the detail on the back of the toy:

There is no smell or taste, but there is some heavy, though gentle, texture to this toy. The textures can be felt during use, but only barely. You have to really twist and turn the thing while it's inserted to feel the textures.

The toy has incredible drag, so you will, more than likely, need to use some lube. I recommend water based lube, though you could spot test your favorite silicone lube prior to use if you simply must use it.

I don't feel that this toy will intimidate new toy users, and it has loads to offer more advanced players as well.

Material:

Silicone

Material safety

Texture:

Ribbed / Textured head

Safety features:

Food-grade material / Hypo-allergenic / Latex free / Non-porous / Phthalates free

Design / Shape / Size:

I love the design of this toy, from its bulbous head to the facial features. The length is just about right (7.5 inches with 6 inches insertable) and the girth is just as nice (6.5 inches at its widest, near the base).

The colors are not quite as bright as they are in the advertisement pictures, but they are nice, and complement the subject matter very well. I have the blue Ghost, and it really looks like a skeletal creature.

The way the eye sockets are shaped, this little guy really looks into your soul. He has a kindly face, does my little Ghost, and he sits on my desk watching me type.

There is nothing discreet about this toy; it's going to garner attention wherever it is, but it doesn't exactly scream sex toy, either. It looks like a little silicone statuette...just a little knick knack. So long as you keep him clean you could leave him sitting out, and guests will just assume you are slightly odd. Traveling with him might be a bit more problematic, but you could always say it is a funky gift or something!

There really isn't anything about the size or shape of this toy that would leave a new toy user scared. You might be charmed and not really interested in using it, though.

Color:

Multi-color

Length:

7 1/2"

Insertable length:

6"

Circumference:

6"

Diameter:

1 1/2"

Weight:

1 lb

Performance:

In use, this dildo doesn't really stand out as a leading contender for toy of the month. It is a basic, vaguely penis shaped dildo, and it does the job of a basic, phallic shaped dildo. What I mean to say is: it works. It gets the job done and does it well. The thing is, it doesn't do anything more than other dildos I own of the same texture and size.

What I love about this toy is the way it smiles down at me while I work on my computer. Oh, and I LOVE that it glows brightly at night when I turn off the lights. Sigel is not so amused by this feature, but only because it came as a shock to him. He was walking by my desk one night at about 3 am, and there was this white glowing thing that looked, for all the world, like a ghost sitting on my desk. He nearly had a heart attack! That was when we discovered why this little skeletal guy is called the "Ghost".

The base of the toy can form a light suction on glass, ceramic, and wood. It's not a super strong suction but it will hold the toy still if you want some hands free action. It will not stick to the sides of a tub or shower, however. It is simply too heavy.

Care and Maintenance:

The Ghost is a silicone toy without any motor, so it can be boiled, washed in hot water with some soap, cleaned with a commercial toy cleaner, and/or spritzed with a 10% bleach and water solution. A soft rag is all you need to gently scrub away lube and body secretions; a brush with stiffer bristles might actually damage the finish of the toy. If you are really worried about passing on germs and what not, consider using a condom for play.

I store my Ghost sitting on my desk shelf, but he can be stored in a toy bag or a lint free box. Make sure he won't bump and grind up against other toys with sharp edges.

Care and cleaning:

Bleachable / Boilable / Dishwasher safe / Soap and water