California Exotic Inked glass probe - Glass dildo from California Exotic

Product Details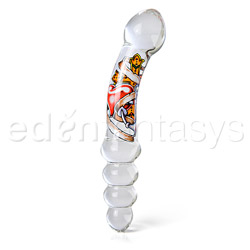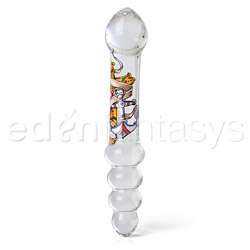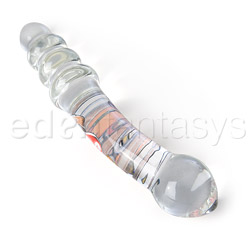 Summary:
The Hand Blown Glass Probe offers the amazing feeling of glass with the added visual pleasure of a nice tattoo design. Its easy to clean, sterilizable and fun to use. Two ends offer a variety of sensation. Just don't apply scotch tape to it or tiny pieces of the tattoo can come off.
Pros:
Attractive tattoo, effective design, dual ends, glass.
Cons:
Tattoo design can chip off during non-standard use.
Material / Texture:

The probe is made of borosilicate glass. Running your fingers over it, you will feel that the tattoo is slightly raised. Once inside you the texture of the tattoo cannot be felt.

The tattoo itself is baked on in the same process used to apply finishes to cookware. Analysis of the tattoo material shows no Cadmium, Lead, Mercury, Arsenic, Chromium, Barium, Antimony, Selenium, Total lead or phthalates. No PVC, phthalates or latex were used in the manufacturing process. In other words, it contains none of the ingredients that could potentially be a problem in finishes like the tattoo design. (Information provided by California Exotic.) I commend California Exotic for their prompt response to my emails.

Tiny pieces of the tattoo material come off if you apply, then remove scotch tape. Washing, even with pot scrubbers, doesn't remove tattoo pieces. Even scraping with fingernails can't chip it off. Yet tape can.

When I first noticed this I was concerned that there could be health risks. But after using it multiple times I inserted tissue wrapped fingers inside myself and found that no traces of the tattoo had been left inside. At least none that came out with the tissue. I have concluded that the tattoo is safe. Honestly, if I can't scrape it off with fingernails or rub it off with friction from fingers, what chance is there that some will come off in the slippery vaginal environment? Also, my skin and girly bits are very sensitive to a wide array of chemicals and irritants (even the wind causes my face to develop red splotches), yet this toy hasn't caused irritation.

As long as where you plan to insert it isn't lined with scotch tape, expect no problems.

However, I wish I hadn't tried the scotch tape experiment so soon. Now I don't know whether the probe would still be intact if I had never taped it. Using tape is certainly NOT normal use.

While the tattoo adds a psychological boost to the experience of using the probe, I would rather not have it there if it can't adhere under all circumstances. While I'm convinced its safe to use, I would prefer a non-inked toy than one with even minor chips, just for visual perfection.

California Exotic should consider using whatever technique is used to add colored design to some of my drinking glasses. Nothing removes that.

Material:

Tempered glass

Material safety

Texture:

Bulged / Smooth

Safety features:

Food-grade material / Hypo-allergenic / Latex free / Non-porous / Phthalates free

Design / Shape / Size:

The shape of the bulbed end of the probe is nearly perfect for G-spot stimulation. The bulb is 4 3/8 inches in circumference. The shaft is 3 1/8 inch in circumference.

The tattoo covers a large part of the shaft, but doesn't wrap all the way around it. It has a heart, a cross and an anchor with an antiqued ribbon swirling through and around these elements. A tiny rivulet of the ribbon flows onto the bulb. The tattoo is quite attractive.

Color:

Clear

Length:

7 1/2"

Insertable length:

5"

Circumference:

3 1/4"

Diameter:

1"

Weight:

8 oz

Performance:

This is a wonderful, effective, easy to hold, easy to use toy. It feels especially nice after the Lone Star sensitivity enhancing pretreatment. But that's cheating. Everything feels better after Lone Star.

Each end gives a different sensation. The bulbous end is far more effective for G-spot stimulation than the rattlesnake end. You can feel each ball of the snake end as that end moves in and out, which is an interesting, pleasant sensation. Its just not as intense as the bulbed end.

As a test, I used the probe and the similarly shaped clear ribbed G-spot wonder alternately several times. The G-spot wonder felt much better I have to say. It wasn't the nubs on the shaft of the wonder. The wonder is excellent in spite of the nubs. I'm not a fan of texture on hard toys. It may be that the head of the wonder is a little bigger or that the wonder is more curved.

Still, I'm successful every time with the probe. It just takes a little longer and the result is somewhat less intense than with the G-spot wonder.

Care and Maintenance:

The probe is glass, a truly easy care material. Washing with soap and water and towel drying is all that's necessary. It doesn't come with a padded bag, so you may wish to consider purchasing one. For now I'm storing it in the plastic container it came it, even though that doesn't offer any impact protection.

Any lubricant is safe to use with the probe, although the packaging recommends using water based lubricants for maximum pleasure. Glass is such a slippery material that I find that lube is usually not necessary.

To sterilize, it can be washed in a 10% bleach solution, boiled for a few minutes or cleaned in a dishwasher.

Care and cleaning:

Bleachable / Boilable / Dishwasher safe

Packaging:

The probe comes in a clear plastic clamshell package. The toy fits closely inside the molded halves of the container. I'm impressed that this is hand blown, yet still can be made to exact enough specifications to fit inside a pre-molded package. The glass workers must be quite skilled.

The packaging snaps closed even after its opened so its possible to store the toy in its original package, although this provides little protection.

The product literature is minimal and attractive. It cautions to wash before and after use and to use a water based lube. The packaging also warns that it is for external use only. Right.

I take minor issue with the package statement about not using it for medical purpose. My interest in sex toys started after surgically induced menopause when I was instructed by my doctor to receive stimulation regularly to keep everything in working order. "Use it or lose it" is true for menopausal women. I don't have real sex as often as I think is optimal. Toys are a medical necessity for me in my opinion. So apparently I'm using the probe in violation of California Exotic's terms and conditions. Scofflaw that I am, it fits that I'm drawn to this tattooed bad boy.