SSA Glass Honey wand - Dildo from SSA Glass

Product Details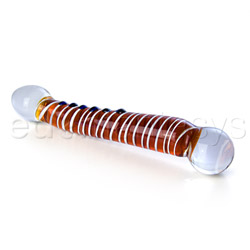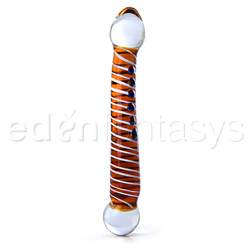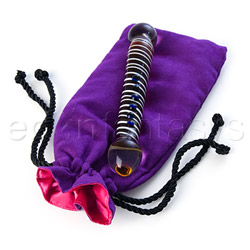 Summary:
The Honey Wand is gorgeous. It's made of an amber colored glass, with white stripes, and cobalt blue bumps for texture. It also has clear heads with dual shapes, that make it a joy to both use and look at. Excellent for g-spotting, thrusting and even teasing the clitoris and labia, this is truly a multi-use toy. A useful, pleasurable dildo that doubles as a lovely piece of glass art.
Pros:
Wonderful, different shape, nice texture, dual ends with different shapes add variety.
Cons:
Slight imperfection in the joining of the ball end to the shaft.
Material / Texture:

The Honey Wand is made from Pyrex glass so it is very firm with a smooth, slick finish marred only by the sextet of bumps along its shaft which provide a mild texture that can be felt but is not obtrusive or painful.

Because there is no bend or flex to glass, it's almost the ideal material for g-spotting especially when given a choice of heads as you are with this toy. The phallic shaped head is slightly pointed, giving excellent pin point g-spot stimulation, while the round, balled head gives broader stimulation and that "popping" sensation many are fond of.

Glass has no smell, no taste, holds no bacteria and is so slick, especially when lubed, that you get virtually no drag or tug against the skin when thrusting with it. This makes it super easy to rapidly thrust but also makes it feel as far from realistic as is possible.Those who like a squishy toy may find glass to be a bit cold and impersonal.

Glass also makes an excellent temperature play tool and the Honey Wand feels amazing even at room temperature; slightly chilly which makes each inch of insertion a super noticeable pleasure. You can, of course, warm it under warm running water before use if you prefer less chill but it does warm to body temperature fairly quickly. It can also be run under cold water, or even put in the refrigerator if you want extra chill. Don't freeze, microwave or boil before use. Extreme temperature changes can cause the glass to crack, not to mention damage tender tissues.

Material:

Borosilicate glass

Material safety

Texture:

Nubbed / Smooth

Safety features:

Food-grade material / Hypo-allergenic / Latex free / Non-porous / Phthalates free

Design / Shape / Size:

The Honey Wand is the most oddly shaped glass toy I own. The shaft is fairly straight and slim with just the slightest curve to it. It tapers from just under an inch in diameter at the side with the phallic head to about an inch, possibly a bit more, at the end with the rounded head. The heads themselves both measure about an inch and a quarter in diameter. What is odd, however, is the curves the toy does have.

The phallic head and part of the shaft curve a bit off to the right if you're holding it in your hands straight out from the body. It's really quite a natural curve, similar to the way a man's penis often curves slightly to the side. The phallic head is also tipped. I say tipped because it's a bit more extreme than a curve in angle. It... tips up.

Since the phallic shaped end is tapered it makes for very easy insertion. The shaft itself is an amber orange color with white "stripes" wrapping its length. The stripes can be felt with the fingers but not in use. There are six "bumps" along the phallic end of the shaft that provide a mild and interesting texture.

The rounded end is also slightly tipped and has the only imperfection I found in the piece - the area where the ball joins the shaft looks a little bit abruptly joined and is not entirely smooth. It's not noticeable in use, just looks a little bit "mooshed" together. The rounded end also tips a bit and the shaft at this end has a very, very slight curve.

Overall, the shape makes it easy to use. It's straight enough for fast thrusting yet curved and tipped and tilted and textured enough to be very interesting and varied in the sensations it gives.

Color:

Multi-color

Length:

8 1/2"

Insertable length:

7"

Circumference:

4 1/4"

Diameter:

1 1/4"

Weight:

1 lb

Performance:

I think the Honey Wand is not only a beautiful dildo with its color and texture, it's stripes and different heads of clear gorgeous glass, but it is a good performer as well.

The slight curve and tilted heads make g-spotting very easy, though it's not going to be a guaranteed g-spot magnet. I'd say those who already know where their g-spot is, and how to hit it just right, will have no problems with this toy. Those still exploring may have a harder time than with some but the sensations it gives, even without g-spot stimulation, are wonderful.

The phallic, tapered head inserts easily and rubs the vaginal walls nicely, along with the mild bumps. The bulbed, ball shaped end gives you a decent popping sensation and allows broad stimulation inside the entire length of the vagina. The texture and coolness of the glass makes it interesting even to just run it along the clitoris or labia.

The balled end also makes a good massager, used to dig into sore large muscles like the shoulders, thighs and buttocks!

Care and Maintenance:

Glass is one of the easiest materials to care for. It's non porous and doesn't hold on to bacteria so a simple wash with soap and water will clean it well. If you're sharing, or using both anally and vaginally, you can use a mild 10% bleach solution, or boil it for a few minutes Make sure to let it cool off completely before using!

It comes with a lovely soft draw cord storage bag that, while not padded, is velvety on the outside, satiny on the inside and provides enough cushion to keep the toy fairly safe. I would suggest storing it somewhere it won't get banged around a lot but, beyond that, just keep it in its pouch and you'll be fine.

Any lube can be used with glass: silicone, water or oil based , just use care and start with a small amount.

Glass is very slick and added lube can make it very slippery in the hands.

Care and cleaning:

Bleachable / Boilable / Dishwasher safe