SSA Glass Ocean breeze - Dildo from SSA Glass

Product Details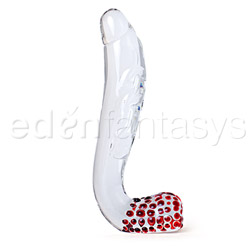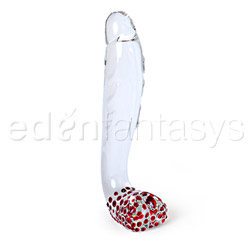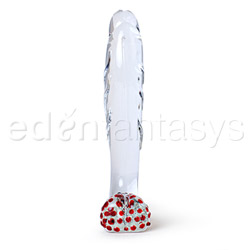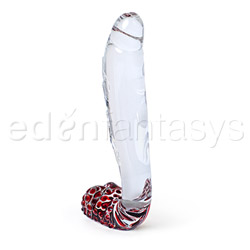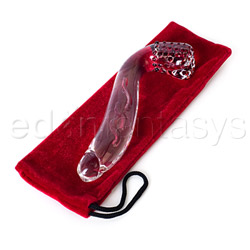 Summary:
The Ocean Breeze is a solid member of the ever-growing community of glass dildos. Its modest curve is effective during both shallow and deep penetration. The raised veins of the shaft create additional sensation during thrusting. The modest width and length mean that it's an excellent choice for both beginners and experienced users.
Pros:
Easy to clean, versatile, effective veins on shaft.
Best use:
The Ocean Breeze is a glass dildo suitable for vaginal and, with its flared base, anal penetration. Its modest girth and moderate length make it suitable for both beginners and those who have already visited the glass dildo rodeo once or twice before. The flared base is appropriate for getting a good grip during solo play, but can also be practical when using the toy à deux (especially with slippery hands).
Material / Texture:

The Ocean Breeze is made from pyrex glass - the very same stuff your mothers and grandmothers baked endless pies and lasagnas in. That means that the dildo is rock hard and remarkably durable. There's absolutely no taste or smell to the material.

Along the shaft of the dildo you'll find a series of raised veins. I had initially anticipated not being able to feel the veins as, previous experience had taught me that these things are more for aesthetic appeal than any real sexual function. Surprisingly, there was a noticeable sensation upon thrusting the dildo in and out of my vagina. The veins were not prominent enough for me to be able to actually say, "Hey! There's a vein!" What it did do, though, was create some additional sensation upon entry that worked very well with the wavy curve of the shaft itself.

Material:

Borosilicate glass

Material safety

Texture:

Nubbed / Ribbed / Smooth

Safety features:

Food-grade material / Hypo-allergenic / Latex free / Non-porous / Phthalates free

Design / Shape / Size:

I'm only guessing here, but I'm assuming that the slight curve of the design is meant to provide female users with g-spot stimulation. Unlike many other g-spot dildos that have a much more pronounced curve, the Ocean Breeze's curve is as gentle as... dare I say?... an ocean breeze. What I didn't expect was for that curve to actually hit all the right spots. It can easily reach the g-spot when angled properly during shallow penetration/thrusting. It also hits some very pleasurable angles when inserted fully. Call me jaded. I didn't expect for the Ocean Breeze to be as functional as it is, but the angle worked well for me.

The size was also a pleasant surprise. The modest girth and the veins indented on the shaft work in tandem to create a sensation that one wouldn't expect from a toy as narrow as this one is. That means it can provide all of the pleasure and none of the discomfort that wider dildos offer. This is particularly important when considering the fact that there is absolutely no flexibility to glass. If your vagina can't comfortably accommodate a glass dildo, it's going to be very uncomfortable.

Color:

Clear / Red

Length:

7 1/2"

Insertable length:

6 1/2"

Circumference:

3 3/4"

Diameter:

1 1/4"

Weight:

13 oz

Performance:

As noted above, the Ocean Breeze performed well. It's length and width allowed for easy penetration without sacrificing stimulation. It's versatile enough to be used alone or with a partner, for shallow or deep thrusting, vaginally or anally.

Care and Maintenance:

Because the Ocean Breeze is made from pyrex glass, clean-up is fast and easy. You can throw it in your dishwasher or wash it by hand with soap and water. It comes with a cushioned velvet pouch for easy storage that will also prevent the dildo from inadvertently being chipped or cracked when knocked up against something.

Its non-porous material means that it is compatible with all lubricants.

Care and cleaning:

Bleachable / Boilable / Dishwasher safe