Sportsheets Sex in the Shower dildo and suction cup kit - Dildo from Sportsheets

Product Details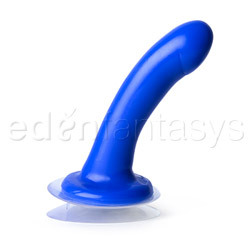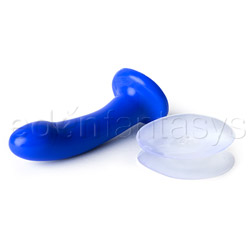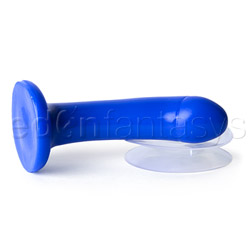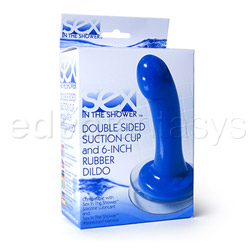 Summary:
The Shower Dildo is the next rubber duckie. Simply attach it to the shower wall or tub bottom and have a thrilling, wet, ride. This baby adds a new dimension to sex in the shower - just make sure you grab onto something or have slip proofing because it's going to be a wild ride!
Pros:
Suction cup, beginner friendly.
Cons:
At times, it is hard to get the suction cup to stick.
Best use:
Sex in the Shower is the perfect companion to any wild, wet, frothy shower experience. Simply attach the dildo to the suction cup, attach that to the shower wall or bath tub bottom, position yourself, and enjoy a wet, wild ride. The dildo is also attachable to walls; however the suction won't be as strong. In addition, the toy is perfect for anal users as it has a flared base and is safe for use in the anus. Plus, the dildo is harness compatible. So if you're wanting to use it for pegging or for a little girl on girl action go right ahead. Because of its simple design, it is perfect for beginners and advanced users alike.
Material / Texture:

The Shower Dildo is constructed out of pure rubber which has some new toy smell odor when fresh out of the box. Simply air it out for a few hours and the smell will dissipate. Of course, the toy will always have a rubber taste to it so it may not be the best thing to suck on, but the taste is bearable. The texture is smooth and unblemished, making for a comfortable ride. Flexibility is about medium. The shaft has some give to it but not so much as to make it floppy. It's soft yet firm making for a more realistic feel. The toy attracts some lint and hair but not as much as TPR material does.

Material:

Rubber

Material safety

Texture:

Smooth

Design / Shape / Size:

Sex in the Shower is really a basic dildo. The head is slightly, and I mean slightly, flared, adding a more realistic look. The shaft is curved and may reach some women's G spots and some men's P spots, but the toy is not designed for that purpose so it's really a gamble. The dildo is about 6 inches long with 5 1/2 of those inches being insertable length. Thus, it is average and should be comfortable for most people. Circumference is about 4 inches. This isn't a thick toy but some beginners might find the girth a little uncomfortable at first.

Color:

Blue

Length:

6"

Insertable length:

5 1/2"

Circumference:

4"

Diameter:

1 1/4"

The set includes:

Weight:

8.5 oz

Performance:

The Shower Dildo works well for its intended purpose. Used just as a dildo, performance is average. The head can hit the G spot and the girth and length is just enough to provide a full feeling. Used anally, the toy can prove a little long and a little too girthy, but if you enjoy being stretched out a little this is a good choice. Because of the length, it may not be comfortable for extended wear. Used in a harness it is easy to maneuver and control. Finally, it's a dream in the shower. Simply attach to the suction cup and ride. It's as simple as that.

The suction cup can prove to be a little difficult. You have to suction the dildo to the cup itself and then suction the suction cup to a wall of the shower or bathtub. The suction is not always great and you may have the dildo just fall off or the entire thing come right off the wall, but with a little persistence and practice you will get it to stick just fine. To release just pull.

Special Features:

Flared base
Harness compatible
Suction cup
Travel kit

Care and Maintenance:

Rubber really isn't the best material out there for a sex toy. To keep the Shower Dildo in peak condition, cover it with a condom for each use. If you intend to share the toy or use between the anus and vagina, always cover it with a condom. Wash the dildo and suction cup with antibacterial soap and hot water before and after each use and dry with a lint free towel. Use only water and silicone based lube with this toy, never oil. Finally, store in a drawer or toy chest.

Experience:

Aw, sex in the shower is one of my favorite things, but I don't always have my boyfriend there with me. That's when I pop out my Shower Dildo and go for a little romp. I normally use silicone based lube with water play because it is less likely to wash away as quickly as water based lube. The first time I tried the toy I had a little trouble with the suction cup but once I got it to stick to the wall I backed up to it, slid the dildo in, and started thrusting. Within moments I was in shower bliss. I did find myself being a little too energetic though and grabbed the mat to prevent slips. A word to the wise, always have some form of slip proofing on your shower or bath when using this toy.