Don Wands The candy cane - Glass wands from Don Wands

Product Details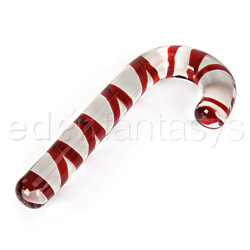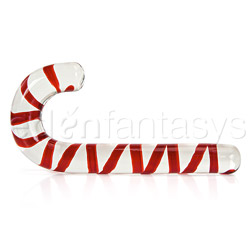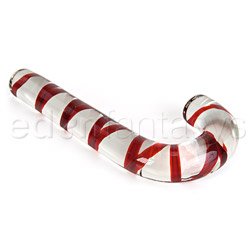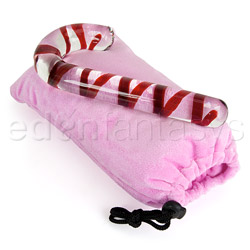 Summary:
Get into the spirit of the season, during any season, with this high quality, festive glass wand by Don Wands. The design of the Candy Cane will be sure to put you quickly in a lighthearted mood, while the slick, smooth texture and sharp g-spot curve will keep you coming back to this toy all year long.
Pros:
Glass material, fun design, nearly frictionless, great stimulation from both ends, includes pouch.
Cons:
Straight end too thin for significant g-spot stimulation, might be too frictionless for some.
Material / Texture:

This toy is made from tempered glass, which is one of safest materials available. It is nonporous and has absolutely no smell or taste. The surface is extremely smooth to the touch and requires very little lube to become slick. Glass is completely rigid and holds temperatures well. You can heat this toy up in warm (not boiling) water, or cool it down with cold water.

Material:

Tempered glass

Material safety

Texture:

Smooth

Safety features:

Food-grade material / Hypo-allergenic / Latex free / Non-porous / Phthalates free

Design / Shape / Size:

It's a candy cane, and it looks just like one. The bright red stripe spirals around the clear glass without adding any texture to the surface. This is a festively discreet toy. If you wanted to, you could leave this out on your coffee table at Christmastime and I'm sure your Great-Aunt Helen would think it was absolutely darling. You could easily travel with this and claim it was a late/early/timely Christmas gift. And I don't feel bad telling you that my partner and I giggled for days about this toy. The design is definitely what the Candy Cane is banking on and for all that, the design is actually very functional. The long smooth shaft with a rounded tip was great for easy insertion and thrusting, while the curved end made a perfect handle. The Candy Cane also provides for intense g-spot pressure with the curved end inserted. We found the girth of this toy (1" diameter) to be a little narrow for our tastes and would have liked it to be a bit thicker. The combination of the 1" diameter and lack of texture gave this toy a very subtle feeling that builds slowly but well worth the wait if you have the patience. We both found the length (6" for the shaft) to be very comfortable.

Color:

Clear / Red

Length:

7 1/2"

Insertable length:

6"

Circumference:

3 1/4"

Diameter:

1"

Weight:

0.5 lb

Performance:

Once we got over the giggles, we found that this wand works beautifully. The untextured shaft slid in like a dream, but was too thin and frictionless to provide immediate g-spot stimulation. After the initial insertion and with quicker thrusts, this toy built up some amazing g-spot orgasms despite having no curve at all. For me, the best part of this toy was the curved side. With the curved end inserted, the Candy Cane provides a fit similar the strapless strap-ons like the Feeldoe or Share. I had my own candy cane striped glass cock for a while, and it was surprisingly comfortable. The rigid glass and sharp curve gave strong pressure right against my g-spot. Inserted like this, there is very little room for movement, but with that sort of pressure, any tiny shift could be felt. However, the Candy Cane is not a functional strapless strap-on (or at least, we haven't been able to make it work yet) as the remaining shaft wasn't long enough for effective penetration, and was angled too sharply upward. Also, since the material is so smooth and heavy, it was nearly impossible to hold with my PC muscles for more than a minute.

Care and Maintenance:

Glass is very easy to care for. It is nonporous and so can be cleaned with soap and water or sterilized by boiling, run through the dishwasher (top rack, no soap), or wiped down with a 10% bleach solution. It is compatible with any type of lube. One should avoid dropping glass toys, and they should be stored in some kind of padding (this one comes with a case) to protect it from breaking. If properly cared for, a glass toy can last you a lifetime.

Care and cleaning:

Bleachable / Boilable / Dishwasher safe

Packaging:

This toy arrived in a simple plastic clam shell with a very thickly padded baby pink drawstring pouch included for storage, and a sample of Wet Platinum silicone-based lube. Instructions were minimal and standard. The one thing that did bother us was the color of the pouch included. I don't know if every Candy Cane comes with a baby pink pouch, but you would really think they would pick a color that didn't clash terribly with the red color of the toy. This obviously didn't affect the performance, but it was just a small pet peeve.

Personal comments:

I have to admit, it did take us a day or so to get over the laughing fits that hit us when we thought about having sex with a candy cane. If you could manage a straight face, this would be a great toy for BDSM/roleplaying scenes. Anyone got a Santa fetish? This is practically made for you. And in general being fucked with a candy cane has great potential for humiliation play.

One thing I really love about this toy is that it never fails to make me smile. I mean, come on--it's a candy cane! I don't really have another toy that I can think about and it will set me to nearly laughing. A sex toy that can cheer you up without even using it? That, I like.