Ruff doggie styles Distressed heart spank-her - Paddle from Ruff doggie styles

Distressed heart spank-her videos
Product Details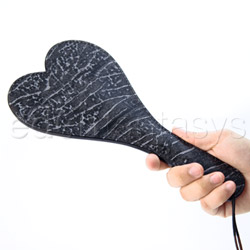 Summary:
The Distressed Heart Spank Her by Ruff Doggie Styles is a lightweight textured leather paddle with an interesting grungy sort of print. It's stiff, and sturdy. Small enough to be carried in a medium sized purse. Comfortable to hold. But don't let the fact that it's made of leather fool you! It's just as unforgiving and slappy as wood.
Pros:
small, lightweight, thin, sturdy, interesting print
Cons:
feels more like a wooden paddle than a leather one
Best use:
The Distressed Heart Spank Her is a thin, lightweight paddle that can be used by pretty much anyone. Whether it's your first time giving or receiving a spanking, or you've been giving and getting them for years, this paddle is easy to maneuver.

It's not overly painful, but does hurt, being an impact toy. Light masochists and pain sluts alike will enjoy being spanked with this toy, and sadists will find it gives a satisfying thwack.

Take it to a play party, or to see your lover in Timbuktu. It's light, and small, and metal free, so you could probably even stow it in your carry-on. I can see the headlines now.
Design / Craftsmanship / Size / Material / Features:

I won't lie to you. M's a little put off by the design. He's kinda partial to being all man, and a heart-shaped paddle, no matter how grungy the pattern, is a little too girly for him. He's suggested I send it to one of our favorite dominas as a Christmas present.

Never mind the fact that in the future I may need impact toys of my own, and might actually find a grungy heart cute. I don't, but he didn't even ask!



It's not easy to tell in this photo, but the strong diagonal lines are actually pitted into the leather. If there's pattern, it's probably indented, though one side has far deeper pits than the other. To me, it sort of looks like tire treads. Upon closer inspection, the lined shading reminds me of sketch art, giving this paddle an almost cartoonish feel. They're calling this look "distressed". I'm calling it "painted". I'm not sure, exactly, how they got this look and feel, or if it changes any of the qualities of the leather, such as how porous it is.



This paddle is eleven inches long and five and a half inches wide. The handle makes up about five inches of the length and is an inch and a quarter wide. And it's somewhere between a quarter and a half an inch thick.

It seems to be two pieces of leather put together around a wooden or plastic dowel. Whatever it is that's inside is pretty stiff, and can be felt through the leather when you're paying attention, but isn't really noticeable by sight, or when being paddled by this thing. I think it's a really good addition, though, because we find that often, leather paddles are rather flimsy, and, over time, the handles often begin to bend. I don't think this paddle will have that problem.

The stitches seem strong, and the ends appear to be well secured. The edges of the leather are slightly rounded, and appear to be coated with black edge cote. And at the bottom, there's a piece of cord threaded through a hole.

Material:

Leather

Material safety

Color:

Black / Grey

Length:

11"

Width:

5 1/2"

Weight:

6.5 oz

Performance:

This paddle sort of caught me off guard. The leather is so hard and stiff that it feels more like a wooden paddle than a leather one. However, it's extremely light, so even with the stiff, board-like feel, it doesn't pack as much of a punch as, say, the solid oak paddle with holes in it (which is still much heavier than this paddle) we own.

I'm not a huge paddle enthusiast at any rate. I mean, I don't hate them, but they're certainly not my favorite. Which means they're one of M's favorites. And of all the paddles we own, the wooden paddles are my least favorite. But this paddle is so light that, while it's still not my favorite, I like it much more than, say, the solid oak paddle with holes in it. (This paddle is my favorite.)

It is an impact toy, so it does hurt some. And it makes noise. A sort of slapping sound more than a spanking sound, or the solid thunky thwap of hard oak. It'll probably be heard through a wall. That's one of the reasons we've come out to all the neighbors. Better that than they call the police, ya know?

Care and Maintenance:

Leather, as a general rule, is pretty porous, being a natural fiber. It's water-resistant, and easily cleaned with a damp cloth, most of the time. This paddle would probably be fine with soap and water as necessary. I doubt you'll need to oil it or anything. Just make sure it's dry before you store it, as leather does occasionally mold in dark, moist places.

Share at your own risk. Leather is porous.

Packaging:

The only thing this paddle had by way of packaging was a tag sporting a chickie on both sides in sexy lingerie holding the paddle.

Other

Special Features:

Kinky
Texturized
Waterproof

Safety features:

Phthalates free