Spartacus Divinity ankle restraints - Ankle cuffs from Spartacus

Divinity ankle restraints videos
Product Details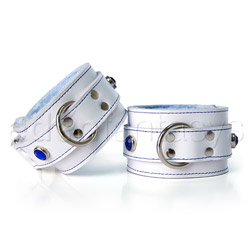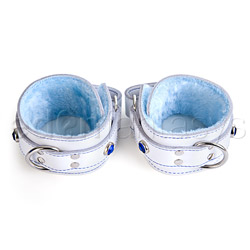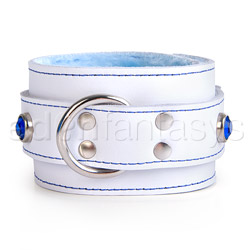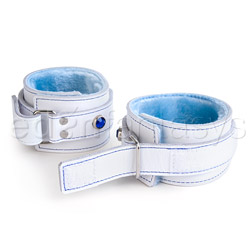 Summary:
These cute white restraints can hold up to struggling, but might not please a more advanced bondage player. They are well-designed to fit ankles that are 10" around or smaller. Adorned with blue jewels and lined with soft faux fur, Divinity Ankle Restraints are a nice introduction to the world of bondage.
Pros:
Soft lining, easy to use, might double as wrist cuffs.
Cons:
Can slip during use, edges can dig into skin.
Best use:
Divinity Ankle Restraints by Spartacus can be used to bind someone's ankles together or tether their feet to separate attachment points, like bedposts. For people with larger wrists and/or hands, they might double as wrist cuffs. If you like the look of the cuffs but don't want to be restrained, they are comfortable enough to be worn for decoration. Since the cuffs close with Velcro and cannot be locked, they are geared toward lighter bondage play. Advanced bondage players may not like these cuffs for rough play because the cuffs can slip during use.
Design / Craftsmanship / Material / Size / Fit:

The ankle restraints are made of two pieces of white leather attached with metal studs. The 2" wide cuffs have pale blue faux fur on the inner surface. Each 1" wide strap attaches to itself with Velcro and is adorned with two deep blue jewels. On each cuff is a D-ring for attaching the cuffs with a clip either together or separately. The deep blue stitching creates pleasing lines on the cuffs and really makes the leather edges pop.

While each cuff is 10.5" long, there is very minimal Velcro overlap at maximum circumference. People with larger ankles may need larger cuffs, especially if a tight fit is undesirable.

The strap is attached to the cuff at only two points; one on either side of the D-ring. The limited attachment allows the cuff to slip, especially when struggling or if the cuff is not worn tightly.

Material:

Leather

Material safety

Color:

White

Length:

10 1/2"

Width:

2"

Closure:

Velcro

Hook style:

D-ring

Weight:

0.3 lb

Performance:

Attaching the Velcro strap is fairly simple, although you may need to flex the leather if it's too stiff initially. Once on, the soft faux fur of the cuffs feels comfortable against the skin, even with extended wear (two to three hours).

The faux fur does not extend past the leather on the sides, so the leather's edge might dig into the ankle. This may happen more often on the edge near the foot, especially if you point your toe.

If you move around a lot while wearing the cuffs, the cuff layer can slip, which can cause loosening. If your goal is to keep someone restrained, pay careful attention to the cuffs if they struggle; otherwise your partner may escape!

Care and Maintenance:

If the cuffs remain clean during play, storing them in a cool, dry place afterward is all that is needed for maintenance. White products seem to attract stains and marks, so take extra care with these cuffs. To clean the leather of the cuffs, use a damp cloth to wipe the surface, and pat dry afterward. A damp cloth can also be used to clean the faux fur, and a bit of gentle soap can help clean up tougher messes. A leather care product can also be used to extend the life of the restraints.

Packaging:

The ankle restraints come in a clear plastic clamshell case with a cardboard insert. The front of the insert shows a model sporting the complete Divinity set (wrist and ankle restraints, collar, and blindfold) and the back has general product information. Spartacus targets bondage beginners with phrases like "Experience a softer side to bondage" and noting that the cuffs come "with easy release Velcro."

Experience:

Both my partner and I like the design of these cuffs, but they fit my partner much better. Neither of us could struggle out of them, but we weren't struggling for our lives. He wore the cuffs on both his ankles and wrists and found both uses to be comfortable. The cuffs dug into his ankles very minimally with movement; his wrists were not bothered at all. The cuffs were comfortable on my ankles, but would slip sometimes since I wore them somewhat loosely. The cuffs really dug into my ankles when I moved my foot around. My wrists and hands were too small to use these cuffs. For reference, my wrist circumference is 6.25" (8.5" for ankles). My partner's wrists are 7.25" around (9.25" for ankles).

Other

Size:

One size fits most

Lining:

Faux fur

Safety features:

Phthalates free