Spartacus Divinity blindfold - Blindfold from Spartacus

Divinity blindfold videos
Product Details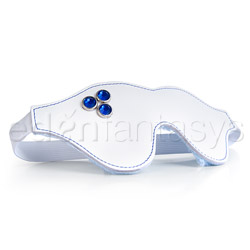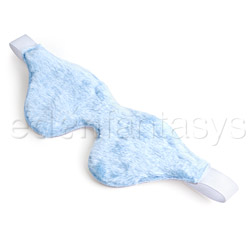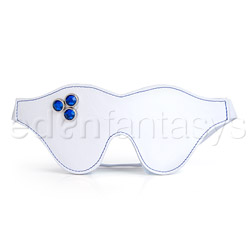 Summary:
Quality and comfort combine to make this blindfold an excellent tool for blocking your sight in any situation, and sets a lighter mood during BDSM play.
Pros:
Very well made. One size fits most.
Cons:
Might irritate the nose bridge on some individuals.
Best use:
Removing the sense of sight in the bedroom can greatly enhance your sensual experience, and the Divinity Leather Blindfold by Spartacus will help you on your way. There's nothing complicated about it at all; just slip the elastic band over your head, adjust the eye mask, and enjoy.
Design / Craftsmanship / Material / Size / Fit:

Blindfolds are such a simple item that many manufacturers seem to just throw them together without a thought, but Spartacus Leather upholds their tradition of producing goods that will last for years with the Divinity. The cowhide leather has a smooth-grained matte finish and is very soft and flexible, yet it's thick enough that there's no questioning its durability. Along the outer edge is a flawless line of blue stitching, which holds the faux fur inner lining in place and also accents the trio of blue rhinestones. The rhinestones themselves are securely attached, and since their backings are hidden under the lining, you can't feel them at all during use.

The mask measures 8" wide and is 3-1/2" high over the eyes, with a gently contoured nose space. The elastic strap is 3/4" wide and stretchy enough that the blindfold should fit pretty much anyone comfortably.

Material:

Leather

Material safety

Color:

White

Length:

8"

Width:

3"

Weight:

0.1 lb / 7 oz

Performance:

Depending on the size and shape of your face, the Divinity blindfold may not perform as a complete blackout mask, but it's not likely that you'll see more than a sliver of light if anything. The mask conforms well to the face, and doesn't slip around during use.

The soft fur feels luxurious against the skin, adding to the overall comfort of the blindfold, and doesn't shed at all.

You could easily use this as a sleeping blindfold as well, even while traveling, because with its light color scheme it's unlikely that anyone would think "BDSM" the minute they saw it.

Experience:

Alan says:
Between the color scheme and the jewels, this blindfold seems a bit feminine to me. It does do its job though. When I put it on I could detect faint light coming from the upper corners, yet couldn't see anything in the room. It was comfortable too, though I can say that opening one's eyes when said orbs are pressed against a fur wall isn't a great idea. None of the fur came off, but it gave me a moment of itchy eye as could be expected.

I thought it looked really cute on Michele too (which is probably why I deemed it feminine), especially when she wore the Divinity collar with it. Overall I'd say it's an excellent blindfold.

Michele says:
This isn't my favorite blindfold, but that's just personal preference and not really anything wrong with the blindfold itself. Even though it stayed on ok, it felt too large for my face and rubbed the bridge of my nose in certain positions. It also got hot after awhile. On the positive side, I couldn't see a single thing with it on, not even light, and the fur lining was super soft on my face so it felt nice otherwise.

Other

Size:

One size fits most

Lining:

Faux fur

Safety features:

Phthalates free