Spartacus Divinity collar - Collar from Spartacus

Product Details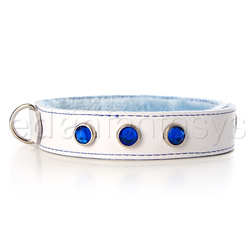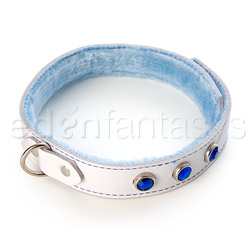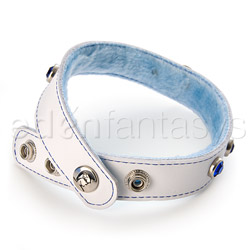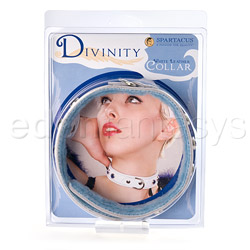 Summary:
Though it looks less intimidating than the standard black BDSM gear, this collar still performs well in an average bondage scenario. It sports a metal D-ring for leash attachment and a strong adjustable snap closure to fit necks from 13" to 16".
Pros:
Comfortable. Well made.
Cons:
Nickel plated hardware may not be suitable for those with allergies.
Best use:
Designed for beginner to intermediate BSDM play, the Divinity collar by Spartacus is perfect for those who want bring a lighter mood into their bondage scenes. With its large blue rhinestones and silver-tone hardware, this collar could also be worn as a fashion statement, though the D-ring attracts attention and suggests that the wearer's thought aren't as pure as the white color might indicate.

A matching blindfold, wrist restraints and ankle restraints are also available.
Design / Craftsmanship / Material / Size / Fit:

The Divinity collar is made of 1" wide white cowhide leather that has a smooth matte surface and a thick inner lining of pale blue faux fur. A single line of royal blue stitching holds the lining in place and is visible on the outside of the collar, serving as a classy accent to the rhinestones. The collar as a whole is very flexible length-wise, but the leather is thick enough that it doesn't twist vertically when you pull on it or use a leash.

The D-ring is held in place by a thick strip of leather that is riveted firmly enough onto the collar that there's no doubt that you can actually utilize this ring during play rather than just have it as a show piece.

There is a single snap "top" on one end, and four snap "bottoms" on the opposite, so you can adjust the collar in 1-inch increments from 13" to 16", and the sizing is pretty much exact.

The rhinestones are plastic set in metal surrounds, and even though the backings of all the hardware are hidden under the fur lining, it's all nickel-plated, so if you have a nickel allergy this might not be the collar for you.

Material:

Leather

Material safety

Color:

White

Length:

17 1/2"

Width:

1"

Closure:

Snaps

Hook style:

D-ring

Weight:

0.1 lb

Performance:

Just putting this collar on can be a mild sensory treat, particularly if you close your eyes and let your lover do it. The fur lining feels like a soft caress to the skin while your nose detects the sexy smell of leather... what a nice combination!

While easy to fasten, each of the snaps fit very tightly together so the collar withstands a good amount of tugging and pulling during use, whether from a leash or by hand. You may even find that it takes both hands to unfasten it when the time comes.

During use the collar flexes just enough to stay comfortable, and doesn't tend to chafe like some collars do.


Experience:

Michele says:
I like this collar, I really really do, but it's a little big for me. My neck is closer to 12" so it moves around a lot when I wear it. Good for grabbing and tugging, but if we're using a leash then it tends to spin. Still, it feels great on, and I especially enjoy the slightly bulky feeling that the fur padding gives it.

Alan says:
Like its matching blindfold, the Divinity collar is a feminine item to me. I've worn it a couple of times though just to see what it felt like. Very nice. No scraping or rubbing, and it didn't feel unduly hot. It felt solid, like something that would last a good long time, and it did stand up well to Michele's vigorous tugging. The only thing that seemed cheap about it was that the rhinestones are big pieces of faceted plastic set in metal. That's not really a big negative though, because it isn't obvious until you touch them and it's to be expected of a collar that's this affordable.

Other

Size:

One size fits most

Lining:

Faux fur

Safety features:

Phthalates free