Spartacus Divinity wrist restraints - Wrist cuffs from Spartacus

Divinity wrist restraints videos
Product Details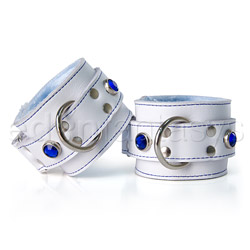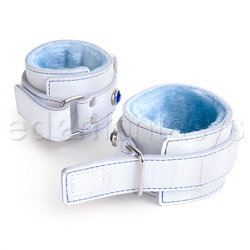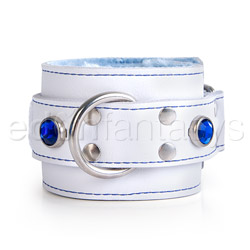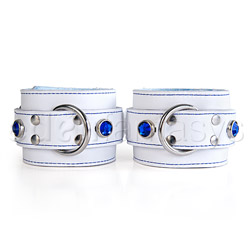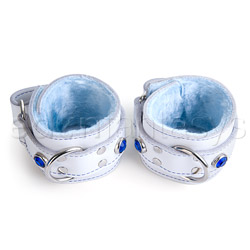 Summary:
The Divinity wrist restraints are strong, sturdy and comfortable. They are ideal for those who are new to exploring restraints because of the velcro closures that allow for a fast release. More experienced users will appreciate the craftsmanship, overall quality, and comfort of the cuffs. If you have small wrists these will be ideal for your size, but if you have larger wrists consider looking at another set of cuffs because this set does run small.
Pros:
Soft, comfortable, quick release.
Cons:
Not a one size fits all.
Best use:
The Divinity wrist restraints are for any level of bondage. Those who are new to bondage or just prefer a lighter bondage with no locks will appreciate the beauty realness the Divinity restraints offer. If you prefer heavier bondage but want something softer to change up the routine the Divinity cuffs are the strength and quality you are accustomed to.

The cuffs lock with velcro, and that may be an issue for really heavy tugging. If you are looking for a set of cuffs that will hold a sub or any partner in place through even the most harsh tugging, then this may not be your set of cuffs. But, the Divinity restraints will hold up to moderate pulling and thrashing. And because of the plush lining on the inside they are not totally uncomfortable, making them ideal for extended periods of time.

The best use would be when you want to restrain your partner, obviously, but that can be enhanced with the rest of the bondage set. The ankle restraints and the blindfold as well; you will have more options and fun. Adding candles is a wonderful option because of the plushy inner lining, so the play session can be sensual as well as a sexual experience.

This is a wonderful starter set for anyone looking for their first restraints. The velcro allows for a fast release in case the restraints need to be removed quickly and they are comfortable. And for those who are more experienced the quality and longer wear-ability are a great bonus.
Design / Craftsmanship / Material / Size / Fit:

Made of quality white leather and a plush lining, these cuffs offer wonderful craftsmanship. The inside is lined with a plushy baby blue faux fur. Rather than the traditional clasps for buckles the Divinity set has a looped back velcro piece to secure it. The D-ring is flanked by two grommets and a blue gem on either side. The Divinity cuffs are well made and can handle a good amount of use and pressure on them.

Of course there is a slight leathery smell, but that is to be expected with anything made of leather. The leather is not too stiff and can be easily maneuvered for positioning the cuffs, and the fur is extremely soft and comforting against the skin.

And... because of the velcro closure, the cuffs can be made as small as you could possibly need them. Laid out, the main piece measures almost 9 inches long; Spartacus states that the wrist sizes are from 4 to 7.5 inches thick, I had a really hard time measuring that, but for the most part it was quite accurate.

This is a great set of cuffs for all size wrists, I would be more comfortable for those with small wrists though.

Material:

Leather

Material safety

Color:

White

Length:

9"

Width:

2"

Closure:

Velcro

Hook style:

D-ring

Weight:

0.3 lb

Performance:

The cuffs go on with enough ease that you can place them on yourself trouble free, and the easy release velcro works wonderfully. The Velcro adds a needed (for some) quick release that would be great for anyone beginning in bondage and BDSM. The D-ring holds well while tied or clipped to something. They held really well while latched to the spreader bar.

Other uses:
*Possibly ankles if you have small ones.
*Change the location to upper arm for added restraint possibilities.
*Really interesting jewelry.
*Sleeping restraints.

These fit a true multitude of wrists ranging from a 5 year old's wrist to a thicker man's wrist (although I don't recommend that).

Care and Maintenance:

The wonderful thing about cuffs is that they don't need to be cleaned often. But, every now and then you do need to clean them... maybe lube got on the fur or blood on the leather, or whatever. If this is the case you can clean them carefully. Please remember to do a full cleaning sparingly to keep the leather in tact.

Leather: Wipe it down first with a damp cloth, if needed a leather cleaner can be used. The less water that touches the leather the longer it will last.

Fur lining: Warm water and soap then rinse, you really don't need to do this too often. Let it air dry and then fluff the fur.

My personal cuffs stay stashed away in a drawer so there is no heat or sunlight to crack the leather. Even though it doesn't seem as if the metal wouldn't tarnish, painting it with clear nail polish periodically will keep it from doing so anyway.

Personal comments:

My only complaint is that the cuffs are not a one size fits all. They run very very small. The average sized man would not fit inside the restraint. The cuffs hold very well as long as the velcro is fully connected... on the largest setting the velcro will not hold at all.

Other

Size:

One size fits most

Lining:

Faux fur

Safety features:

Phthalates free