Aslan Leather Crystal blue jag - Double strap harness from Aslan Leather

Product Details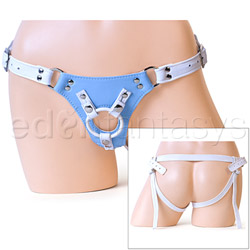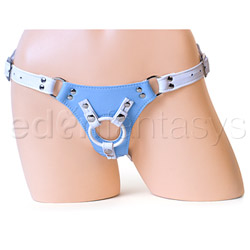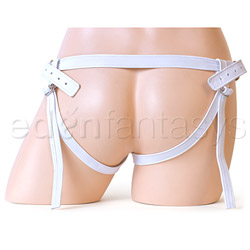 Summary:
Strap-on the Crystal Blue Jaguar and get ready to ride! No worries though, it's going to be a smooth one while wearing this buttery soft creation from Aslan Leather, a leader in luxury harnesses and other leather adult-fun products. If color choice isn't an issue, the Crystal Blue will fit many shapes and sizes up to a certain limit. It's an investment piece that you won't have to keep replacing, so before dropping some serious cash, make sure that it's going to be put to good use!
Pros:
Comfortable, adjustable, durable, LIFETIME GUARANTEE.
Cons:
Not Vegan friendly. mid-range diameter dildos works best.
Best use:
Even though this harness is suited for someone who wants to display a softer side in terms of color, it's nothing short of a cock holster for the hardcore strap-on/pegging enthusiast who is looking for something that is going to stay put through hours of intense sex. The price will probably deter most beginners, but experienced strap-on players who are ready to graduate to a quality piece will certainly want to take a look at the Crystal Jag or one of many other harness choices that this company has to offer.
Material:

One need do no more than open the simple Ziploc plastic package to catch that distinct leather smell. The Crystal blue is constructed of a buttery soft, pliable leather (unknown animal origin at the time of this review). Rest assured though that it's premium quality hide and is far from stiff. It's more durable than most other low-end synthetic harnesses, which really aren't intended for more than a few pokes before they fall apart. The straps are dyed white while the front crotch flap/dildo base is a sky blue color. The only questionable material portion is the backside of the blue crotch. While it looks and feels like leather, on closer inspection there's no grain on the backside. It appears foam-like (perhaps a vinyl?), and is visibly thicker than the thinner piece of dyed blue leather. As for the other components, the O-Ring is rubber all all hardware (rivets, buckles, D-rings) are nickel plated.

Material:

Leather

Material safety

Design / Craftsmanship:

The workmanship put in to the Crystal Jaguar is nothing short of outstanding! Everything is two-ply thick (hiding the grain side) and evenly sewn with sturdy stitching. Rivets and D-rings are used to reinforce and to connect the various elements together to make this harness a masterpiece. Because the leather is so soft, even on areas where it's trimmed to a blunt edge, it won't rub against the skin enough to cause friction burns or discomfort.

The style is a low-rise/hipster harness with jock style straps. This fully adjustable design exposes the genitalia of the wearer for additional pleasure without having to remove the harness. Adjustments are done via two hip buckles and two D-Rings located on each side of the lower back, which tighten the harness around the buttocks for extra security.

A flared-base dildo of choice is secured by inserted it through the hole in the blue portion of the base, and then through the included 2" rubber O-ring, which can be replaced by a few smaller sizes (1-1/2, 1-5/8, 1-3/4), but nothing too small (1" or 1-1/4"). Keep in mind though that the circular opening on the leather flap is only about 1-3/4 inches in diameter and will not necessarily allow for a 2-inch diameter dildo to squeeze through. That's not to say one can't find a way to make it work, but some experimentation will be necessary (see example in 'Performance' section).

To give the user a little extra peace of mind Aslan's website says it will repair or replace items if damaged during normal wear.

Size / Fit:

This particular model is actually available in two hip sizes from the manufacturer's website: 26"-44" for the smaller O/S and 36"-56" for the larger O/S model. Edenfantasys carries the latter, so it may be too large on very petite frames with hips smaller than 36".

The best way to don this harness is to start with one hip side buckled, even if it isn't the correct setting, then to step in to the leg openings and makes adjustments as necessary. The only buckled portions are on the hips and there are 12 holes/settings to choose from. The leg straps adjust on the backside by giving both sides of the hanging straps a tug, which pulls the leather through the D-rings until the fit is secure. Too loosen, one must feed the strap back through the D-ring in the opposite direction.

Could it be worn under clothing? Of course! But for how long is going to be dependent on the wearer's overall comfort and it could be visible under tight clothing.

Maximum hip size:

44"

Dildo holder diameter:

1 3/4"

Weight:

0.4 lb

Performance:

This was my first experience with a high-end harness and with Aslan Leather products, so needless to say, I was intimidated by it at first. Luckily, my friend had more experience than I did with this general style, so he assisted me with the necessary adjustments and dildo placement. Once those were completed, the harness felt very comfortable to move around in.

The only problem was that I could not figure out how I was going to secure my 2" thick Vixskin Maverick dildo to the harness, since it's too large to go through the hole in the leather and I didn't want to risk tearing the Vixskin. My eager friend just put the base flat against the blue outer side and right through the O-ring. I knew this was not the correct way to insert a dildo, but for the Maverick, it was the only way. Amazingly though, this configuration worked out just fine. The dildo stayed put while the harness remained securely fastened without slipping around and lasted through me doing not only him, but his girlfriend too! Yes, I used condoms in case you were wondering.

Special Features:

Interchangeable ring
Premium

Care and Maintenance:

Never full submerse any leather product in water. Just take a damp cloth and a little dish soap or gentle leather cleaner to wipe off the surface, then leave it out to dry. The occasional use of a leather conditioner is recommended if it appears dry and cracking. The metal rivets can be protected from tarnish by applying a clear coat of nail polish. Store away from sunlight and heat, either in the original plastic bag or other method or your choosing.

Personal comments:

I have 39/40" hips and the larger O/S fits me great. I prefer to have a few inches of overhang with my straps as opposed to a couple inches hanging out on either side.

Other

Texture:

Smooth

Safety features:

Phthalates free