Leatherbeaten DP Harness, harness only - Double strap harness from Leatherbeaten

Product Details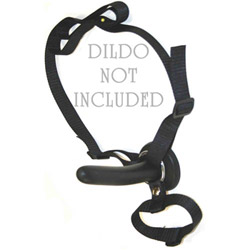 This is a light, unobtrusive webbing harness designed to be used by a man for double penetration purposes. It anchors around the waist and behind the scrotum, and stays put without shifting in use. This is the harness only, (not to be confused with the Harness Kit, HA-10), and comes with two interchangeable rubber O rings, 1.25" and 1.5" in diameter. To use it, the man straps it around his waist, slips the cock ring around and behind his manly parts, and inserts an appropriately sized dildo through the O ring. He then snugs everything up, applies an adequate amount of lube to all moving parts, and manoeuvres himself into position. Thereafter, we'll leave it to your imagination....
Material:

Design / Craftsmanship:

Size / Fit:

Maximum waist size:

52"

Dildo holder diameter:

1 1/2" / 1 1/4"