Aslan Leather Driver harness - Double strap harness from Aslan Leather

Product Details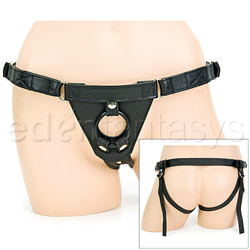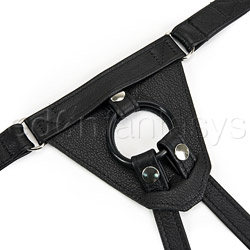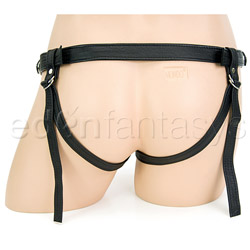 Summary:
The Driver harness by Aslan Leather has everything going for it: quality materials, comfort, sturdy design, and major sex appeal. Unfortunately, I cannot get The Driver to perform the way it should. It sits securely on the hips until I move and then it begins to slip and doesn't stop. Hopefully someone can get make this great looking harness rock as hard as I expected it to.
Pros:
Extremely comfortable, soft leather, sturdy D rings, interchangeable O-rings.
Cons:
Can't get it to stay put and not slip down, not waterproof, won't fit larger hips.
Best use:
The Driver by Aslan Leather would likely be best for more seasoned veterans of strap on play as the D rings don't allow for quick easy adjustment. It is a simple design, manufactured from quality leather with no big frills.
Material:

This is my first leather harness and it is incredibly comfortable. The straps are not too thick or too thin, and the leather has just enough texture to not be smooth like patent leather, but without being scratchy. This is the absolutely opposite of scratchy--the straps are just so soft that I can completely forget I'm wearing the harness. The leather is very bendable and conforms right to my body. Since it is leather, you never want to soak or submerge your harness in water as it will damage the material. But that's worth it for that sexy leather smell.

Material:

Leather

Material safety

Design / Craftsmanship:

The Driver is a standard double strap harness with four adjustable straps connected by D rings. It is an extremely sturdy harness, and I have no worries about this one ever falling apart on me from rough use. All four straps are adjustable: one on either side of your waist, and two to adjust how snug you want it against your bottom. And boy does it make your bottom look good! One of the best parts in a double strap design is how great it displays your ass and the designers of The Driver certainly had this in mind.

Your favorite cock attaches with an O-ring on this one. The Driver comes with a 2" diameter silicone ring which is held in place by three loops with snaps. I replaced the 2" with a 1.5" since this fits the toys we tend to play with more securely. Compared to my other harnesses, changing the O-ring on this one was much easier and less of a juggle. There is a 2" diameter hole in the leather right behind the O-ring attachment so you have the option to set larger toys between the two layers, or place smaller toys or those with balls behind the leather and run it through both rings.

Size / Fit:

As much as I really enjoyed not having to deal with long trailing straps, I was a bit nervous initially about The Driver fitting me, rather averagely sized chick that I am. It has a maximum hip size of 42" and that ended up fitting me just fine with inches to spare on either side, but I would not say that this is a harness that can accommodate all sizes. The max at 42" hips is approximately a size 14 in clothing. I'm 9/10 and I was worried, so keep that in mind when considering this harness.

Maximum hip size:

42"

Dildo holder diameter:

1 7/8"

Weight:

0.4 lb

Performance:

I am going to repeat that this is the most comfortable harness I've ever worn. I could and have walked around in the house wearing this without a toy attached just because it feels sexy. The neat thing about it having D-ring adjustment is that when (and possibly if) you get the harness to the tightness you like, you shouldn't really have to ever adjust it again. The D-rings are very secure and don't seem to budge at all. This is a con, however, when you find that during play you need to make a tiny adjustment and that is just completely impossible without disengaging and using both hands to maneuver the D-ring to do what you want it to. Once I got The Driver how I wanted it, it has been extremely easy to just slip it on and off.

Other thing that The Driver is very efficient at is installing your toys into it. The snaps are easy to deal with and I didn't have to wrestle with the harness to get the toy in. The harness holds most dildos with flanged bases very well. The only thing it doesn't hold securely are cocks with balls. My go-to-cock, The Scout, was very unstable in this harness and kept slipping forward so that the tip of the cock was resting on my belly.

When it comes down to it, I just couldn't get The Driver to stay secure on my hips. I could get the harness adjusted to what I thought was just right, but as soon as I moved, the whole harness would shift and go slightly loose in places. For casual wear this is fine, but when that happens during play it can be really uncomfortable for both parties involved. And let's face it: you're likely not buying this just to walk around the house in it. The Driver did not hold up well when I changed positions, and I couldn't get it to stay secure even when I didn't change positions. I tried setting it to sit like low-rise jeans and it still falls down; I've tried setting very high on my waist and while it does seem more secure there, it is by no means staying where I put it. This was the most crucial problem I have with The Driver.

Care and Maintenance:

The Driver can be wiped down with a moist cloth and dish soap or with leather cleaner. This should then be wiped off with another cloth and then patted dry. You want to make sure you get all the moisture out of the leather or else you run the risk of it beginning to rot. On the other hand, if the leather ever begins to look too dry, it can be softened up with leather conditioner. Aslan suggests that to keep the metal rivets from tarnishing, give them a coat in clear nail polish. This harness should be stored in a cool dry place, away from direct heat and light.

Experience:

Perhaps it is just the way my hips are shaped, but I just can't get this harness to stay put on me--though I have not had this problem with my other double strap harness. If I get it to be tighter one way, it sags down the other. If I can get to be equally tight, the whole thing slips down as soon as I start to move. I tend to prefer my harnesses to be really snug so if I could get it tight enough to not move at all, I don't think I'd be able to move myself. I really need a sense of trustworthiness in my harness: I need to know that it isn't to going slip suddenly and knock things out of whack and end up hurting my partner, and I just can't trust this one to not do that. Our first time trying this harness ended up along those lines, and I can't get The Driver to cooperate any better with me.

Other

Texture:

Smooth

Safety features:

Phthalates free

Harness compatibility:

O-ring compatible

Hook style:

O-ring