California Exotic Couture collection Eclipse - Vaginal balls from California Exotic

Couture collection Eclipse videos
Product Details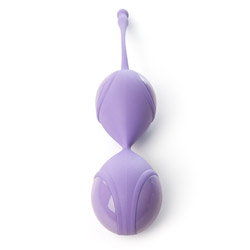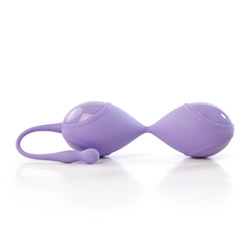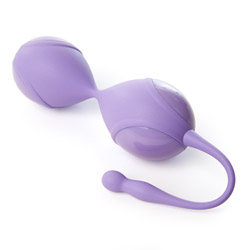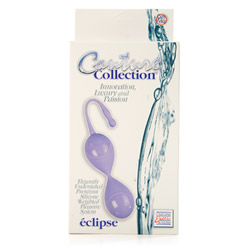 Summary:
The Eclipse balls are made of high quality medical grade silicone. Weights inside provide subtle movement as you wear them. Performing kegel exercises while wearing them can strengthen your pelvic floor muscles and might even arouse you. The Eclipse balls are a nice way to add variety to your pelvic floor exercise routine, although they didn't provide the boost in sensation I was expecting.
Pros:
Silicone lube compatible, made of medical grade silicone, well constructed product.
Cons:
Didn't provide the increase in sensation I expected. Bulb at the end of the cord can be annoying.
Best use:
This product is intended to be inserted and squeezed to strengthen pelvic floor muscles, or for arousal purposes. Both benefits are good for vaginal health. You could also use it for anal stimulation, although I haven't tried that.

I've used the Eclipse balls while walking around, while on an exercise bicycle, while dancing, while jogging and while lying down. You can feel the balls moving only when engaged in vigorous activity. If the movement of the balls is intended to help trigger vaginal contractions without conscious effort, I wasn't able to detect that. I find I'm most aware of their presence while in a vertical position.

I'm not convinced that they offer an advantage over performing kegel exercises with nothing inserted. When I squeeze with nothing inside me, I can feel contractions strongly. It feels like I have to squeeze harder with Eclipse inserted to achieve the same level of tightening sensation. You would think it would be the opposite. Perhaps this is part of their purpose.

Perhaps the best feature of this product is that their presence will serve as a reminder throughout the time you're wearing them, to do the kegel exercises. As a side benefit, you might find that you're somewhat aroused in the process. I only occasionally felt aroused while squeezing on them.
Material / Texture:

Made of silicone and plastic, the Eclipse has almost no scent. The plastic portions are smooth while the silicone areas feel rubbery. The balls themselves are quite hard and cannot be compressed. The area between the two balls, as well as the retrieval cord, is stretchy and very flexible.

The silicone parts are premium Japanese medical grade silicone. The silicone areas do attract lint, like other silicone toys. There is a slight seam running along the length of it on each side, although it is too subtle to be felt. You can hear and feel the weighted balls inside moving when you shake this product.

Material:

Plastic

/

Silicone

Material safety

Texture:

Smooth

Safety features:

Food-grade material / Hypo-allergenic / Latex free / Non-porous / Phthalates free

Design / Shape / Size:

Eclipse consists of two elongated spheres made of plastic and silicone, with a silicone cord to make removal easy. The hard plastic sections appear to be tightly fused to the silicone sections.

Mine arrived with a crosswise cut more than halfway through the thinnest part of the cord. So far it hasn't broken but I fear that will happen eventually. That may not be such a bad thing because the bulbous end of the retrieval cord can be irritating if it isn't positioned just right - forward and a little to the side. Probably the end of the cord was enlarged to give you something to hold on to when removing the balls, but its quite firm and can press against you uncomfortably if its positioned against any sensitive area.

I'm small inside and this product didn't feel too big so it likely will fit everyone. It is comfortable to wear even for extended periods of time. I don't know whether the flexible section between the balls is bent when the Eclipse is inside me, but nothing pinches after its inserted.

I like to insert the balls 3/4 of the way in and squeeze to pull them all the way in. Lube makes insertion easier.

Length:

8"

Insertable length:

4 1/2"

Circumference:

4 1/2"

Diameter:

1 3/8"

Weight:

0.3 lb

Performance:

I was hoping that by using the Eclipse balls, I could achieve more intense kegel workouts. I'm dedicated to my kegel workout routine. Recently I've been doing 100 kegels in the morning and again in the evening as I wait for the bus. Then I insert the Eclipse after I arrive home for an extra workout.

You will find as you move about with the Eclipse balls inside you that you'll feel the urge to do kegels frequently. However, the thick retrieval cord is more likely to be what reminds you of its presence than the balls themselves.

Care and Maintenance:

Eclipse is made of plastic and Japanese medical grade silicone. I've heard that its ok to use silicone lube with products that have a high enough grade of silicone. I soaked the tail of the Eclipse in a silicone lube and it was completely unaffected by that. I then slathered it with silicone lube before insertion, and again experienced no problem. Its safe to say that any lube can be used with the Eclipse.

I store it in the box it came in to keep lint and cat hair off it. Its easy to keep the Eclipse clean using just soap and water.

Packaging:

It comes packaged in a simple cardboard box. No instructions are included other than the statement "May be used as a daily alternative to vaginal type exercises to increase orgasmic intensity for personal arousal". However, on the side of the box is the statement "For external use only". What? Hold it in your hand and do kegel exercises? I've emailed Cal Exotics about the conflicting statements but haven't received a reply yet.

Personal comments:

I believe this would be a good product for beginners, looking either to strengthen their pelvic floor muscles, or for those interested in having something inside them to squeeze on as an arousal aid.

Experience:

I've been diligently doing kegel exercises for a few months now. I have noticed that I can squeeze noticeably stronger against my own fingers, and that orgasms are stronger and of longer duration. Beforehand I couldn't even feel any squeezing against one finger. Now I can tighten against a single finger quite well. While I could detect a difference in strength squeezing against fingers fairly quickly, it took months before I noticed an improvement in orgasm strength and duration.

A few days after I began using Eclipse, for the first time ever my man commented on how tight I felt. Coincidence? I can't say. I purposely haven't told him of my kegel regimen, waiting for him to notice.

I was hoping that kegel exercises would feel stronger, or that I would have sore pelvic floor muscles after using Eclipse. Neither of these has happened.