Sportsheets Elastabind ankle restraints - Ankle cuffs from Sportsheets

Product Details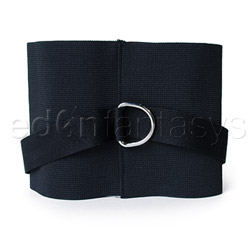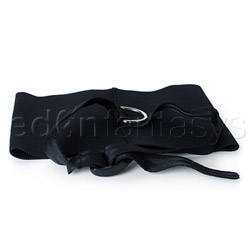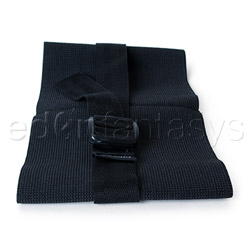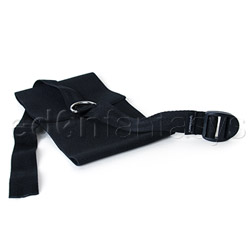 Summary:
If you want to introduce restraints into your play, this is the way to go. The Elastabind ankle restraints secure your ankles snugly, but with material that is comfortable, allowing you to explore the world of restraining and being restrained. We found it added a hot new dimension to our sexual experience.
Pros:
Good intro for beginners, very snug and comfortable.
Cons:
Ladder lock is a bit cumbersome.
Best use:
For a newbie, when you think of restraints you usually think about the hands. The Elastabind ankle restraints definitely will expand your thinking in that regard. It turns out that ankle restraints are an excellent way to ease into the world of restraints. Once you slip your ankles into them, you are comfortably, but securely bound. Beginners may enjoy the feel of having their ankles in restraints while their hands are free (giving a greater sense of control). More advanced users might want to use these in addition to other restraints to increase the sense of submission. It's good either way.
Design / Craftsmanship / Material / Size / Fit:

The design is fairly straightforward. You have two connected elastic ankle cuffs, which are snug enough, but which can be made even more snug by threading an attached tie through a ladder lock. Frankly, I had some trouble with the ladder lock, but the cuffs themselves are so snug, that I found I didn't really need any further tightening. The material, which is very soft and comfortable, is also very stretchy, so it will fit all sizes. There was no irritation wearing it and there is no noticeable smell.

Material:

Elastic

Color:

Black

Length:

8 1/4"

Closure:

Buckle

Hook style:

D-ring

Weight:

1.9 oz

Performance:

I was impressed with this product. First, I tried them on, and loved the constriction - no pain, but a nice confining sense that your ankles have no chance of moving apart. Then, my partner in crime put them on and I loved the sense of control that I got from being able to keep the legs together in various sexual positions. She was skeptical when we first started, but really got into giving up her usual level of control - and that is what restraints are all about.

Care and Maintenance:

These are very easy to take care of. Simply throw them in the washing machine when you want to clean them. I would wash them in cold water. Since they are fairly flexible and take up little space, storing them will be simple. They will easily fit in your sock draw, nightstand, toybox, or anyplace else you might keep your sex toys and gear.

Packaging:

You probably won't want to keep the packaging, because it takes up much more space than is necessary, but make sure you check out the box before you discard it. It has photos that walk you through using the cuffs and suggest some nice positions that we ended up trying (and enjoying). I loved that the packaging showed one picture of the man being restrained and another with the woman restrained. Equal opportunity fun! The packaging was quite informative, but it is not discreet. Make sure to lose it if you have snoops in the vicinity.

Personal comments:

This was our introduction to restraints and we both loved the experience. My favorite use - having her legs around my neck with the feeling of the cuff on the back of my neck- it was sort of a double feeling of restraint as her legs were cuffing me in place as she was cuffed at the ankles. Very hot. This is definitely an area of sex toys that I am looking into exploring more thoroughly!

Other

Size:

One size fits most

Safety features:

Hypo-allergenic / Latex free / Phthalates free