Sportsheets Elastabind corset restraint - Restraints from Sportsheets

Elastabind corset restraint videos
Product Details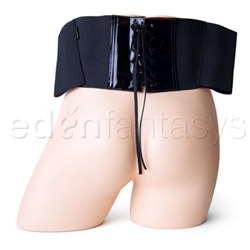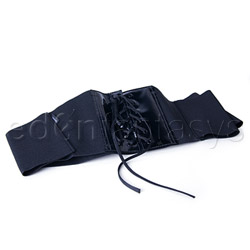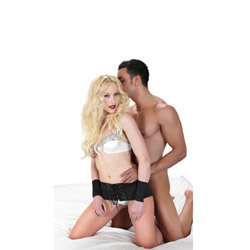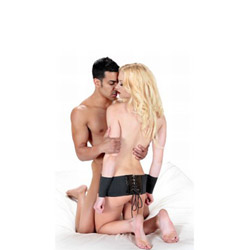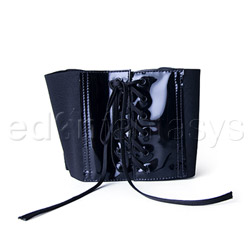 Summary:
The Corset Restraint is a new, sexy corset inspired restraint system that binds your lover down for complete control. It is gender and couple friendly and can be enjoyed by all couples of any orientation. It features a lace up closure that accents our body and also binds our wrists to us. The Corset Restraint can also be worn as a cinch of belt for an added bonus! Fits up to size 20.
Pros:
Unique, Comfortable, Lace Closure, Dual Use, Great for Couples.
Cons:
Only fits up to size 20.
Best use:
Sportsheets is always coming out with something new and one-of-a-kind. The Elastabind Corset Restraint is another well-made, couples-in-mind system that is both attractive, dual-use, and innovative. Bondage can be found in many types of toys and play scenes, and this restraint system adds flavor and down right sexy appeal to any couple in search of being snugly empowered. The Elastabind Corset Restraint is ideal for couples that are seeking bondage play. It is comfortable and binding making it perfect for those who enjoy light play and beginners.
Design / Craftsmanship / Material / Size / Fit:

The Corset Restraint is crafted of Elastic and Patent Leather. The entire piece of made of Elastic other than the small area that laces up in the back. This area is a shiny, Patent Leather that also features a lace up closure. The closure can be adjusted with the nylon string that binds it together. Create a tight fit or loosen it up to find the right fit just for you. The Restraint is around 19" long and a height area of 3 1/4". It weighs around 5 ounces is feather light. It is comfortable to wear and not too heavy that it becomes tiring. Another admirable feature is that it is metal free. There is no discomfort from metal rubbing or pressing and no worry of tearing bedding, sheets, or beds.

The design of the Corset Restraint is true to its name. It looks just like a corset, but this one is for your ass! You can slip into it or untie it and have your partner lace it back up to fit. Your arms can then be placed through the two wrist straps that bind your arms to your side. This works very well for allowing controlled positions during partner play. The Corset Restraint is also easy to remove yourself from, making it safe for play.

As for sizing, the total length of corset restraint is only 19" and more can be added to space by loosening the lace up closure. However, I do not believe this is built for more than average-sized persons. It will pull on the closure and inevitably tear the restraint. I recommend this restraint for average to petite sized persons for best results.

Another really unique addition to this product is that is can be turned inside-out and worn as a belt or cinch over your clothing. Wear it out and then enjoy it later! Or just add it as a piece to your outfit. It has two uses that are both fun and enjoyable!

Material:

Elastic

/

Patent leather

Color:

Black

Length:

19"

Width:

3 1/4"

Closure:

Lace

Weight:

5.5 oz

Performance:

Positions that can be enjoyed are missionary, rear-entry, and more! The Restraint system allows your partner to have full control over you. It also is not gender specified. Ladies, you can wrap your partner up as well and enjoy complete control. It also will work for male/male and female/female couples. Any couple in search of an attractive binding system will enjoy the Corset Restraint System.

The Corset Restraint does bind arms to your side and also adds a sexy, easily accessed piece of art to your body. It is durable and lasted during play without coming untied or falling down. If adjusted correctly, it constricts and has a snug fit. It is not completely restraining and the user can remove it if necessary. This makes it perfect for beginners and those wanting to have the assurance of their own escape if desired.

The Corset Restraint is easy to put on and take off. It may require the help of a partner to lace up the closure because it is place backwards making it difficult to place on yourself. However, if you get it to the right fit, you can slip right into it yourself.

Care and Maintenance:

Caring for the Corset Restraint is very easy. It simply can be wiped off with a damp cloth, if necessary, and then allow it to air dry. It folds up nicely for compact storage as well.

Packaging:

The Corset Restraint comes packaged in a sexy-covered cardboard box. The box can be used for storing if desired after use. It stats that it fits up to size 20 and also have manufacturer information. The package also includes a picture of what it looks like as a belt over clothing which was a nice addition.

Other

Size:

One size fits most

Texture:

Smooth