California Exotic Enchantress Playful Ties - BDSM kit from California Exotic

Product Details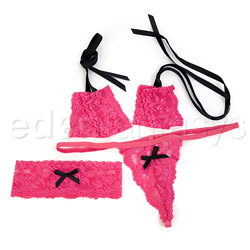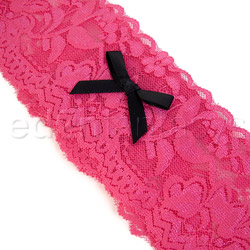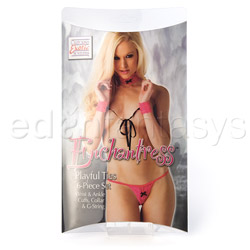 Summary:
The Enchantress Playful Ties is much more than a BDSM kit, it's a lingerie and BDSM kit in one. With the extreme comfort of the lingerie, BDSM just got a new meaning. Come on, be a little sexy and slide into this kit. Once you experience BDSM in pure comfort you may never go back.
Pros:
Soft, Comfortable, Extremely Sexy.
Cons:
Not adjustable to fit women over 58 inches.
Best use:
The Enchantress Playful Ties is perfect for those individuals out there that want to feel sexy without feeling slutty. Come on, you know what I mean. A lot of women's lingerie can be a big turn off for some women. That is a problem when it plays such a big role in the bedroom. Luckily, the good people at California Exotic found a remedy to this problem. They created a lingerie set which was both sexy and naughty. How you might ask? They took the softest lace they could find, died it a bright color (pink or blue) and added black sash ribbons around it. The result, a sensuous little number which screams sex but still holds a world of class.

The two sets of ankle and wrist ties are perfect for gentile restraint of the partner, while the lace collar puts the wearer in her place. Finally, the tiny lace G-string is perfect for wearing out for a night on the town. It serves as a little reminder for what's to come.
Design / Craftsmanship / Material / Size / Fit:

The entire lingerie set is made out of soft lace and silky satin. The ankle and wrist cuffs are constructed out of light weight lace with ribbon ties. The collar is designed completely out of soft lace with a velcro back for attachment. Finally, the G-string boosts an extremely small soft lace front with elastic bands running the sides and crotch. The fit is perfect for most any size. Any woman with a bottom of less than 58 inches should be able to fit into the G-string with ease. The collar stretches to fit most neck sizes as do the four ankle and wrist cuffs. If you are a little larger than 58 inches, don't hesitate to try the product out. Even if the G-string does not fit, the collar and ties are well worth it.

Material:

Lace

/

Nylon

Closure:

Ties

Weight:

0.2 lb

Performance:

I'm not the smallest person in the world, so I was a little nervous when I went to try on the G-string. This was the first lingerie product I had ever purchased at an adult novelty store, and I just didn't know if the sizing would be right. I was pleasantly surprised when the G-string went right over my larger than average bottom. The fit was superb. The front lace concealed my vulva without taking away from the beauty of that special place. The crotch was comfortable and I found that I could wear the G-string all day without a problem. Next, I put the collar on. It fit nicely and made everything look like a set, which is a plus. Finally, my partner slipped the two ankle and wrist cuffs around me. I found them extremely comfortable but knew right away that these were something I could easily get out of (please take note that my partner does call me Houdini for my ability to escape almost anything though). Next, he tied each of my arms and legs to the bed posts as tightly as he could. I found the satin ribbon to be surprisingly strong. I could tug all I wanted and it wouldn't give. At this point I want to talk about the length of each tie. Each tie is well over a foot long, so even though I was restrained I was still able to shift if I needed to. I found the lace cuffs to be extremely comfortable. I could have slipped my wrists out of them if I had wanted to, and wanted to spend the time trying, but I decided to just surrender to my partner and enjoy the moment.

Care and Maintenance:

This is a very delicate product and should only be stored with other lingerie. It is not machine washable and must be hand washed and line dried.

Other

Size:

One size fits most

Kit includes:

2 wrist cuffs, 2 ankle cuffs, G-string, choker