California Exotic Nick Hawk kegel balls - Vaginal balls from California Exotic

Nick Hawk kegel balls videos
Product Details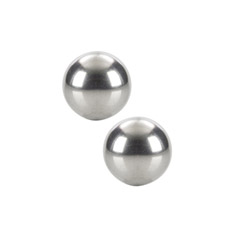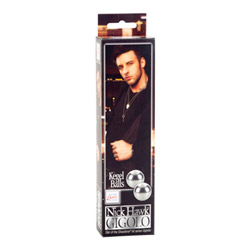 Summary:
These are great and with the added weight you end up getting a better workout trying to keep them in as compared to the larger sized kegel balls.
Pros:
Great Workout
Easy to clean
Easy to store
Best use:
The Kegel balls are for increasing your PC muscle strength and increasing vaginal tone. Having a toned vagina means better and stronger orgasms and increasing your PC muscle strength means stopping bladder leakage especially when coughing or sneezing. It can also help after having a baby, these can help you to regain your vaginal tone.

The goal is to place these in your vagina and move around doing your normal daily activities while clenching your vaginal walls to keep them inside. I would definitely suggest wearing underwear so if they do slip out, the balls are contained in your panties.
Material / Texture:

The Nick Hawk balls are made of stainless steel, they are non porous, latex and phthalates free. The stainless steel should not corrode or tarnish and they are nickle free. They rate a 10 out of 10 on the Eden Safety scale. The balls are completely smooth. They resemble large ball bearings. One advantage that you have with the steel balls is that you can use temperature play with them. You can place them in some ice water to cool them or you can warm them up in some warm water or even put them in your mouth to warm them.

Material:

Stainless steel

Material safety

Texture:

Smooth

Safety features:

Latex free / Non-porous / Phthalates free

Design / Shape / Size:

These balls are heavier than some of the other ben wa balls that I have used. These weigh in at 2.8 ounces each. They have a smaller diameter also, 3/4 of an inch. So in theory these will give you a better workout while trying to keep them in place in the vagina. Harder work= greater results.

Color:

Silver

Length:

3/4"

Insertable length:

3/4"

Circumference:

2 3/4"

Diameter:

3/4"

Weight:

2.8 oz

Performance:

I like to wear these frequently, I feel that the small balls give me a much better work out than the large ones. There is no retrieval cord with these and you really do not need a cord as your vagina is only a tube. It goes to your cervix which is closed and there is only one entrance/exit. If you do have issues with removing them you can sit on the toilet, put your hand under your crotch area and bear down like you are urinating and they will come out.

Special Features:

Ergonomically shaped
Small size

Care and Maintenance:

The stainless steel doesn't require any special lube requirements, although you may not want to lube them too much or you will have greater difficulty when trying to keep them in.
You can clean them up with antibacterial soaps and water, toy sprays or wipes. You can boil these for sterilization also or wipe them off with a 10% bleach solution. Be sure to rinse off the bleach solution before reinserting them.

There is no special storage requirements for these. Just keep them in a plastic baggy until you are ready to use them again. The packaging is not discreet, it has a picture of Nick Hawk on the box with product information. The box is entirely too large for the product. I do believe that it is that large to contain all the information and picture on it.

These are great for travel, you could even wear them. I am unsure if they would set off a metal detector though and I don't have the opportunity to check this one out.

Care and cleaning:

Soap and water / Toy cleaner

Personal comments:

I would suggest these and this type of ben wa balls to all women to excersize thier PC muscle.