Icon Brands Fashionistas whip - Whip from Icon Brands

Product Details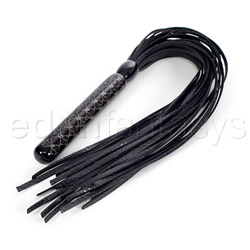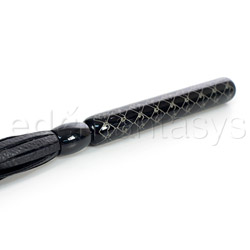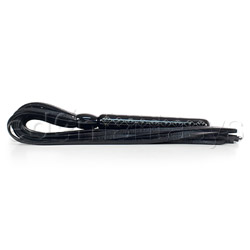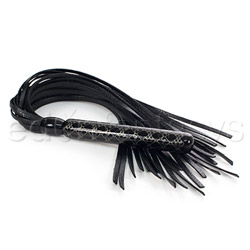 Summary:
A whip for the fashionista in us all. Sleek and sexy in design, this flogger/probe duo is an excellent piece for beginners and collectors alike. When introducing a little kink into the bedroom, you will want this whip by your side.
Pros:
A whip and a probe! Sexy, great for teasing.
Best use:
Fashionistas Whip by Icon Brands is multifaceted and fun in every way. With a glass handle that will glide into its subject with such ease and comfort, this is great for beginners who aren't used to girth quite yet. And with long tendrils sprouting from the handle, they will splay across skin in such a playful, teasing way.

You can use this toy all over the body---across the butt, thighs, back, etc. It can be inserted both vaginally and anally because of the knot piece that connects the strands to the probe.
Design / Craftsmanship / Size / Material / Features:

The black handle is 6 inches in length and has a frosted fishnet pattern on it. This can be felt with your fingers but not during insertion---it adds a very pretty focal point to this piece. Made out of tempered glass, it has a safety rating of 10 and can be used with the lubrication of your choosing.

The faux leather strands are 15 inches long, and there are 24 in total. Each has the complete real leather look and feel, but may fray with heavy use. They deliver a thwack with a nice sting, but nothing a stranger to kink can't handle. This whip and probe have no smell, even out of the box.

Material:

Faux-leather

/

Tempered glass

Material safety

Color:

Black

Length:

22"

Width:

1 1/2"

Weight:

0.75 lb

Performance:

Performance-wise this is the perfect piece for teasing. Being that the probe is sleek and straight to the point, you won't get much from insertion from this other than being completely turned on. It works well as a dress up piece for a costume, and even some intermediate use. If you are looking for some hardcore whipping, you may want to seek a leather piece.

Care and Maintenance:

Because this is a whip, you won't have to worry too much about maintenance. With a quick rub down with some wipes, the strands can be easily cleaned. As for the probe, treat it as you would any other glass piece in your collection. A spray or soap and water will suffice; try not to get the strands sopping wet though, as they may wear down.

Personal comments:

For the price of this whip, I was completely blown away. It looks incredibly high quality once you take it out of the box. I love that you can use it as a probe and to whip; it made it seem like I was getting 2 toys for the price of one. Though I am still figuring out where I stand kink-wise, this toy made it fun to discover a little more on my journey.

Other

Texture:

Smooth

Insertable length:

6"

Circumference:

2 3/4"

Diameter:

1 5/8"

Special Features:

Safety features:

Food-grade material / Hypo-allergenic / Latex free / Non-porous / Phthalates free