Pipedream Fetish Fantasy bondage belt restraint system - Restraints from Pipedream

Product Details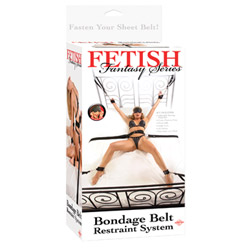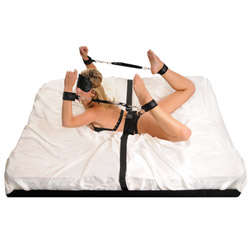 Summary:
The Bondage Belt Restraint System will make you want to stay in bed and it will help keep you there. This is a versatile set that includes tethers, cuffs, an under-bed strap, and restraint belt that are fully adjustable to fit many body types. If you have your own favorite cuffs or tethers that you've gotten along the way, this set is compatible and includes snap hooks to attach them all.
Pros:
Extremely adjustable, comfortable, versatile.
Cons:
Slight-but-temporary odor when first unpacked.
Best use:
The Bondage Belt Restraint System is another installment in Pipedream's Fetish Fantasy Series. This set is designed to allow you to restrain your partner with a strap that goes under your mattress that is attached to a belt for your partner to wear. The set also includes a blindfold, wrist and ankle cuffs and four tethers to allow you to attach the cuffs to your head or foot board. This is a great bondage set for beginners, as it includes everything you need but is also great for advanced players because the o-rings and snap hooks allow you to substitute your own favorite cuffs into the set.

Ideally, this is a set that would be used with a partner or partners, but if you just enjoy the feeling of being bound there is no reason you could not use parts of this restraint system alone. All of the included components allow for endless combinations of use. If you can think of it and have enough length in the straps, you can most likely make it work.
Design / Craftsmanship / Material / Size / Fit:

All of the straps, including the belt, are made of smooth nylon like you would find on backpacks. The cuffs are made of neoprene which is thick enough to be comfortable without being bulky. All of the metal pieces seem sturdy and well constructed. The connectors for the belt are large plastic clips that do not feel flimsy or cheap.

The under-bed restraint strap measures 13 ft 4 in (or 160 inches) long at it's greatest adjustable length and has metal o-rings at the end to allow you to attach any clips you may want to use. The o-rings on the strap each have a metal snap hook (like you'd find at the end of a dog leash) to allow you to attach the belt (or whatever your heart desires). The belt is 3 ft 4 in (or 40 inches) long with large plastic clips on the end to connect it together. The plastic clip portion that you insert is 3 in long and 2 1/4 in wide and the receiving end is 2 in long and 2 1/4 in wide. There is a d-ring on each side for you to attach the under-bed strap to.

The four cuffs are made of neoprene, velcro, and nylon. The cuffs consist of 10.5 in of neoprene with 7 in of soft velcro on the neoprene and a 6.5 in velcro strap. There is a nylon loop that is used as the connection point for the o-ring. The o-rings on the cuffs are not solid metal cuffs, but rather key chain like o-rings. They do seem quite sturdy, not flimsy at all. The key chain style o-ring allows for you to remove the o-ring from the cuff or to remove or add snap hooks to the o-ring. Each cuff comes with a snap hook already attached. The neoprene cuffs do have a slight odor upon initial unpacking, but the smell dissipates quickly.

There are four tethers included in this set that measure 3 ft long each with key chain style o-rings for multiple attachment options and attached snap hooks. The tethers are also made of the smooth nylon and are adjustable to what length you need them for. The 3 ft length is the maximum length each tether is capable of extending to.

The included 'love mask' is made of satin, according to the box. It is a black double layered mask with a nylon strap to hold it in place. The sound of the material is slightly noisy and cheap sounding when rubbed together, but it isn't something that is an issue when it is on your face. With this mask on, your partner won't be able to see movement unless you are moving in front of very bright lights.

The ability to adjust nearly every piece of equipment in this set makes this set extremely versatile. Users from small to plus size can use most if not all parts of this set.

Material:

Neoprene

/

Nylon

Color:

Black

Closure:

Buckle / Velcro

Weight:

17 oz

Performance:

The most surprising thing about this set, in my opinion, was how comfortable the nylon belt felt against skin. When I first saw the belt was made of nylon and not neoprene, I was concerned about roughness or rope burn, but this nylon is silky smooth to the touch. I am not a small woman and I was also concerned that the belt might not fit comfortably size-wise, but it actually fits quite well. All the pieces are sturdy and multi-purpose.

Some of the uses that work well with this set include restraining wrists and ankles while laying on your back, attaching your wrists and ankles to each other while you lay on your stomach, positioning one partner on top with the belt restraint adjusted to keep them in place and allow you to control the belt. All of these positions are pictured on the box and are certainly possible to do with this set. A few other ideas not from the box would include sliding the under-bed strap up towards the top of the mattress and attaching the cuffs directly to a the strap. This works ideally for people whose beds do not have posts or metal work through which to put the tethers. If you do have posts or other metal poles to attach to, you can tether your hands separately or together. You can attach the cuffs together and then to a tether or use them like hand cuffs while secured in the belt strap as a variation of the woman on top position shown. I'm sure there are many more ways to use these straps that I haven't even thought of yet.

Packaging:

The Bondage Belt Restraint System comes in a white box that has pictures of a woman scantily clad and in various bound positions. The word 'fetish' is big and red at the top of the box and actually on EVERY side of the box along with the name of the set. Inside the box, each piece is coiled or folded and placed separately into a plastic bag. The cuffs are packaged two to a plastic bag. There is no storage container included with this set, but the box would work fine if you need somewhere to keep your set.

Experience:

This set is extremely easy to install. I just slid the strap under the mattress, making sure it was laying flat and then slid it up to the place I wanted it, then adjusted it to the length needed. I have both a queen size bed and a full size, both of which this worked well for. When I placed this on the queen size bed there was still lots of length to spare, which leads me to believe that this would even work for a king size bed. The reason I tested this on both beds is because my queen size does not have posts to attach tethers to but the full size does. The parts really are comfortable to use and so versatile. I was honestly surprised at how much I liked this set, though I shouldn't be since I enjoyed the other set from this series.

Other