Pipedream Fetish Fantasy Elite 8" hollow strap-on - Harness and dildo set from Pipedream

Product Details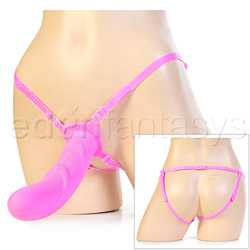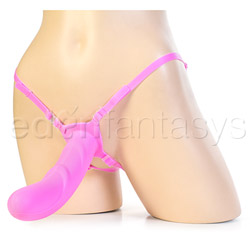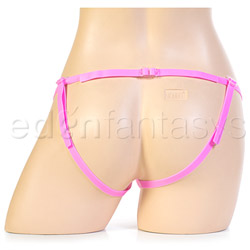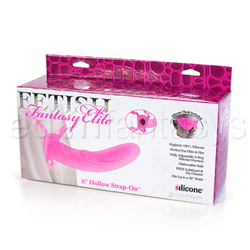 Summary:
This is an all in one harness set that can be easily adjusted, has a hollow core in part of the ginormous dildo, and made of silicone. It is extremely firm, so beware the diameter!
Pros:
Silicone, extremely adjustable
Cons:
Thin straps, Extremely large dildo
Best use:
The Fetish Fantasy Elite 8" Hollow Strap-on is a strap on that can be used by both males and females. It has a hollow core for about half of the length of the dildo that allows for men with erectile dysfunction to use the strap-on. Females can use it just as any other strap-on. The dildo is huge, so I would not recommend this for anyone who does not love large girth toys.
Material:

The material for the dildo and straps is pink silicone, which is smooth to the touch and has no odor. The only other material used is plastic in the buckles in the straps. The dildo is hollow for half of its length from the base, so it has some give when squeezed, but the rest of the dildo is extremely firm with no give. The straps are thin, but strong.

Material:

Silicone

Material safety

Design / Craftsmanship:

There doesn't seem to be a lot of craftsmanship to the harness. The straps are just long pieces of pink silicone connected with plastic buckles. The straps are about a half inch thick and attach directly to the dildo's base. The straps can be adjusted in 8 different places: on each of the 4 places that the straps attach to the dildo, on each side of the back buckle, on each of the leg straps.

Size / Fit:

The straps of this harness are very thin, but do provide enough length to allow this harness to fit many sizes. Adjusting the straps to fit was very easy and, once on, the harness is very comfortable. The dildo is very large and heavy though, and so it pulls on the straps quite a bit. The wide base of the dildo helps add support, but I think thicker straps would benefit the fit and support.

Weight:

1.3 lb

Harness

Maximum hip size:

56"

Maximum waist size:

56"

Performance:

The dildo that comes with this strap-on is very girthy at 2 inches. That may not seem that large really, but when coupled with the extreme firmness of the first 4 inches of the dildo (from the tip down), it becomes a different matter.

As the receiver of this dildo, I require lots of warm up and lots of lubricant, and it is still a bit too intense for me. It has some raised texture that feels abrasive with the firmness. This really would work better with a bit of give to the silicone.

As the wearer of this harness, the straps fit fine during use. The dildo seems to be positioned well, but you have to move slowly for your partner to adjust and be able to take the bulk of the dildo. The only issue I have with the straps, other than the thinner straps not being quite as supportive as thicker straps, is that it can kind rub against skin uncomfortably when being taken off. It didn't rub during use, but when I was sliding it down myself it felt like a rug burn almost.

Special Features:

Free samples
Premium
Waterproof

Harness

Special Features:

Personal comments:

I am not a male, nor do I know much about erectile dysfunction, but do think that pink is an odd color to offer this product when it is marketed as a toy for males suffering from ED. I'm also not sure how well this hollow core would accommodate a flaccid penis. I think it will be hard enough for a guy with ED to want to order a toy like this, but then add the pink color and the huge size (which is probably necessary to accommodate the hollow core) and I think most men will be intimidated by the size and disappointed in the inability to use this easily (due to size) on most women.

Other

Texture:

Ribbed

Safety features:

Food-grade material / Hypo-allergenic / Latex free / Non-porous / Phthalates free

Kit includes:

Harness and hollow dildo, eye mask, lubricant, and toy cleaner

Dildo

Texture:

Smooth

Length:

8 1/4"

Insertable length:

8"

Circumference:

6 1/4"

Diameter:

2"

Harness

Closure:

Cinch