Pipedream Fetish Fantasy Elite large open-mouth gag and mask - Mouth gag from Pipedream

Fetish Fantasy Elite large open-mouth gag and mask videos
Product Details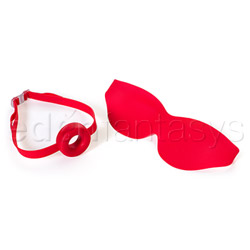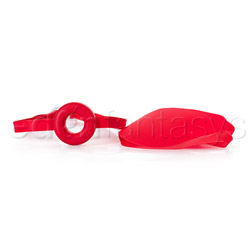 Summary:
This set is a great choice for those who are new to the world of gags and masks. It's easy to use and figure out, and there's nothing scary about it at all. The mask isn't that great if your head is larger than 20 or so inches around, but the gag should fit a little better.
Pros:
Easy to use, holds securely, great beginner set.
Cons:
Not going to be good for larger heads.
Design / Craftsmanship / Material / Size / Fit:

Design/Material:

Mask: The mask is a solid piece of silicone (flame tested and everything), 18" long, with clips on each end that secure into each other. You can also adjust the ends if they're too big, but it won't get any bigger than it is. The portion that covers the eyes is about 9 1/4" long and 3" tall. It's smooth and slightly translucent, and just wee bit of a lint magnet. Nothing bad, but enough that you may want to wash it off after being stored.

Gag: The gag is secured the same way as the mask, and is a total of 19" long. The straps are secured directly to each side of the part that you put in your mouth. Each strap is about 9" long, and the gag has an outside diameter of 1 3/4". It's firm, but has just a bit of give to it. With an interior diameter of 3/4", there's still plenty of room to breathe and even stick your tongue out if you want. You can also adjust the ends if they're too big, but it won't get any bigger than it is.

Craftsmanship: Both pieces are made well, although there is an issue with the ends that if you try to adjust them too far open, they'll come out of the clips that hold them.

Material:

Silicone

Material safety

Color:

Red

Length:

8 1/2"

Closure:

Snaps

Weight:

0.1 lb

Performance:

Everything is going to work great if you have a smaller head. My head is about 20 1/2" around where I had the mask on, and it was comfortably tight at first, but after time became uncomfortable. It did a decent enough job of blocking out sight, but didn't block out light at all. I couldn't see through it, although I could see how light or dark it was. The gag was a bit harder for me to use because I have a smaller mouth, but my husband has a larger mouth and he was able to use it more comfortably than I could.

Care and Maintenance:

Since this set is silicone, or at least silicone covered, you can share it after bleaching if you want. If you don't want to share it, you can just wash everything with warm soapy water. Pat everything dry, or let it air dry, and then tuck it away. You can put it away back in the plastic bag in the box, or in a separate drawer.

If you end up getting makeup on the eye mask or the gag, you can use a makeup remover before cleaning to try and get it off.

Packaging:

The packaging on this is not discreet in the least bit. It could be much tackier, but it could be more discreet. In any case, you're obviously getting a box that has a gag and a blindfold. It also gives you a breakdown of everything inside of it.

Personal comments:

I've got a few pictures for you here, showing the mask and gag, and a picture of the mask after I had worn it with my makeup on.




Experience:

I had fun with this set, although I could really only use half of it. On the plus side, my husband could use the other half. It's a great beginner set if you have a smaller head with a larger mouth, and unless you're using it all the time it should be around for a good while as well.

Other

Size:

Large

Safety features:

Food-grade material / Hypo-allergenic / Latex free / Non-porous / Phthalates free

Circumference:

4"

Diameter:

1 3/4"