Pipedream Fetish Fantasy Elite small ball gag and mask - Mouth gag from Pipedream

Product Details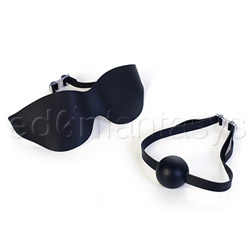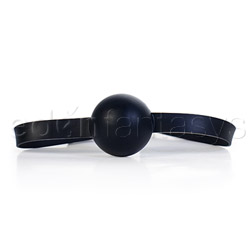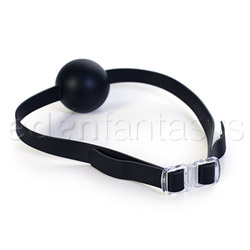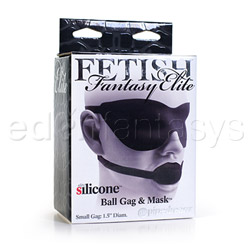 Summary:
If you're new to BDSM or have been on the scene for years, ball gags and masks are must have items. Fetish Fantasy wraps both items up in the Elite kit and makes them out of high quality, non-porous silicone material for safety. The gag and mask are comfortable for long term wear and adjustable to fit a range of sizes. The mask will block vision and all but the smallest amount of light. The gag is small enough to not cause jaw locking and would be suitable for those with smaller mouths.
Pros:
Adjustable, small size ball gag, mask blocks out almost all light, safe and high quality material.
Cons:
Snap closure can be difficult to attach, slightly rough edge near ball.
Best use:
No BDSM collection is complete without a good mask and ball gag. Fetish Fantasy's Elite set has both items included to either start a collection or add to an existing one. A ball gag makes sure the user cannot speak while the dominant partner is in control while the mask blocks sight from the submissive partner. The small silicone ball gag is good for beginners or those with small mouths or jaw issues. The silicone material means it won't leave a bad taste in the mouth. The silicone mask blocks vision completely allowing for a heightened sense of touch as well as the element of surprise.
While the Elite set is very beginner friendly, there's no reason an intermediate or advanced user can't enjoy this set as well. Both items in the kit are made of high quality silicone and perform their duties well. Advanced users may find the ball gag to be a bit small, but can still get good use from the included mask.
Whenever involved in BDSM play, always be sure to have a safe word at the ready in case things get to be too much. When using a ball gag, it is advisable to have a safe non-verbal signal since you will be binding one partner's ability to speak.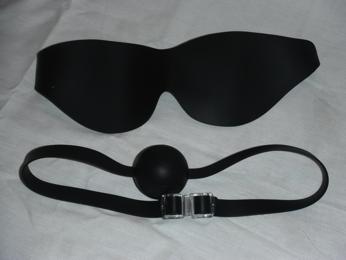 Design / Craftsmanship / Material / Size / Fit:

Both the gag and mask are made of silicone. The straps on each item are also made of silicone. Silicone rates at a ten on EdenFantasys' safety scale.

The silicone on the mask is not overly thick so as to be uncomfortable or heavy to wear, but thick enough to block out light. It is a smooth silicone with a lot of stretch to it. While the mask itself looks small in size, it will stretch to fit a wide range of sizes though it may feel tighter on those in the larger range. At the center of the mask (the longest part), the length is 3". The width of the eye mask itself is 9.5". Each side strap is 4.75" in length. These can be adjusted to a smaller size if needed or stretched out to accommodate larger sizes. When stretched, the silicone does not begin to feel like it may pop. Rough play, however, may ultimately cause the somewhat thin material to pop after much use of the product. It can be somewhat uncomfortable to get on as there is some pulling of the hair when it is pulled over the head. The silicone does not attract hair, but is a magnet for dust particles and makeup. The material has no odor to it.





The silicone straps on the gag are thicker than the straps on the mask. They measure 8.25" in length on each side and are adjustable to a smaller size and stretchable to larger sizes. The ball gag is firm with no give to it. It measures 1.5" by 1.5". The small size is ideal for those just starting out with ball gags or those with smaller mouths. Here you can see the ball gag in my hand for a size reference:



There is a seam that runs along the ball gag. This is noticeable when in use. Depending on user sensitivity, this could be an issue for some. The straps are slightly rough near the ball itself and cut into the skin slightly. This can be fixed by wrapping a soft twine around the rough area near the ball. For those who like additional sensations, this may be a benefit. Like the mask, getting this on can cause some slight discomfort due to hair pulling from the silicone material. The thicker material does not feel like it will pop at all, even with long term use.



Both the gag and mask close with something similar to a racer back bra hook. There is a small cylinder that fits into an empty slot on the other side. This locking mechanism takes some getting used to, especially in the heat of the moment. Once mastered, closing the mask and gag should not present a problem. If it does, both can be slipped on and off due to the stretch of the materials.

Material:

Silicone

Material safety

Color:

Black

Closure:

Snaps

Weight:

4 oz

Performance:

The mask performance was exceptional. Most masks that come in kits are basically disposable novelty items. Fetish Fantasy has produced a quality, useable mask. It blocked all light with the exception of a very small amount at the very bottom of the mask which was minimal. This small gap was not enough to be able to see anything that was going on though, just that there was light. During rough play, it took over forty five minutes for the mask to finally begin to work its way off and slip upwards. It was comfortable to wear through extended periods of time.

The small ball gag also performed well. The lack of taste made it a pleasure to wear, unlike many gags that can leave a taste in the mouth during use. The small size is ideal for long term wear as it is not as stressful on the jaw as a larger gag could be. While the rough edge around the ball was irritating at first, it was hardly noticeable after about ten minutes into a session. The gag stayed in place until removed. It was also easy to remove when wanted and place back in quickly due to the stretchy material.

Both pieces to the set were easy to get on once the snap hooks were figured out, which did take a bit of getting used to. Many times, the snap hooks were abandoned in lieu of just using the stretch of the material for putting the items on.

Special Features:

Adjustable
Free samples
Kinky
Travel kit
Waterproof

Care and Maintenance:

Both of the items can be washed with simple soap and water. You could also use a toy cleaner if you are so inclined. Silicone can be boiled if you are sharing and wish to fully sanitize the items. They should not be boiled for too long, as the hooks are made of plastic and the heat could warp the plastic element. For that reason, these should not be placed in the dishwasher.

These can be stored in the box they came in if you have the storage space. If not, these can be kept in a drawer or other bagged storage. They should be kept away from any other silicone materials as silicone and silicone should not touch. This can be a risk for degrading the materials.

Packaging:

The Elite set comes packaged in a white and black box. The front says "Fetish Fantasy Elite Silicone Ball Gag & Mask" with a photo of a man wearing both items. Both sides are black and simply say "Elite" in scripting. The back has information about the product and materials. It has a picture of the gag and the snap hook.





There are no instructions that come with the kit. The gag and mask are simply place in the box. The packaging is not discreet as it has a photo of the product being used on the front. If you don't mind this, the box can be used for storage of the items.

Experience:

I don't have high expectations for most masks. I have my Liberator mask that I use and throw away masks that come with various other kits I buy. I was excited about the gag in this set, but figured the mask would be yet another flop. I was very pleasantly surprised when it turned out to be one of the best masks I have had to date. While it doesn't quite meet the standard of my Liberator mask, it easily takes second place. It blocks vision completely while being comfortable to wear. It also manages to stay in place on both my smaller head and my husband's larger head. My only complaint was the learning curve of the snap hooks, but since you could just slide it on and off, it wasn't a big enough deal to be concerned about.

The ball gag was also another winning addition to my collection. It doesn't win out over my Aslan Silicone gag, but it certainly beats out many of the rubber gags I have tried that not only leave an awful taste in the mouth but are difficult to wear due to the uncomfortable feeling material. The combination of the small size of this ball and the firm yet easy to bite material made this one of the gags I was able to use for over an hour without causing my jaw to cramp up. I have jaw issues as it is from teeth grinding, so it's important for me to find gags that don't cause further jaw issues for me. The slight rough edge around the ball seemed to be a big issue for my husband, but didn't bother me for more than a few seconds. Once he wrapped a soft twine around it, he wasn't bothered by it anymore either.

I wasn't exactly sure what to expect with this kit, but I came out a very happy girl. Both items are welcome additions and will see a lot of use in the future. While not as high quality as the top brands, these are well made products and I'm expecting them to last a while so long as I don't randomly decide to start pulling and stretching the material for no apparent reason.

Other

Safety features:

Food-grade material / Hypo-allergenic / Latex free / Non-porous / Phthalates free

Diameter:

1 1/2"