Pipedream Fetish Fantasy Elite universal heavy-duty harness - G-string harness from Pipedream

Product Details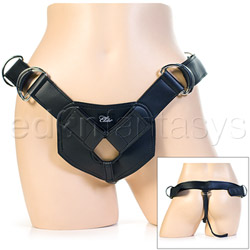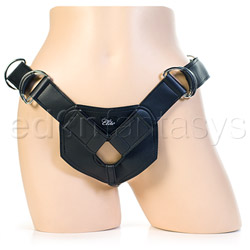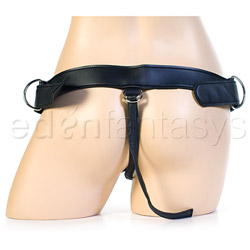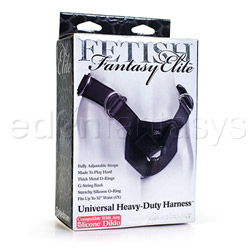 Summary:
This harness is a decent in between beginner and heavy duty leather harnesses, if you can get past the strong chemical odor which is most likely due to PVC. The straps are very easily adjusted and it will hold many different sizes of dildos. The construction is solid, I just wish they'd used different materials.
Pros:
Will work with a variety of sizes of dildos, highly adjustable
Cons:
Smelly material, gives you a tail
Best use:
The Fetish Fantasy Elite Universal Heavy Duty Harness is an adjustable harness for partner sex. It can be used with any harness compatible dildo for vaginal or anal sex. The harness adjusts up to 52 inches. It can be worn by many sizes, but is probably better for larger sizes to avoid too much excess strap. The harness is easily secured and appropriate for anyone wanting to engage in harness play.
Material:

The tag on the inside of the harness states that it is 85% PVC and 15% polyester. That material composition is used for all of the harness, including the straps and g-string, except for the connecting pieces, which are metal. The material does have a noticeable chemical smell to it and is a bit stiff upon first removal from the box. It feels soft and moderateley thick to touch. There is also a silicone o-ring included in the box that is used to attach dildos to the harness.

Design / Craftsmanship:

The front yoke of the harness, where the dildo goes, is shaped like a pedestrian crossing sign with the point at the bottom. It is 6 inches from top to bottom and 6.25 inches from left to right. The center hole is approximately 1.75 inches in diameter. There are two large tabs on the top left and right and a smaller tab on the bottom center that attach to the silicone ring to hold the dildo in place. The waist/hip straps are just over 1.5 inches wide and have two 2.25 inch long metal d-rings to secure the straps through. The straps are secured by passing the strap through like you would a belt that has two d-rings. The third strap is .5 inch wide and 21.75 inches long. This strap is attached the bottom center of the front yoke, runs under your pelvic area as a g-string, and attaches to two small d-rings on the back of the waist strap. All of the straps can be adjusted by tightening or loosening them where they connect with the d-rings. The included silicone o-ring is very stretchy, so that it can accommodate a variety of dildo sizes; although, you should be careful to make sure the silicone will not have a negative reaction to each other first.

Size / Fit:

The size options that the adjustable straps provide are pretty wide ranged. Once I had the straps adjusted for me, the fit was comfortable and didn't chafe. The g-string strap is extremely long though and left a long 'tail' hanging down once adjusted.

Weight:

0.75 lb

Harness

Maximum hip size:

52"

Maximum waist size:

52"

Dildo holder diameter:

1 1/2"

Performance:

Getting this harness adjusted is very easy. It stays put, the straps don't slip from their adjustment and does not chafe. The wide straps feel comfortable against the skin. The silicone o-ring is easy to stretch to accommodate many sizes of dildos and allows for the attachment of the straps on the harness once placed on dildo. The velcro straps on the tabs hold the dildos in place well with no slipping.

Special Features:

Adjustable
Interchangeable ring
Kinky

Other

Texture:

Smooth

Safety features:

Phthalates free