Pipedream Fetish Fantasy fantasy feather crop - Crop from Pipedream

Product Details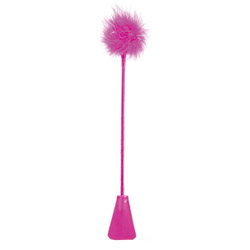 Summary:
If you are looking for a crop that will serve the dual purpose of giving a tingly tickling sensation and also allow for smacks with a crop, this toy is great! We are so glad we have added this to our collection. It is certain not to die of old age, but rather from over use! While some of the feathery material seems to be falling out, I think that what remains is more securely attached and will last a long while. Whether you want gentle slaps or painful marks, this crop will deliver.
Pros:
Can smack hard or soft, lots of control, tickles nicely, perfect for dominatrix play
Cons:
Some feathers seem loosely attached, unlikely to be able to clean feathered end
Best use:
The Feather Crop is great for the adventurous couple that wants to kink things up a little. With its two distinct ends, this toys offers both pleasure and pain. The feathery end tickles your partner in all the right places. The vinyl end is perfect for giving some powerful spanking. With this crop, it is up to you if you want gentle spanks or marks that will last a long time after. This toy would be perfect for both beginners and advanced users. It seems easy to control the power of the slap given with this crop, simply by holding higher or lower on the crop handle.
Design / Craftsmanship / Size / Material / Features:

This crop is made of a feathery material on one side and vinyl on the other. The fuschia feathers are perfectly fluffy and light, creating a tingly, tickly sensation when rubbed sensually against the skin. I have already noticed that some of the feathery parts have fallen out while in use. It may be that some of the feathery parts were just not attached well to begin with. Most of them seem to be securely fastened.
The pink vinyl end is perfect for both gentle and hard slaps to the skin. It is a smooth and sexy-looking pink vinyl that seems quality enough to handle some heavy spanking. The whole crop is just over 20" long and is very light. The vinyl end measure about 2.5" across at the widest part and narrows to about 1". The length of the vinyl slapping surface is about 4" long. The handle in between the feather and vinyl ends is made of a pole wound around with thick pink string.

Material:

Feather

/

Vinyl

Material safety

Length:

20"

Width:

2 1/2"

Weight:

1 oz

Performance:

This crop worked great. We both enjoyed the sensations created by both the soft feathery end tickling our sensitive parts. The smack of the crop was quite erotic. Just painful enough to be exciting, without being painful enough to press charges. Although, it is quite possible that it could be used to hit harder than we did. The long handle allows for a lot of control over how hard or soft it smacks against the skin.
This toy is perfect for any type of BDSM or just some fun, kinky foreplay.

Care and Maintenance:

This product is unlikely to get too dirty under most circumstances, but should you get the feathery end dirty, it is hard to imagine being able to clean it without the feathers being ruined or falling out from any kind of scrubbing. The vinyl end is much easier to clean, with a wash cloth and soap. When not in use, it can be easily stored on a shelf, in a toy chest, or under the bed for easy access.

Experience:

During our last strap-on session, my wife used this on me and it was quite fun. It really added a little something extra to the whole experience. The tickling of the feathers was quite a turn-on and the smacks of the vinyl end made the night a bit more exciting. Things got so intense, from the excitement created by our new toy, that when lying on my back, with her holding my legs up, thrusting her strap-on into me, my orgasm shot clear over my head. This is a perfect toy for a couple that is looking to be a little more adventurous with their sexual experiences. We both love it!

Other

Texture:

Smooth

Special Features: