Pipedream Fetish Fantasy grey silk ties - Restraints from Pipedream

Product Details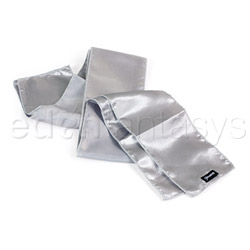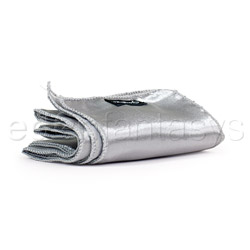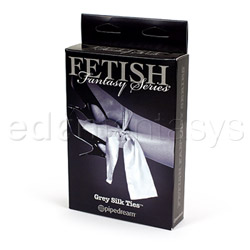 Summary:
Those looking to add a little spice to playtime will appreciate these mild, easy to use restraints that fit comfortably and look sexy in the process. The shimmery silver fabric looks a lot less threatening than cuffs made of leather or metal, and the price is right, too.
Pros:
Soft, silky, versatile, perfect for beginners.
Cons:
Minor fraying at corners.
Best use:
The Fetish Fantasy Series Limited Edition grey silk ties are meant to be used as playful restraints in the bedroom. They're designed for beginners, or those who only occasionally dabble in bondage, rather than for hardcore BDSM enthusiasts.

These silk ties will fit wrists, ankles, or even thighs, and can also serve as blindfolds for sensory play, or as a makeshift gag -- provided one isn't concerned about staining the material. It's also possible to wear one as a scarf or hair tie, although the brand name on the tag might give away its true purpose.
Design / Craftsmanship / Material / Size / Fit:

These ties are made of silk, which means they'll hold the scent of anything they remain in contact with for a period of time. They're also fairly soft and slippery.

The seams on these ties are the weak point. While the edges look well finished, many of the corners show minor fraying or loose threads. This doesn't affect the usefulness of the product, but it could impact longevity depending on how hard one tends to play.

As for length, each sash -- there are two -- measures four inches in width and three feet in length. That should prove useful in a wide variety of light bondage situations.

Material:

Polyester

Color:

Grey

Length:

38"

Weight:

0.8 oz

Performance:

A quick release knot comes apart with a single tug, thanks to the slick material, while any kind of knot that tightens against resistance might prove a bit more difficult to undo, although certainly not impossible. The fabric is easy to grip in order to pick apart even a stubborn knot.

I experimented with a variety of knots on these, even some I'd hadn't tied since my girl scout days, and these ties emerged from the tests no worse for wear.

In a safety test, repeated attempts to give myself rope burn proved unsuccessful, disproving certain online warnings against using silk for bondage. It is possible to bind one's wrists tightly enough to cut off circulation, but this is true of any material used in this way, and so, while caution is recommended, it's a universal caution and not specific to this product.

Should one's bondage exploits outgrow these particular restraints, they would serve well in a first aid kit, as they're a great size for makeshift bandages. They have no stretch like a proper support bandage, but they'd certainly hold gauze in place, and they'd be perfect for a splint or tourniquet. Hopefully your bedroom play won't require either of those uses, though.

Care and Maintenance:

These ties should be treated like any other silk. They can be dry cleaned if necessary, or hand washed in cold water with something mild, such as white vinegar. They should not be machine washed, as the agitator will not treat silk kindly, and if they must go into the clothes dryer for some reason, then use the low heat setting.

The original packaging can be used for storage, or they can be tucked into a dresser drawer or toy chest. Simply avoid direct contact with lubricant bottles or other sources of moisture.

Packaging:

The Fetish Fantasy grey silk ties come in a black cardboard box adorned with a women's bound ankles, so it's not particularly subtle. Inside, they're sealed in plastic. There are no instructions regarding either product care or use.

If one wishes, the packaging is suitable for storage, although the product will take up less space on its own.

Personal comments:

Those looking to carry out their Shades of Grey inspired fantasies will find these silk ties to be a good choice. They might be just the thing to break the ice when approaching the subject of bondage with a partner. Just please remember the difference between fiction and real life, and be sure to conduct your bondage experiments in an environment of consent and open communication between both parties. Learn the rules for safe and sane bondage play -- there are plenty of online resources to help in that respect.

Enjoy!