Summary:
For bedroom enthusiasts or newlyweds, this kit is a great night of fun. It comes complete with restraints, blindfold, tickler, pocket rocket and caps, and two candles. It also comes with a sample of Moist Personal Lubricant, Pina Colada flavored lube/massage oil, and a sample of toy cleaner. Add in some sexy lingerie and possibly some sultry jazz, and you have all you need for a sensual night of fun!
Best use:
This kit is put together by one of my favorite companies, Pipedream. It is part of the Fetish Fantasy Series that is so perfect for couples looking to spice up their bedroom. This particular kit is meant to be taken with you on your honeymoon. I personally wish it had been around when we were going on our honeymoon. It's a cute little set that is so very non-threatening, that it's perfect even for the rankest amateur!
Even those of us who were a bit more experienced on our honeymoon will find something of interest in this little kit.
Though you may be far away from your honeymoon, or never planning on having one, I still recommend the simple pleasure of a kit that could bring you closer to your lover(s) in surprising ways.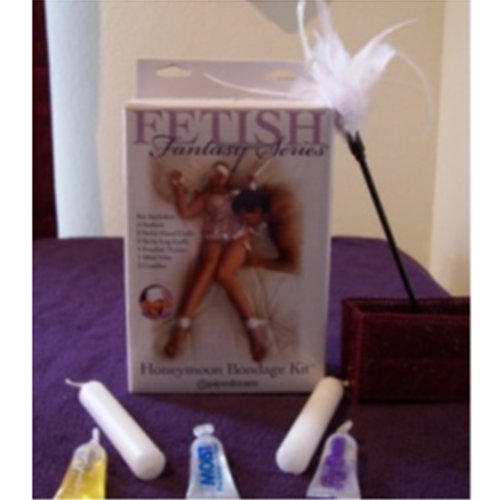 This kit comes with so many pieces it's going to make for a fairly long review, so bear with me! There are two candles, 4 restraints, a feather tickler, a pocket rocket with 4 caps, a tube of pina colada flavored lube, a tube of toy cleaner, a tube of Moist water based lube, and a vinyl blindfold. Doesn't that sound like a great night in?
Design / Craftsmanship / Material / Size / Fit:

There are a whole bunch of little pieces to describe here, so bear with me.

First off, we have a set of four restraints that are composed of nylon webbing, Velcro-like hook and loop tape, and soft cotton padding.

The nylon webbing measures about 38 inches, which is just about the perfect amount of material needed to tie around a bedpost or to another cuff! The soft cotton material that wraps around your ankle or wrist measures 9.5 inches long and 2 inches wide. There is a generous amount of hook and loop tape, designed to make the cuffs very adjustable. My wrists are roughly 6.25 inches around, and the cotton padding wraps up and over itself with lots of the loop tape left over. I have a small/medium bone structure.

My ankles measure roughly 9 inches around, and the cotton padding meets itself around my ankle.

The feather tickler is made of what looks like white turkey feathers firmly glued into a soft PVC cup, which is also firmly attached to a very small and thin PVC tube. It measures roughly 12 inches in total length from PVC bottom to feathery top. When I first pulled the feather tickler out of the box, I was a bit disappointed, but after letting it sit and relax, it really took on a cute look.

Next, we have a really powerful little pocket rocket made of plastic and three little metal balls. It comes with four toppers that serve to lessen the impact of the vibrations and give different, subtle textures. The toppers are clear plastic. There is a smooth dome, a circle of very small points, a circle of raised points that looks worse than it is, and a circle of larger rounded points that on my set have a flaw that actually drew blood. I would caution the user to look over each of the plastic caps and be sure they are properly smooth. It isn't hard to smooth out the edges, but it really shouldn't be necessary.

The blindfold is composed of vinyl plastic and isn't meant to last forever. The nose cutout isn't deep enough to make this a complete blackout blindfold, but the fit isn't totally terrible. The blindfold measures 7.25 inches across, 3.75 inches over the eyes, and 3.50 inches over the nose. It has a thin but stretchy elastic binding on the back that fits most size heads. This blindfold is stitched firmly and evenly.

Each of the tubes are about 10 ml of product, in a soft plastic tube with a twist open top. They are pretty run of the mill. The candles are sturdy and fairly long.


Material:

Plastic

/

Satin

Material safety

Color:

Baby pink

Closure:

Velcro

Weight:

0.3 lb

Performance:

The bits and pieces of this kit are pretty damn nice, all things considered.

The restraints are soft, sturdy, and offer a bit more restraint than the average Velcro type closures. They are perfect for the not-so-sure player, who may not be comfortable using restraints that are more difficult to get out of. The tails of the restraints must be tied either to the headboard/footboard, bed posts, or each other. They do not wrap easily or attach easily, but they are workable and comfortable.

The feather tickler is sweet and sensual. It needs to be kept dry and does shed a bit, but it is not nearly as messy as some of the other feather ticklers I own. It is soft but can excite allergies in feather sensitive individuals.

The star of the show is definitely the pocket rocket, despite the problem with one of the caps. It is powerful and well worth the price of the kit itself. It is a typical rocket in that it twists to turn on, has only one speed, isn't waterproof, and can fall apart easily when turning it on. It runs on 1 AA battery.

The blindfold is pretty typical of this series. It doesn't have a deep enough nose cutout to be a black out blindfold, and it has a thin elastic head binding. It works fairly well and will provide some extra sensuality to the play.

The candles are long burning and seem to burn evenly and cleanly. Be sure to trim the wicks before lighting and place in a proper receptacle. Lots of hotels will provide candle holders if you ask at the desk. They have no smell and, if you plan to use them for hot oil play, be very careful as they are not low temp candles.

I am assuming that the pina colada flavored oil is a flavored lube, but there is no instruction or mention of it on the box. It is oily enough to be used as a nice, light massage oil, but it is a bit sticky for that. It tastes pleasant, and we used it as a flavored blowjob enhancement. I wasn't sure of the sugar content and didn't want to risk overgrowing bacteria or yeast.

The lube is Moist Personal Lubricant and is safe for vaginal/anal use. It is thin and washes off easily. It doesn't have much of a scent, but doesn't have a really great flavor. It lasts fairly well without needing lots of reapplication.

There is a small sample of toy cleaner that is perfect for rinsing off the plastic caps of the pocket rocket. It has very little smell and doesn't cause irritation, even on my sensitive vaginal tissues, if it is not rinsed off the toy. To be careful, I would rinse the toy before use and pat dry, as some of the chemicals in commercial toy cleaner can be a bit irritating to skin.

Care and Maintenance:

The pocket rocket can be wiped with a damp cloth, but shouldn't be submerged in water as it is not waterproof at all. The plastic caps can be washed in warm soapy water, rinsed in a 10% bleach and water solution, or cleaned with commercial toy cleaner/wipes. I store my rocket along with its caps in a custom made plastic canvas box, but it could be tossed in a bedside table drawer or a toy box. It's not a prima donna type toy and will play well with others.

The restraints can be washed by hand in warm, soapy water or thrown into a lingerie bag and washed on the gentle cycle. Nylon webbing can be dried in a dryer on low heat/no heat without harming it in the slightest. They could also be allowed to drip dry, but be sure the cotton padding is fully dry before storing.

The feather tickler should be kept as dry as possible. It's not going to handle being washed well, as the feathers are rather fragile. Store it in a dry area. I store my feather ticklers in a vase on my dresser.

The blindfold can be wiped with a damp cloth or cleaned with warm, soapy water. Let it fully dry and store in a bedside table drawer or whatever you use to store your blindfolds.

The pina colada flavored oil and the water based lube wash cleanly away with warm water and soap. They do not store well and are really meant to be one use. The twist off top can be reinserted into the top of the tube, but it will not stop it from spilling if it gets tipped over.

Packaging:

The packaging was minimal, beyond the large heavy cardboard box the kit arrives in. The individual pieces are wrapped in plastic that can be recycled. The entire kit can be stored in the packaging, but it is a bit bulky and definitely not discreet.

The box is not terribly informative.

Experience:

We really liked this kit, even though we are far from our honeymoon period. The restraints aren't meant for hardcore players, but they are great if you like heavy control play. Tell your partner not to move or break out of the restraints, and then leave them with a restraint they can get out of easily if they try! The rocket is great for sensual play and even forced/restricted orgasm play. It feels really good on the nipples, scrotum, penis, anal sphincter, taint, and even the elbows/backs of the knees. It's pretty damn great for a sore neck muscle or a sinus headache, too.

The feather tickler was a bit disappointing when I first saw it, but now that it has relaxed and spread out, it is very sweet looking and feels soft and sensual.

I really don't like the blindfold, but it's a personal preference thing rather than any fault of the blindfold in this kit. I prefer a deeper nose cutout for both comfort and black out capability.
The little samples were a nice touch and, combined with the candles, made the kit a one stop night of fun. It might have been a touch better if the candles had been tealights or came with a set of holders.

Other

Control type:

Built in control pad

Kit includes:

4 teathers, 2 satin hand cuffs, 2 satin leg cuffs, 1 feather tickler, 1 mini vibe, and 2 candles

Powered By:

Aa-1

Safety features:

Food-grade material / Hypo-allergenic / Latex free / Phthalates free