Best use:
Warning: This paddle is definitely NOT made for those who do not like pain! Also, this is rubber, BUT is Non-latex rubber (for those allergy prone people).
With that being said, this is one great paddle for those of us who love pain of all sorts. This can offer a wide variety of pain. If used softly will give a nice sting. If used hard, this thing will have you screaming obscenities across the room. This is not for those weak of heart and mind, or body for that matter.
This is best used for times you want to give your partner a good spanking or, if you're into it, a good punish. This paddle if used hard enough will leave a lot of bruising, so be warned.
This toy is great for couples, BDSM play, groups, men, women, just about anyone who wants to have a little fun with it. Honestly, not really a beginner's toy. This toy will not be the first toy you ever want to be hit with. This can hurt a lot.
You can use this on different parts of the body but you really do want to be careful. The best and safest places to use this on would be the butt, the breasts, the thighs, and if you're into it, the genitals. I wouldn't use this on the back because it could do some serious damage.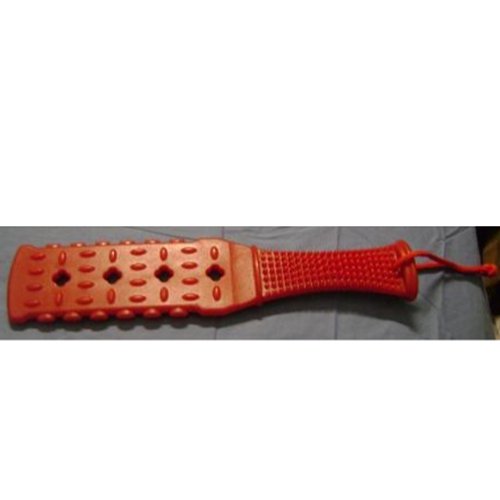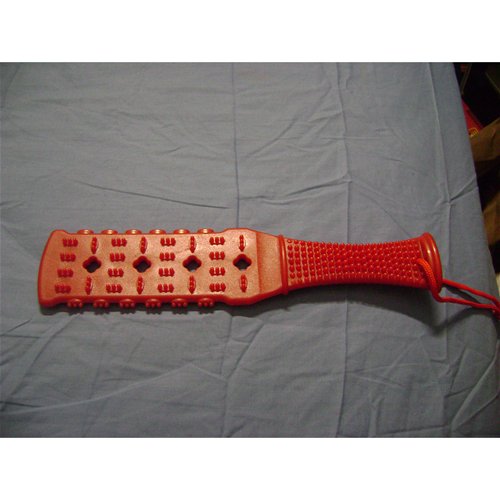 Design / Craftsmanship / Size / Material / Features:

This paddle has two different sides and textures. The one side has nubby smooth ridges on it, and the other side has straight 3-prong pokey edges.





This is definitely not your grandma's paddle. The nubby side doesn't hurt as much as the pokey side, but both sides do have their own feeling. This is completely made out of rubber except for the wrist strap, which is make out of nylon rope tied in a knot at the end.

This is 10 3/4 inches in length and 2 1/4 inches in width. The handle itself does have its own texture too. It is more of a bunch of round nubby circles.




The end of this does have a flat base, and is not something that should be inserted into any orifice. This could cause damage to whatever hole you plan on inserting it in.

This is not a heavy toy but does have a little bit of weight to it. This doesn't have a smell like most rubber toys do, which I appreciate. I wouldn't be able to use a paddle that smelled like rubber. I do believe this toy will last a long time and take a good beating (yes a good pun). The only thing I see might fall apart is the wrist strap, but after a long amount of use it hasn't come untied yet.

This paddle is flexible BUT not the way you're going to think. It is able to bend completely in half if you manually bend it in half, BUT it doesn't bend a whole lot when you hit someone with it. It does bounce back a little so that it's comfortable to use, but isn't so stiff that you get no bounce back. This does bend itself back to straight if you were to bend it half (we tried). This has potential as one of the best paddles in our box.

Material:

Pvc

Material safety

Length:

11"

Width:

2 1/4"

Weight:

0.3 lb

Performance:

The paddle worked better than expected. I really thought this wasn't going to be anything to be happy about. The paddle hasn't even found the toy box as of yet. It's always out and has found its way to many rooms in our house. Definitely something we have found many reasons to play with.

This has worked well, and has held up to a few great beating sessions. Usually even I, as a heavy player, can't take a lot of this paddle. It does have a great sting to it on both sides and textures. We have found that the edges of this are great for sensation play. They make great things to tease the body all over.

This is definitely stingy to the body, but if you like pain that will not be a problem. It is a very intense toy for some, and probably not intense enough for others.

This is very likely to leave marks on the skin. So if you are one who doesn't like marks be careful when playing with this paddle.

Care and Maintenance:

This toy is easy to clean. Just some soap and water and it will come clean very easily. If you are to get blood on this, I would suggest not sharing it with others. When you have rubber, blood does not come out easily. You wouldn't want to share body fluids with other people.

This can be stored just about anywhere. Your toy box, suitcase, dresser drawer, end table, etc. This is so easy to hide even under the mattress if you need to.

Packaging:

This toy didn't come with any packaging other than a tag on it that had the manufacturer's name on it. This was made by Pipedream.

Experience:

This paddle was great for us and will be great for other couples and play partners too. We have gone back to this many times and I know we will go back again. This is one paddle that just keeps on giving.

Other

Texture:

Noduled / Studded

Special Features: