Summary:
A sturdy travel case that looks like a little attache case? Yes! The Shock Therapy Kit from Pipedream is everything an adventurous couple needs for really spicing up their love life. The kit includes a sturdy padded travel case for storage, a set of four leads, a set of four reusable flat pads, a set of nipple clips, a cock cage, a probe, a tube of gel, and a nice little blindfold just to kick it up a notch. A luxury kit worth having!
Best use:
The Fetish Fantasy Shock Therapy Travel Kit is just an amazing kit that makes electro-sex play easy, sexy, and organized. The hard shell case keeps your sensitive controller safe and protected, and the cut out foam makes sure that little pieces won't get lost in the covers.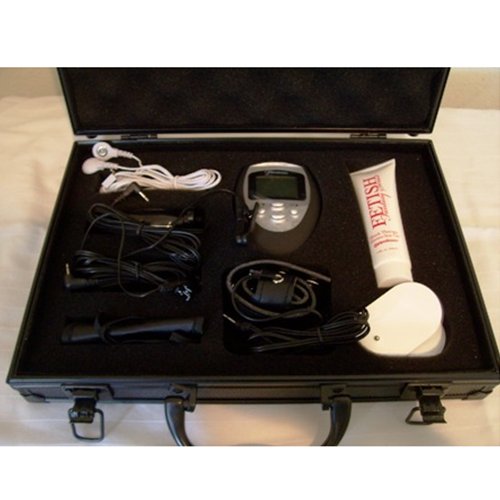 The kit offers everything a couple will need to experiment with electricity play safely and easily. About the only thing that is really missing is a second controller! I happen to have a second controller, so I know what couples with only one are missing.
This toy is best used for mutual masturbation, muscle relaxation, foreplay, and as just a little added thrill to the sexual act itself. The pulses and punches of the toy can relax or stimulate just about every portion of the body, though personally I do not like attaching this to my head. I have read testimonials from people extolling the virtues of neck and forehead massage, but I prefer vibration for that sort of thing. Now shoulder massage, and even down the muscles of my back, is a rare treat that I look forward to! I have found that if my lower back and upper thighs are sore after a good workout, I can attach the pads to my butt cheeks, and the massage will help relax the muscles and bring relief faster than using an analgesic like Tylenol.
This toy is great for all levels of user, though it does have a learning curve. The controller is hard to figure out and could be made to be more user friendly, in this reviewer's humble opinion. As long as you are willing to sit and learn the toy, it will reward your effort.
Design / Craftsmanship / Material / Size / Fit:

The design and craftsmanship of this kit is impeccable. The hard shell metal case is roughly 12.5 inches wide, 9.5 inches tall, and 2.5 inches wide. It has beautiful and sturdy hardware, as well as flush hinges that will stand up to being tossed around. It looks like a small hard shell computer case. The sides of the case are mirror finished, and it does pick up fingerprints and smudges, but that's me looking for faults, so all in all it's kind of a great little case.

The entire kit is small sized, but packaged so that each piece of the kit has ample room and is protected. The inside of the case is thick foam, and the cut outs for each piece keep everything from tangling and getting jostled around. The case also has a sturdy handle that looks like it will last for many years.

Rather than review each piece of the kit individually since I own two copies of some of the pieces, I'll provide the link to the earlier reviews, and state for the record that I still feel the same about the pieces, indicating a high level of quality control!

I reviewed the main component of the kit- the controller, pads and leads here: Shock Therapy That's Fun. I did notice that the silicone on the pads with this kit isn't quite as sticky as the pads in the original kit. They won't last as long, in my opinion.

I reviewed the Electro Sex Gel here: Ahhhhh Blessed Relief. The kit comes with a smaller tube than is sold separately, but it is the exact same preparation.

The Probe is also sold separately but it was sort of new to me. I had bought a Pleasure Probe, but it wouldn't work properly no matter what I tried. I didn't get around to getting it replaced and was very happy to see that the probe with the kit works perfectly. It is small and doesn't have a flared base, so it shouldn't be used anally. It is not designed to be held against the body, but to be inserted, and you must have skin contact with both metal points to feel the pulse of electricity.

The cock ring was totally new to Sigel and myself. It is composed of faux leather, but doesn't have a nasty smell to it. There are contact points all along the inside of the ring, and it's designed to wrap around the penis and the scrotum. You want the contacts to be snug up against the skin, but a cushion of gel will make sure they are in contact with the skin. There are two snaps, making it adjustable for more sizes of guys. The sensations are carried evenly throughout the straps.

I wasn't very impressed with the nipple clips because they are not spring loaded, and I couldn't use the gel with them without having them slide right on off! They work, but with my larger breasts and more non-reactive nipples, it wasn't a great experience. I think if they had a more forceful "bite" they might have been my most favorite part of the kit, but as it is they are just frustrating.

The kit also comes with a little blindfold made out of satiny plastic. It will fit most heads and is fairly well sewn, but it is not a black out blindfold because the nose cutout is not high enough on the bridge of the nose. Still, it is a cute little touch.

All in all, the kit is well made, though there could be some minor improvements, and it should suit just about all body types and experience levels.

Material:

Metal

/

Plastic

/

Vinyl

Material safety

Weight:

2.5 lb

Performance:

The case the kit comes in is just amazing. It's totally worth the money and keeps your electro-sex kit organized and travel/storage friendly. The hand held battery pack takes a bit of time to really learn, as the controls are not all that well explained in the enclosed pamphlet. I suggest the user uses the pads and leads on a leg or arm first, to just learn what to push and what the sensations are, before attaching the other items to more sensitive areas. Always remember to unplug the leads from the device if you must stop the sensation quickly- do not pull the pads or other contacts off the skin while the current is running.

This battery pack is unlikely to interfere with a pacemaker or cause your heart to have issues, even if you do attach the leads to your breasts. If you have any concerns about the issue, a trip to the doctor might ease your mind; after all, this is also a muscle relaxer - you need never mention that you wanna strap it to your breasts!

The leads are sturdy and adjustable. They will last a good long while with minimal care, as will the silicone pads. EdenFantasys does sell the replacement pads, so you needn't worry about running out.

The gel works well to smooth out the sensations, but it is most noticeable for smoothing the sharp tapping sensations into something with less bite. I prefer the smoother rise and fall setting, but I do admit that if you are looking for muscle relaxation, the tapping does feel like someone massaging the area. On my sexy bits, though, it feels like 1,000 ants biting.

The cock cage is uniquely constructed and works very well to stimulate all the areas of a cock and scrotum. It fits comfortably and will stay in place if you use the gel. I do recommend you use the gel, as it makes the sensations much more pleasant.

The nipple clips will work well for ladies with prominent nipples and smaller, less sagging breasts. Larger breasts, or those that are more mature, are more problematic, as the jaws of the clips are not firm enough. This prevents contact burning, but also prevents the things actually staying on!

The pads are amazing for large areas. This set wasn't as good as the ones that came with my previous kit, but I have replacement pads so it wasn't a really bad problem.

Taken as a whole, I am very pleased with this kit despite the problems with the nipple clips. It is worth the price and a really nice couple's kit.

Special Features:

Kinky
Lubricant included
Multifunction
Multispeed
Travel kit

Care and Maintenance:

The battery housing is not waterproof, so this kit is not good for shower or tub use. This is a strictly bed/dry play area kit. All of the components can be stored easily inside the case, and I recommend doing so to keep your leads free from tangling and breaking.

A damp cloth is all you need for the nipple clips, blindfold, cock cage,and probe. A commercial toy cleaner spray would also be a great option. You could use a touch of soap and water on the probe, but be very careful not to douse the thing in water. The gel wipes off cleanly and doesn't leave a sticky residue on skin or toys.

Packaging:

The kit comes in the hard shell case and a cardboard sleeve that is recyclable. There is a pamphlet included that tells you basically how to work the thing, but the controls are not very intuitive on the handset, so you're looking at trial and error anyhow!

Personal comments:

I have been asked over and over what the difference between a TENS Unit and this type of kit is. My best answer is intensity: the TENS Unit is much more powerful, and the current is much smoother. This kit doesn't put out much in terms of high intensity, but the breaking up of the current is stimulating to the sexy bits in a way that a TENS Unit can't match. It feels more "raw" than the TENS Unit, and my naughty areas prefer the sensation. Sigel, in contrast, MUCH prefers his TENS Unit.

Attaching the TENS pads to the breasts, for instance, feels honest to God like someone is sucking them, but this unit makes my nipple perk up and tighten, and the sensation is more like the nipple is being pinched and rolled rather than suckled.

Experience:

I was disappointed by the nipple clips, but the rest of the kit met or exceeded my expectations. I found I could use the nipple clips on my outer labia and on Sigel's scrotum, however. I don't recommend attaching these to the clitoris, but I suppose if you use plenty of the gel and are careful not to cause pain, it would be ok. I am not worried about damaging the nerves, so much as unintentionally turning the machine up higher than I wanted and causing myself pain in that area. I like pain as a general rule, but not there!

I do wish the controller was more user friendly and better explained, but I can manage to have a pretty darn good time just sort of stabbing at buttons, so it's not a total loss.

Other

Control type:

Control pack

Functions:

Pulsating

Kit includes:

control unit, nipple clamps, electro-sex pads, anal probe, cock cage, electro-sex gel, lube and mask

Powered By:

Aaa-2

Safety features:

Food-grade material / Hypo-allergenic / Latex free / Non-porous / Phthalates free