Pipedream Fetish Fantasy suede fantasy kit - BDSM kit from Pipedream

Product Details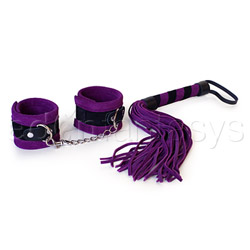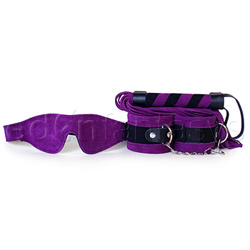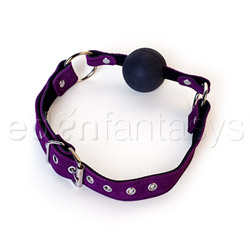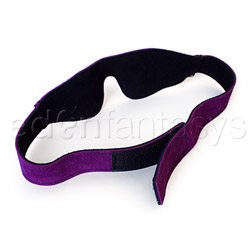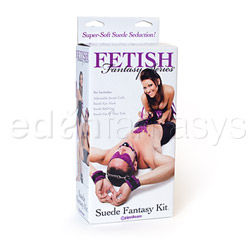 Summary:
I can't recommend the Suede Fantasy Kit highly enough: it has EVERYTHING from the ball gag, the cuffs, the flogger, and the blindfold, all in amazing quality and craftsmanship. Whether you are new or experienced, submissive or dominant, this kit is a must have and worth every penny.
Pros:
Made of real suede, all items in kit are top-notch, great quality.
Cons:
None, except for the level of high maintenance in taking care of the suede material.
Best use:
The Fetish Suede Fantasy Kit is the PERFECT BDSM-themed package that is truly a treat, perfect for not just couples wanting to spice things up in the bedroom but also for those who are more experienced. This kit has everything: a suede flogger, blindfold, ankle (or wrist) cuffs, and a ball gag. So all in one package, one can explore bondage, flogging, sensory deprivation, and humiliation. Furthermore, each partner can explore their submissive side of their dominant side (or both, if you're a switch). How you use these devices is only limited by your imagination: you can go rough and wild, deep and hardcore, or light and gentle, play in the bedroom, explore in a dungeon, or use these toys in places like the park, the woods, etc.
Design / Craftsmanship / Material / Size / Fit:

In many kits, the products can tend to be poor in quality and rushed in the craftmanship, but not this one. The suede is impeccable, and the maroon color is a nice contrast to the black. Each product smells strongly of suede, but pleasantly so. Here's an overview of each item included:

The Ball Gag
The ball gag is made of rubber. Typical of rubber ball gags, the odor is very strong, and leaves a bitter rubber taste in your mouth, especially with long and repeated use, but that somewhat adds more to the humiliation aspect of the ball gag. The side of the gag is held together by a suede strap and O-rings, which definitely adds to the aesthetic of this gag. The gag can be adjusted with the buckle-style straps. Overall, there are 9 holes notched in the suede, so this gag should be able to fit perfectly on anyone. Be warned: the gag WILL make you drool, so be prepared for a burst of rubber flavor in your mouth after only a minute or two. What I like about the O-rings is that one can attach reigns to it if they have any handy. The ball gag looks great, feels comfortable, and exudes submission.

The Blindfold
It feels so soft, and just like the ball gag, feels comfortable to wear for long periods of time. It is adjustable by pressing one part of the blindfold to the valcro section, so not only does it make it easy to put on, but also easy to take off.

The Ankle Cuffs
These can be used on both the ankles or wrists. The same Velcro-style adjustment is used for the cuffs. It does a great job at creating the hard-to-get-out-of kind of bondage that we all want. Again, I can't stop emphasizing how SOFT and COMFORTABLE it is, while still having that BDSM theme/edge that makes it aesthetically appealing to look at and adds to the intensity of the session. These cuffs can be used for basic bondage, and perhaps for some light suspension bondage.

The Suede Flogger
This is by no means the daddy of all floggers, but it can leave quite a sting when used aggressively and passionately. It seems small and amateur in its appearance, but surprisingly, this flogger means business. It may not leave a bruise, but it can leave behind a strong sting and cause some pain if used well.

Material:

Suede

Color:

Purple

Closure:

Velcro

Weight:

0.75 lb

Performance:

I find it next to impossible for anybody to be disappointed in this kit. Every item is top-notch and meets every need and expectations from the quality, the craftsmanship, and the durability. Not a single product feels uncomfortable, itchy, or shoddy. There's no chafing; the suede just feels so smooth and delightful, which makes the product all the more wonderful to use and perform. Everything is self-explanatory and easy to use and put on, so even if one is new at using any of these products, you'll still feel confident and excited by the possibilities. Every items holds up well from the lightest sessions to the most hardcore, rough sessions. I can't recommend the performance of these toys highly enough; it's a MUST-HAVE.

Care and Maintenance:

Unfortunately, suede is perhaps one of the most difficult products to take care of. It can get dirty quite easily and is susceptible to stains. WATER IS NOT SUEDE'S FRIEND. It will drive away the essential oils of the suede and can damage the product. So if you want to make sure your Suede Fantasy Kit will last for years to come, you will have to shell out some time and investment with special suede cleaners. Store it in someplace dry and neutral in temperature.

Other

Kit includes:

Plush adjustable suede cuffs, a soft suede eye mask, a round suede ball gag, and a frisky suede cat o' nine tails