Pipedream Fetish Fantasy yoga swing - Swing from Pipedream

Product Details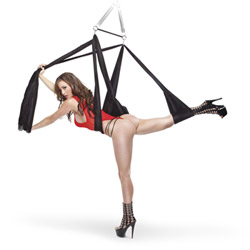 Summary:
The Yoga Swing from Pipedream's Fetish Fantasy line is almost everything you could want in a swing: sturdy, relatively comfortable, and able to keep my "eats too much chocolate" ass aloft for a round of loving!
Pros:
Able to hold 300 lbs, relatively comfortable.
Cons:
Big and conspicuous, strap material feels cheap, can't adjust the height once you're in it.
Best use:
The Yoga swing, from Pipedream's Fetish Fantasy line, is designed to hold you or your partner aloft for some anti-gravity fun-time! Because the straps are interconnected, for some positions you actually have to maintain the tension on the straps yourself (or you can cheat and tie them off). If you happen to be a goofball like me, you can also amuse your partner by imitating Cirque du Soleil (yeah, I tried to pull off a few silks tricks, but low ceilings didn't help).
Design / Craftsmanship / Material:

The straps are a little fiddly, but over all it's well designed. I would have added some backpack-like pull tabs to adjust the height of the person in the harness. The material the straps are made of is a polyester blend, velveteen-type of fabric, and is on the cheap side. The strap material is, well, I wouldn't go so far as to say "scratchy", but it certainly feels "crispy". It's slightly stiff and sort of crackly; maybe that will go away with a few washings, but I'm not certain. The harness support, springs, and carabiners are all extremely sturdy, good quality, and reassuringly thick. Bear in mind that if the wooden support beam you're screwing your eyebolt into is in any way compromised, using this swing would be a bad idea, but that has nothing to do with the product itself.

Material:

Metal

/

Polyester

Material safety

Color:

Black

Weight:

6.5 lb

Performance:

With a little trial and error, we were able to get into the swing and arrange the straps so I was comfortably supported. The tension springs kept the swing quiet and prevented the metal on metal squeaks that I've heard are off-putting in other swings. It supported my weight comfortably, and our only caveat is that there isn't a way to adjust the height of the person in the swing once they're in it, or at least we haven't figured it out yet.

Holds weight up to:

300 lb.

Packaging:

This is nowhere near to being discreet. It's big, bulky, and covered with pictures of a scantily/provocatively clad couple using the swing... at least it has a carry handle.

Other

Special Features:

Safety features:

Food-grade material / Latex free / Non-porous / Phthalates free