Spartacus Fur slapper - Paddle from Spartacus

Product Details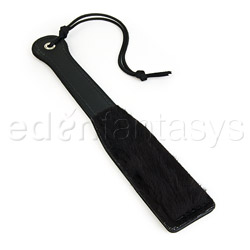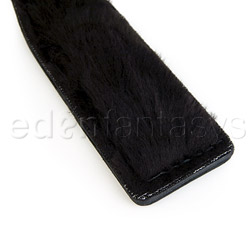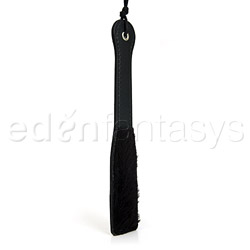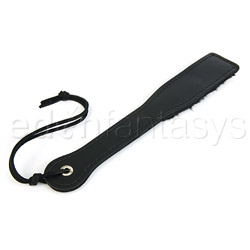 Summary:
A perfect addition to any aspiring Dom's collection, the fur-lined slapper is a stylish accessory that expands the opportunity for playtime. It's still got a good bite, making it a capable slapper in its own right, but the whisper-soft fur means you can go to town without fear of marking the victim up too obviously.
Pros:
A beautiful, quality product that delivers a painful SMACK without welts or bruises.
Cons:
If leaving a mark is what turns you on, you should look for a different product.
Best use:
James Bond's 7.65mm Walther PPK came with a silencer, for covert ops - and although they never showed it in the books or movies, I'm pretty sure he had similar top-secret equipment stashed in his toy box.

Equipment like this - the Fur-lined 12' Slapper from Spartacus.

A flexible leather slapper, it has a soft sheet of fur on the business-end - which means you can lay down a deliciously sharp SLAP without leaving a mark. Just the kind of thing a Secret Agent needs for his clandestine bedroom activities.

The slapper itself is just over twelve inches long, made from smooth black leather, with a strap at one end to go around the wrist (to ensure you don't get disarmed mid-session). The business-end tapers out to a narrow two inches, with luxurious faux-fur lining the slapping-side.
Design / Craftsmanship / Size / Material / Features:

Like most Spartacus products, this one is of beautiful quality. The leather is top-quality, with solid stitching and a hefty, satisfying weight. There's just enough 'give' in the rigid paddle to deliver a solid, gasp-inducing SLAP. The fur is fake, but soft and smooth and covers the entire paddle-end - with no hard edges to leave a mark.

Material:

Faux fur

/

Leather

Material safety

Length:

12 1/4"

Width:

2"

Weight:

0.2 lb

Performance:

Unlike James Bond's Walther PPK, you're going to make a racket when you use this slapper. It slices through the air with an aggressive weight and lands with a satisfying SMACK on the upturned ass (or other body part) of the willing victim. Where it differs from traditional leather slappers, however, is in the mark it leaves - or rather, doesn't.

The fur doesn't take much of an edge off the smack-down, but does soften the impact enough to leave most virginal flesh unmarked. There might be some redness post smack, but there are no raw, red lines or slapper-shaped bruises to give the game away. If the victim's bottom, breasts, thigh, back or stomach are going to be displayed soon after the session, this is a good way to make a lasting impression without leaving incriminating evidence behind.

Care and Maintenance:

There's not much you need to do to maintain this beautiful paddle. If, for some reason, it gets dirty, you can wipe the leather clean with a baby wipe, or condition it with saddle soap. The faux fur can be washed with a wet cloth or combed to remove anything that might be caught in it. Although if there IS something caught in it, you might want to question where, how and when you're using it. (I'm sure Q-branch would never approve of you using your covert sex toy equipment in such irregular circumstances!)

Packaging:

The slapper comes in a simple plastic sleeve. Nothing fancy. Nothing showy. Kind of what you'd expect from a sex-toy designed for top-secret, sadomasochistic missions.

Personal comments:

Having once stripped off in a locker room to find the word BOY emblazoned on my backside - a lingering left-over from the previous night's play session - the idea of a slapper that doesn't leave any evidence behind intrigues me. However, to some people, the pleasure is in the pain AND having the bruises, welts and red patches to show for it. For them, this fur-lined slapper might not do the trick.

I think it's a nice addition to a toy-box - complimenting a more traditional slapper and giving you the opportunity to 'play' even when you can't afford to leave any marks. However, you might want to get a regular slapper first.

Experience:

I was at the receiving end of this one - and can attest to the fact that the slap still stings even with the fur to soften the blow.

My wife used it with customary flair - she teased and stroked my thighs, ass and balls with the soft fur before landing me a loud SLAP on each cheek - perfectly complimenting the soft with the harsh.

For anybody who was turned on by 'Venus in Fur', this toy is the kind of a living embodiment of the spirit of that book! I like it - a lot. I just can't wait to be on the giving end, rather than receiving one!

Other

Lining:

Faux fur

Safety features:

Phthalates free