California Exotic Glow in the dark two piece harness - Harness and dildo set from California Exotic

Product Details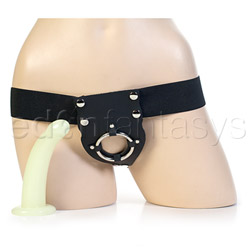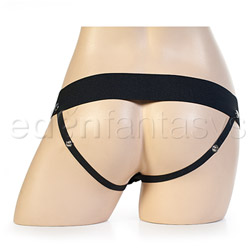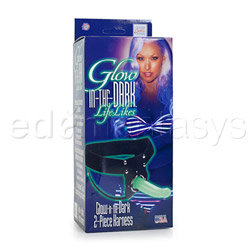 Summary:
While the harness is for beginners, more adjustability would have been great. But, the shining star of this kit was the glowing dildo. It's flexible nature and gradually increasing girth made it the ideal dildo for pegging (strap-on sex). It will be in frequent rotation on our strap-on sex nights. It truly is one of the best feeling dildos I have yet experienced in my ass.
Pros:
Perfect dildo for anal or g-spot. Glow-in-the-dark dildo is fun
Cons:
Harness can't be finely adjusted.
Best use:
The glow in the dark 2 piece harness is a great kit for beginners to strap-on sex. The harness is workable though not great due to lack of adjustment capabilities. On the other hand, the dildo (which glows brilliantly in the dark) is awesome! This dildo is perfect for anal use and also perfectly angled for g-spot stimulation. So, whether you are a lesbian couple or a couple trying out pegging (or strap-on anal male penetration), this kit will work great for a beginner looking for a decent harness that comes with a great dildo. The harness will also work with other dildos, though the O-ring does not appear to be adjustable.
Material:

The dildo is made of a Phthalate-Free PVC material that glows wonderfully. It does have a slightly strong PVC smell, but I didn't notice it while it was being used on me. It is wonderfully flexible and completely smooth. The harness is made from several different materials. The O-ring is made of nickel plated steel, the snaps are made from nickel plated brass, the front is made of cow leather, and the waist band is made of a polyester.

Dildo

Material:

TPE

Harness

Material:

Leather

/

Polyester

Design / Craftsmanship:

The harness seems quite durable. The straps are attached securely. The only problem is that they only adjust one way and it doesn't allow for making it tight on a very small woman. And I'm not sure it would be too comfortable on a much larger woman either. But any averaged sized woman should have no problem wearing this.

Dildo

Color:

Green

Harness

Color:

Black

Size / Fit:

As previously mentioned, the harness doesn't allow for making real adjustments. It is impossible to make it tight on a very small woman. And I'm not sure it would be too comfortable on a plus sized woman either. But any averaged sized woman should have no problem wearing this. The adjustor is just the option of two different snap buttons. So, fine tuning adjustments are not possible on this harness. The dildo is a great average sized dildo. It isn't too small and it isn't too big. It is truly the perfect size, especially for anal sex. And while it is a rather flexible dildo, it was also easy to slide in. And once inside my ass it felt great. I've never had a dildo feel so comfortable without any warm up required. My wife went straight to the dildo without doing anything to loosen me up and it slid in quickly and easily and felt perfect. The dildo starts out very narrow (around 1" wide and then gets wider until it reaches a thickness of around 1 and 1/2") which is perfect for getting it started on pushing into the anus. It is 6.5" long, so there is plenty of length for thrusting.

Weight:

0.6 lb

Dildo

Weight:

0.4 lb

Harness

Maximum hip size:

One size fits the most

Maximum waist size:

One size fits the most

Dildo holder diameter:

2"

Weight:

0.2 lb

Performance:

The harness is simple to take on and off due to the stretchy waist band. It didn't hold the dildo very securely to my wife's body (which is extremely petite) due to the lack of adjustability, but for an averaged sized user it would probably work better. The dildo does hold securely in the O-ring, but again, the O-ring is not adjustable. So, smaller or larger toys might have difficulty fitting in this harness.

Dildo

Special Features:

Flared base
Glow in the dark

Care and Maintenance:

The harness is pretty easier to hand wash clean. The dildo, being that you cannot boil it, is best used with a condom (though it glows right through the condom). And then you can just hand wash it with a mild anti-bacterial soap. And the harness and dildo are easy to store on a shelf or in a toy box. Since the dildo is PVC, only use silicone and water based lubricants with it.

Packaging:

The packaging lists the following:
- Harness is contoured for a woman
-Fully Adjustable and Stretches-to-Fit
-Non-Tarnishing Premium Hardware
-Soft, Supple Leather
-Perfectly Sized to Fit Most Pleasure Accessories
-Glo-Rider is Hand Sculpted and Glows-in-the-Dark
-May Be Used Independently
-Fits Most Harnesses
-Flanged Base for Secure Fit
-For Maximum "Glow" Expose to Any Light Source

Experience:

The glow-in-dark dildo that came with this kit is likely to become our favorite to use for strap-on sex. It felt perfect going in and out of my ass. And the way it is tapered from tip to base made it quite thrilling to have used on me. I came extremely quickly and can't wait to try it again. And my wife said it was fun watching it glow as it went in and out.

Other

Safety features:

Hypo-allergenic / Latex free

Kit includes:

Harness with glow in the dark 6.5" dong

Insertable length:

6 1/2"

Dildo

Texture:

Smooth

Safety features:

Phthalates free

Harness compatibility:

O-ring compatible

Length:

6 3/4"

Circumference:

4 3/4"

Diameter:

1 1/2"

Harness

Closure:

Buckle